Foodmario: Made-to-order food whose time may have come
The startup fulfills more than 100 orders per day at an average Rs 600 per order.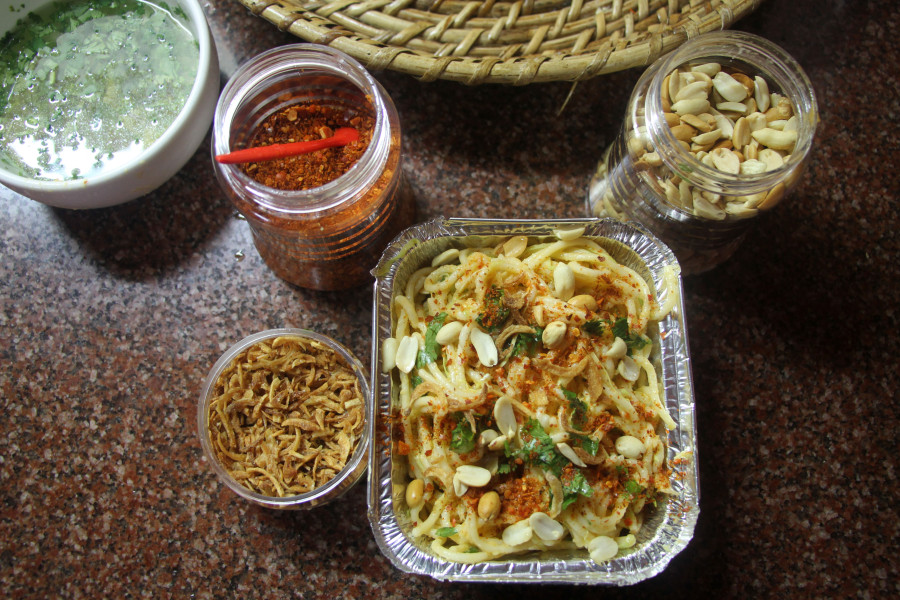 The company has provided employment to 34 people, including delivery boys. post photo: beeju maharjan
bookmark
Published at : January 5, 2020
Updated at : January 23, 2020 12:50
Kathmandu
In two years, Rohit Tiwari has established Foodmario as one of the successful start-ups in Nepal after failing in six different entrepreneurship ventures.
At 26, he founded Foodmario in Tinkune, a venture that sells home-cooked food. Since then, the entrepreneur has grown the brand locally with a monthly growth rate of nearly 25 percent. In addition, catering to the demand for diet-conscious consumers, the company has been offering a special menu with up to three chefs preparing the food.
Tiwari is now looking to expand his business in major markets across the country.
While Kathmandu Valley is the biggest market for Foodmario with more than 100 orders per day at an average Rs600 per order, the demand for food ordered online is rising outside the valley too, and this is where Tiwari says the next big business opportunity lies.
As matters stand, growing urbanization and expanding markets present a huge opportunity for business expansion in cities like Butwal, Narayanghat, Chitwan, Pokhara, Biratnagar and Itahari.
"It is important to be in the mass-market when your products can get established commercially," Tiwari said. The company is focusing on adding as many cooks as possible this year to give their expansion plan the necessary push.
The company sales are driven by food items and bakery items. The company has provided employment to 34 people, including delivery boys.
Prabha Joshi, 48, from Dallu who joined Foodmario as home chef seven months ago, said that the venture has motivated her to become an entrepreneur. Joshi, who worked for 15 years in different I/NGOs said that she has been receiving 10-12 orders on a daily basis and she has 14 items on her menu. Chicken items are the most preferred dishes from her kitchen, she said.
The major challenge for any delivery company is managing logistics, says Tiwari.
For quality assurance, Foodmario makes sure it delivers food approved by their in-house food inspector. "We visit the home of our chef to find out, if they have followed the standards being maintained by the company or not," said Tiwari. "If we receive a complaint from the consumer on the food's quality, we remove the chef from Foodmario."
A major challenge for Tiwari in his business is finding reliable delivery boys. The company has vacancies for delivery boys almost daily as it's hard to retain them. It could well be because of payment issues, a perceived lack of dignity in the delivery job or due to the way they get treated by customers.
Anjan Baniya, 22, of Champi, Lalitpur joined as a delivery boy around six months ago. A second-year student of Arts at Patan Multiple Campus, he said this could be an opportunity for students to earn some pocket money and get an idea of working in the real world.
Despite being an average student, Tiwari, always wanted to do things differently. After completing high school, Tiwari went to Nepal Engineering college in 2008 and graduated in electronics and communication. At the end of the 4th year, he started a company to sell solar batteries as there was a huge problem of power cuts during those days.
That business failed. But, the learning never stopped for Tiwari and neither did the new business ventures.
It was not until his seventh venture that luck, finally, began to smile on Tiwari.
"Now, the challenge for growth is to manage the team, keep them motivated, and make sure efficiency of everything is increasing, said Tiwari. "We don't want to burn a lot of capital, while we scale up the business."
He also faced challenges from not only other online food delivery service providers but college canteens and small restaurants. In order to beat the competition, he had to find a way to encourage people to order.
His solution was simple, make an app. This allowed customers to browse their menu straight from their smartphones. Previously, customers had to order through their Facebook page, chat with representatives for nearly five minutes before their order was confirmed.
But with the app, which is available on both Play store and App store, customers can quickly order a home cooked meal.
---
---