Kadhi badi: a marriage of pakoda and curd
Thick and rich chickpea dumplings doused in a slightly sour curry? It's a southern speciality worth trying.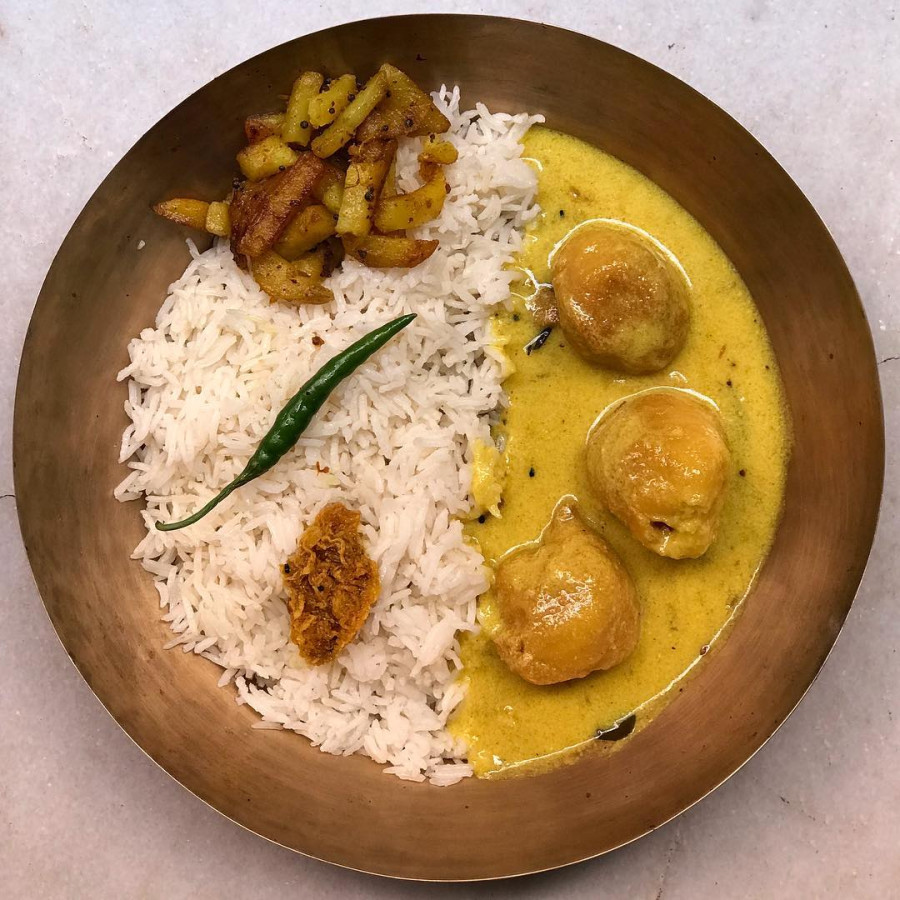 Photo courtesy: Akshit Karna
bookmark
Published at : October 24, 2019
Updated at : October 25, 2019 07:55
Kadhi badi is a mix of thick gravy that is served with pakodas made of chickpea flour. It's dense, a little sour and is mostly served with rice. Kadhi badi is usually made in southern households on special occasions, Diwali being one of them.
Ingredients:
½ kg red lentils or split chickpeas, soaked overnight

1 cup of gram flour

½ litre of mustard oil

2 onions, finely chopped

1 tbsp caraway (ajwain)

3-4 tbps cumin

1 tbsp chilli powder

2 tbsps turmeric powder

1 cup curd

2 dried chillies

2 dried curry leaves

2-3 tbsp coriander powder

1 tbsp of garam masala

10 peppercorns

Salt, to taste
Directions:
Grind soaked red lentils or split chickpeas until a batter-like consistency. Then add a tablespoon of salt and turmeric powder. Whisk vigorously so the badis come out light and fluffy. To test if the batter is light enough, take a jug of water and drop a single drop of the batter in it. If it floats, the batter is ready. Crush caraway and mix in.
Once the batter is done, heat a pot of water and a kadai with mustard oil. Mustard oil should fill at least half the kadai, so the badis are fully submerged in oil. Once the oil comes to a simmer, reduce the heat, drop little dollops of batter into it and fry until nice and red. After your badis are fried, drop them into the boiling water and cover. Turn the heat off. This is done so that the badis remain soft and don't develop lumps later.
While the badis are in the water, start preparing the kadhi. Take a pot and heat two tablespoons of oil. Once hot, add cumin, onions, curry leaves and chili to make a tadka.Take gram flour and add 3 cups of water to make a paste. Add this paste in the pot with the kadhi. While the paste cooks, separate badis from water. Add soaking liquid in the kadhi and leave badis to one side. Stir the pot and bring to a slow boil. Add coriander powder, chilli powder, garam masala and salt. Finally, add the badis. After the kadhi starts boiling, turn the heat off, add curd and stir to incorporate.
Roast a tablespoon of cumin and peppercorns, grind, and sprinkle it in the kadhi. Garnish further, with chopped coriander leaves. Serve with rice.
---
---