Butter-free chocolate chip cookies with wholemeal wheat flour
No butter? No white flour? No problem. You might not even tell the difference with these atta-based cookies.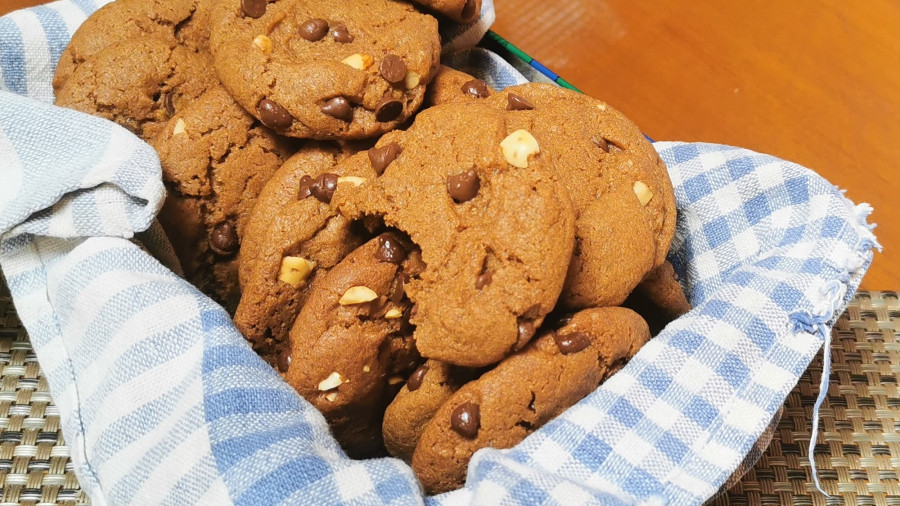 Thomas Heaton/ TKP
bookmark
Published at : April 2, 2020
Updated at : April 2, 2020 13:18
Kathmandu
When it comes to baking, there are a few things you need most often: butter, flour, eggs, sugar. Each of these play a vital role in creating delicious baked goods, and yes there are plenty of alternatives for the vegan, vegetarian, dairy-free and everything else-free people, but I was left at a loose end when trying to think about how to create cookies without using my flour and butter during this time of lockdown. I found recipes using olive oil, but that's ludicrously expensive.

Then I found there was a way to do it: with atta, wholewheat flour, and canola oil, thanks to Giora Shimoni at The Spruce Eats. And, being me, I decided to play around with it a little more. Playing around means more chocolate, and peanuts, and more chocolate. I also opted for a different type of oil, sunflower, and I divided the flour into two different types: barley and atta, and a little bit of cocoa. I would contend it would be possible to achieve this recipe with other types of flour too, but the barley flour adds a rather nice nutty flavour to the cookies.
The end result was magnificently soul-coddling, and reassuring, because who knows when butter is going to be easy to find again?
Ingredients:
(Makes approximately three dozen cookies)
2 1/2 cups flour (whole wheat preferably; I used barley and whole wheat at 50-50)
1 teaspoon baking powder
1 tsp baking soda
1/8 tsp salt
2 large eggs
3/4 cup sugar
3/4 cup molasses sugar (a mix of chaakhu and gudd, crystalised)
1 cup sunflower oil
1 tablespoon vanilla essence/flavour (optional)
1 cups chocolate chips
1 cup salted peanuts
Directions:
Preheat oven to 190 C. Mix baking soda and powders, cocoa, and salt with flours in one bowl, and beat eggs and sugars until creamy in another. Add oil and vanilla to wet mixture and mix further before adding dry ingredients to wet batter in small batches. Mix just until smooth. Chop peanuts and stir in with chocolate chips.
Take teaspoons of the mixture and roll into balls, placing on a greased oven tray. Flatten the balls a little. Bake in the preheated oven for 10 minutes, or until the cookies are set to your liking.
Once out of the oven, let the cookies cool on the pan before removing them to cool completely. Store in a sealed container.
Tip:
This recipe makes plenty of cookies, so I recommend freezing one third of the mixture for baking at a later time. To store in the freezer, wrap the dough tightly in baking paper, in a sausage shape. When you want to bake the rest of the mixture, simply remove from the freezer, defrost and follow the baking process once more.
---
---