Body of Chepang youth taken to Kathmandu for postmortem
The deceased's family has accused Nepal Army personnel of fatally assaulting the youth last week inside Chitwan National Park.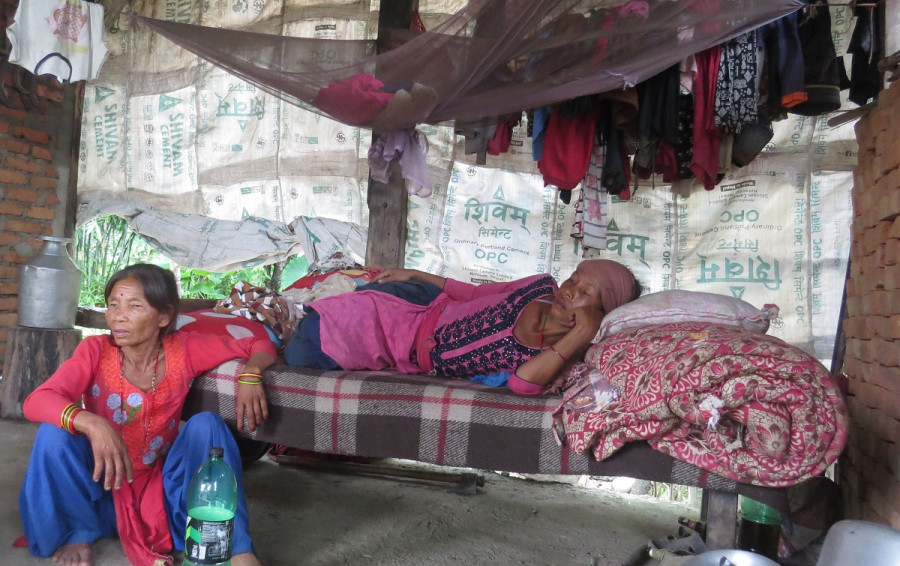 Aaiti Maya (right), the mother of Raj Kumar Chepang, grieves for her son at her home in Chitwan. Ramesh Kumar Paudel/TKP
bookmark
Published at : July 27, 2020
Updated at : July 27, 2020 08:30
Chitwan
Body of Raj Kumar Chepang, who died on July 22 from what is believed to be the injuries inflicted by the Army personnel after he was caught inside Chitwan National Park, was sent to Kathmandu for postmortem on Sunday.

"The decision was taken based on the suggestions of Raj Kumar's family," said Dr Shreeram Tiwari, medical superintendent of Bharatpur Hospital.
The Nepal Army has been accused of fatally assaulting Raj Kumar, 24, of Rapti Municipality-2 on July 16. Raj Kumar's father, Bishnu Lal, filed a complaint at the District Police Office on Friday, claiming that his son was tortured by the Army patrol, which led to his death. He has demanded an impartial investigation into the incident and punishment to the guilty.
On July 16, Raj Kumar and six of his friends, including two women, were detained by the Army patrol inside the park. They had gone to collect Ghongi, a species of snails considered a delicacy, in the Jyudi river inside the park. They were released on the same day.
Bishnu Lal claimed Raj Kumar was taken ill since the day he was released and died a couple of days later on July 22.
Raj Kumar's family had not let the authorities conduct a postmortem, demanding action against the guilty and compensation to the family. The bereaved family agreed for the postmortem after the Lothar Bufferzone Consumers Committee assured them of Rs 100,000 as immediate relief.
"An agreement was reached on Saturday evening during a meeting held at the District Administration Office. Rs 100,000 will be given to the deceased's family to conduct the funeral and mourning rituals," said Man Bahadur Syangbo, the chairman of Lothar Bufferzone Consumers Committee. "We will sort out other issues gradually."
According to Deputy Superintendent of Police Surya Thapa, the body was taken to TU Teaching Hospital in Maharajgunj for postmortem.
"Raj Kumar's father and security personnel were sent along with the body," said Thapa, adding that there would be further investigation into the case after the postmortem report comes out.
Santa Lal Praja, who was detained along with Raj Kumar, said he and his friends, except for the two women, were beaten by the soldiers. He said they were also forced to carry heavy wooden logs and do 100 pushups.
Nepal Army officials admitted to arresting the youths but denied any allegations of manhandling or torturing them.
---
---