Janakpur youths found murdered in India
A preliminary probe shows the two were kidnapped and later strangled to death.

Bishnu Sah (left) and Rohit Sah Post Photo
bookmark
Published at : January 22, 2023
Updated at : January 23, 2023 08:43
Janakpur
The bodies of two youths—Bishnu Sah and Rohit Sah—from Janakpur Sub-Metropolitan City were found buried in a bordering Indian village on Sunday. The duo was kidnapped by an unknown group sometime in the second week of January, said police.
For Ram Babu Sah and his family, the last few days have been difficult. They have been running around to arrange for Rs2 million to pay an unknown group of men who made a ransom call to them on January 13 claiming to have kidnapped Ram Babu's son, Bishnu, and his friend and neighbour, Rohit.
Bishnu's grandfather, 65-year-old Ram Kishor Sah, cannot bring himself to believe that he will not see his grandson alive. "They had asked for Rs5 million. After borrowing loans from relatives and friends, we somehow managed to collect Rs2 million for the ransom. My son talked them into reducing the ransom and they had agreed," said Ram Kishor.
"The money is still in my bag, but it's not going to bring my grandson back. What kind of people would do such a thing to another person?" Ram Kishor added. "Bishnu has a young wife at home and a three-year-old daughter. We don't know why any of this has happened."
According to Deputy Superintendent Deepak Raya at the Dhanusha District Police Office, the bodies of 22-year-old Rohit and 23-year-old Bishnu were found buried in Parsa village, which falls under the jurisdiction of Bela police station at Sitamarhi district in Bihar, India.
The family of the deceased reached the incident site and identified the bodies, police said, adding that the bodies will be sent to Nepal by Sunday night after completing the autopsy in India.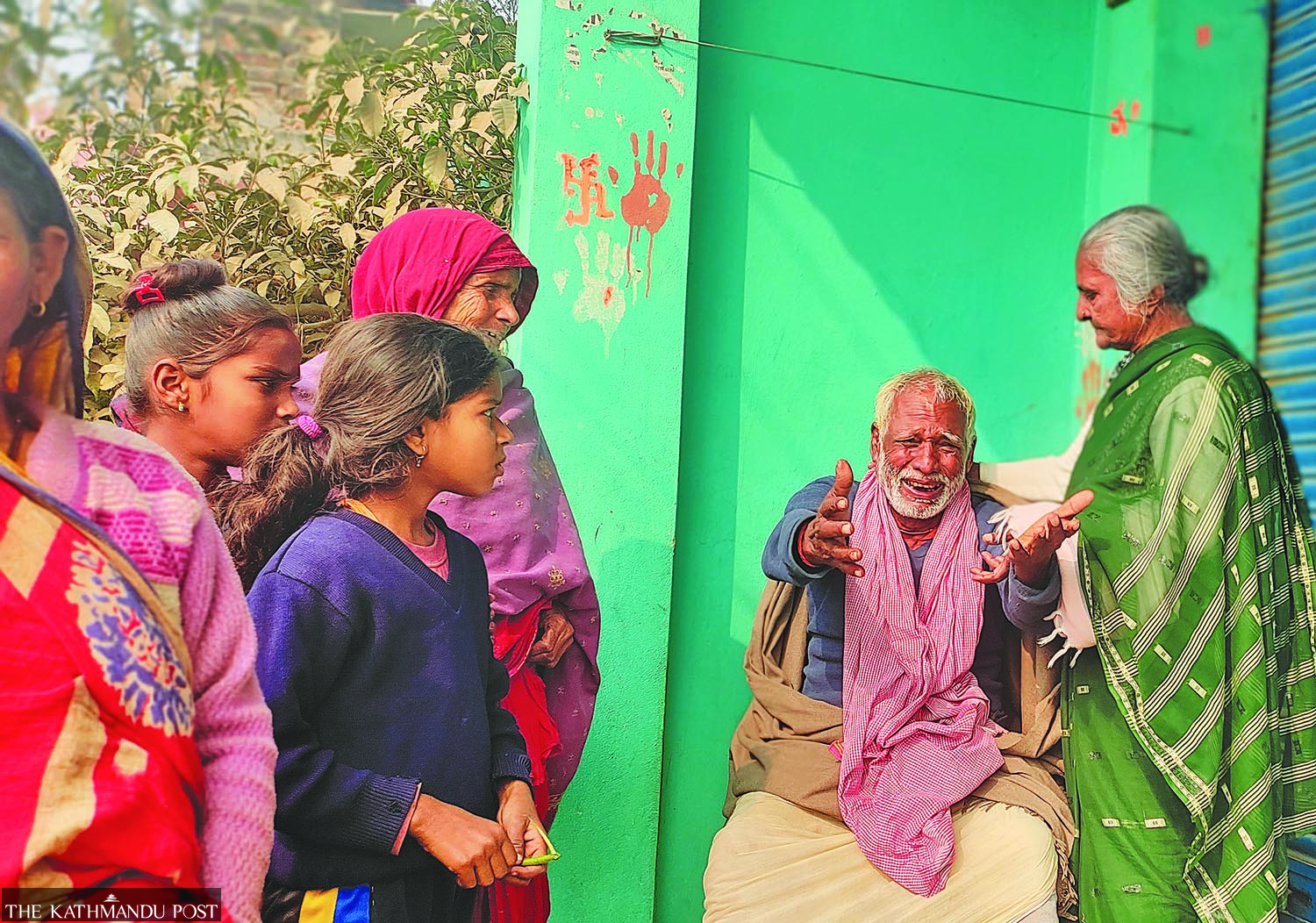 Ram Kishor Sah, 65, the grandfather of Bishnu Sah, breaks down in tears at his home in Janakpur. Post Photo
Police said Rohit and Bishnu, who were close friends, had left home for Rohit's maternal uncle's house in India on January 11 and were abducted en route.
Raya, who reached Sitamarhi during the investigation, said that preliminary investigation revealed both were killed a few days earlier.
According to Rambabu, the kidnappers called him several times to drop the money at different places, but they never showed up to collect the money.
According to Raya, a joint police team of Nepal and India raided several possible locations in order to collect more evidence, looking for the duo.
On Sunday, Police Office Dhanusha arrested two people from Nepal and three from India based on the logs of the ransom calls made to the Sah family.
Dhanusha Police chief SP Vishwaraj Khadka issued a statement announcing that 24-year-old Kishan Kumar Pandit of Manarashishwa Municipality-2, Mahottari district, and 24-year-old Mukesh Pasman, of the same municipality, were arrested for investigation.
The motive behind the crime is yet to be confirmed, police said.
---
---