Onus on Paudel to save the sanctity of presidency
Observers say the veteran Congress leader has to work hard to detach himself from partisan, personal entanglements.

Outgoing President Bidya Devi Bhandari waves as newly sworn-in President Ram Chandra Paudel (third right) looks on at the President's Office, Sheetal Niwas on Monday. Prime Minister Pushpa Kamal Dahal is seen on the right. Kiran Panday/TKP
bookmark
Published at : March 14, 2023
Updated at : March 14, 2023 07:26
Kathmandu
The new President Ram Chandra Paudel on Monday took the oath of office and secrecy at a special ceremony at the Sheetal Niwas, the President's Office.

Acting Chief Justice Hari Krishna Karki administered the oath to Paudel in the presence of Vice President Nanda Bahadur Pun, Prime Minister Pushpa Kamal Dahal and National Assembly Chairman Ganesh Prasad Timilsina, key politicians and other high-ranking officials.
A veteran Nepali Congress leader, Paudel was elected as the third President of the country on March 9, beating rival candidate Subas Chandra Nembang of the CPN-UML.
The tenure of the outgoing President Bidya Devi Bhandari ended Monday.
Paudel had spent more than a decade in jail. In his political career, Paudel became a lawmaker six times, minister five times, and Speaker one time. His political journey, nonetheless, is a tale of losses as well.
In March 2016, Sher Bahadur Deuba defeated the then acting president Paudel in the election for the party's top post, with a wide margin.
Paudel also lost the infamous race for prime ministership in 2010. The race began in July 2010 with three candidates: Paudel from the Congress, Pushpa Kamal Dahal from the UCPN-Maoist and Jhala Nath Khanal from the UML. He could not get a majority even after 16 rounds of voting. In the 17th round, UML's Jhala Nath Khanal was elected the prime minister.
A politician who was unlucky in the election of prime minister and party president has now reached the state's top post. People have pinned high hopes on him.
Political analyst Lok Raj Baral said Paudel's plus point is that he is an experienced leader who had committed his political career to democracy and has never been mired in corruption. "The main question is whether he will be (mis) used by his former party Congress like Bhandari was by the UML," said Baral.
He added: "As Paudel has closely followed Bhandari's controversies, he can learn from them."
Bhandari's tenure was full of controversies as she was accused of rubber-stamping KP Oli's decisions, and acting as a party leader rather than as the head of state.
UML leader Amrit Bohara said that as Paudel is a seasoned politician who has for long been involved in Nepali politics and also took part in various movements against autocratic regimes, he can be the right custodian of the constitution. "He can do it, I think, if he internalises the institution's sanctity," Bohara said.
Paudel was backed by 10 parties in the presidential election. The earlier UML-Maoist ruling alliance was broken after the Maoist Centre, in a dramatic turn of events, decided to support the Nepali Congress in the presidential election. Other parties joined the team, to form a new 'eight-party' alliance, which turned Nepal's power equations on their head.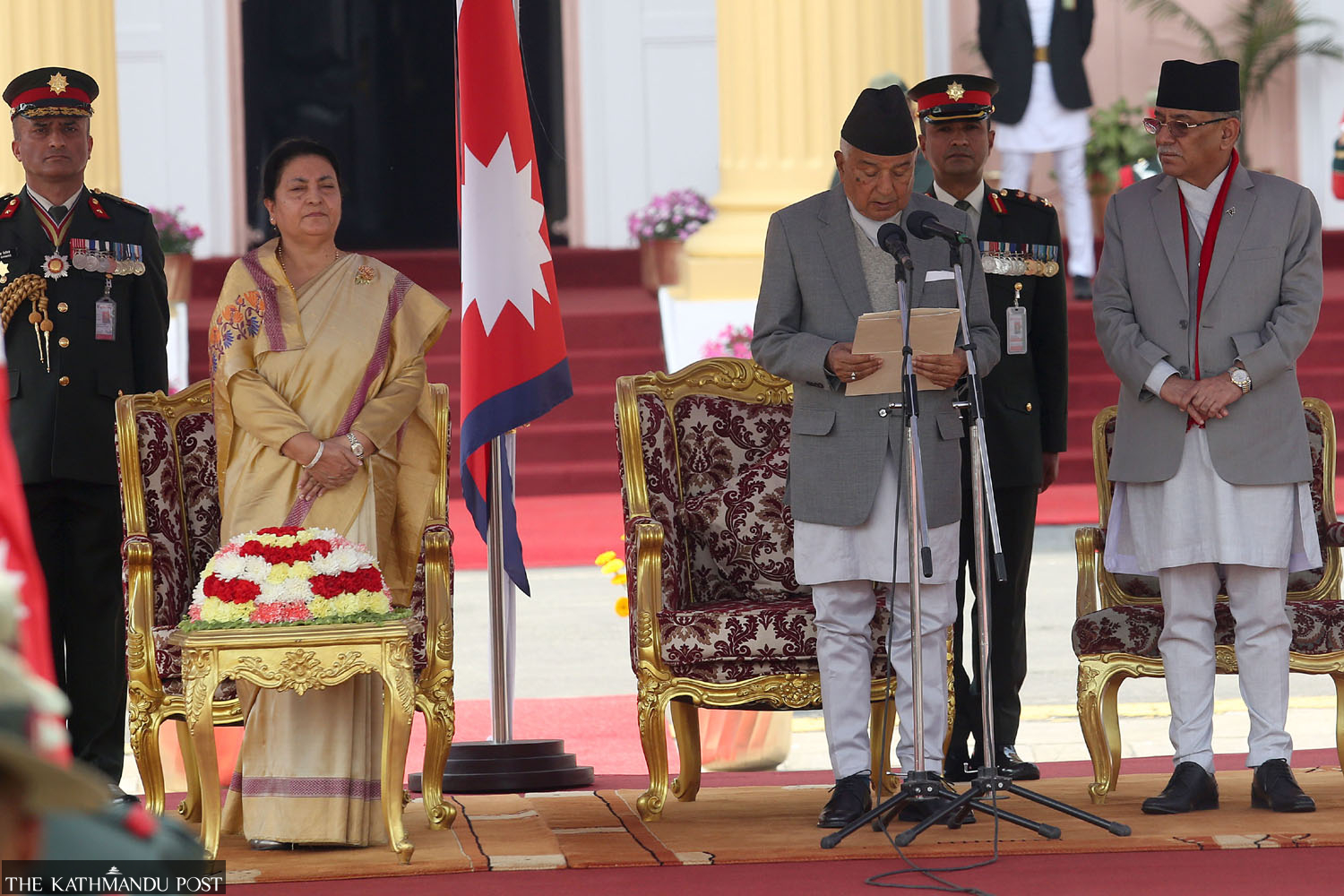 Post Photo
According to Bohara, there is a high chance that Paudel will have to deal with undue pressure from Nepali Congress or from the ruling coalition at critical junctures. "But overall, I believe that such an experienced leader who has already served as the Speaker can protect the honour of the office. The President is not a person but an institution."
Purushottam Dahal, a senior journalist who has for long followed the Congress, said Ram Chandra Paudel has contributed more to Nepal's political movements than his predecessors as President. "His long contribution to the democratic process inspires hope. But as no political party has completely owned the present constitution, how he will play the role of its custodian remains to be seen."
Dahal said age is an important factor. "He is nearly 80. What does he have to gain now by serving vested interests? He has no compulsion to buckle under any kind of undue pressure in the next five years."
In the Congress circles, many see him as 'narrow-minded', said a party leader requesting not to be named. Though he hasn't been linked to any corruption case and has succeeded in maintaining a clean image, some accuse him of failing to rise above petty personal interests. He is at times criticised for lobbying to appoint people from his family in lucrative positions.
"Now, it's the time to prove that he is above his own interests, his party's interests and the ruling coalition's interests," said Laxman Ghimire, former minister and Nepali Congress leader who was in the Cabinet with Paudel. " His litmus test begins today."
---
---