Ram Chandra Paudel is new President
Out of 52,628 votes by weightage Paudel secured 33,802 while Subas Nembang of CPN-UML garnered 15,518.

Elite Joshi/TKP
bookmark
Published at : March 9, 2023
Updated at : March 9, 2023 20:57
Kathmandu
Ram Chandra Paudel, a senior leader of the Nepali Congress, has been elected the third President of the country.

Federal and provincial lawmakers voted Paudel as the country's new President on Thursday.
Out of 52,628 votes by weightage, Paudel secured 33,802 votes while Subas Nembang of CPN-UML garnered 15,518 votes.
After a long haggle over the presidential candidate, the UML-Maoist ruling alliance was broken after Maoist Centre, in a dramatic turn of events, decided to support Nepali Congress in the presidential election. Other parties, soon, congregated, to form a new 'eight-party' alliance, which changed the power arithmetics.
The Electoral College comprising the members of the House of Representatives, National Assembly and seven provincial assemblies voted to elect the head of state.
The vote weightage of a member of the federal parliament comprising the House of Representatives and the National Assembly is 79 while it is 48 for the provincial assembly members.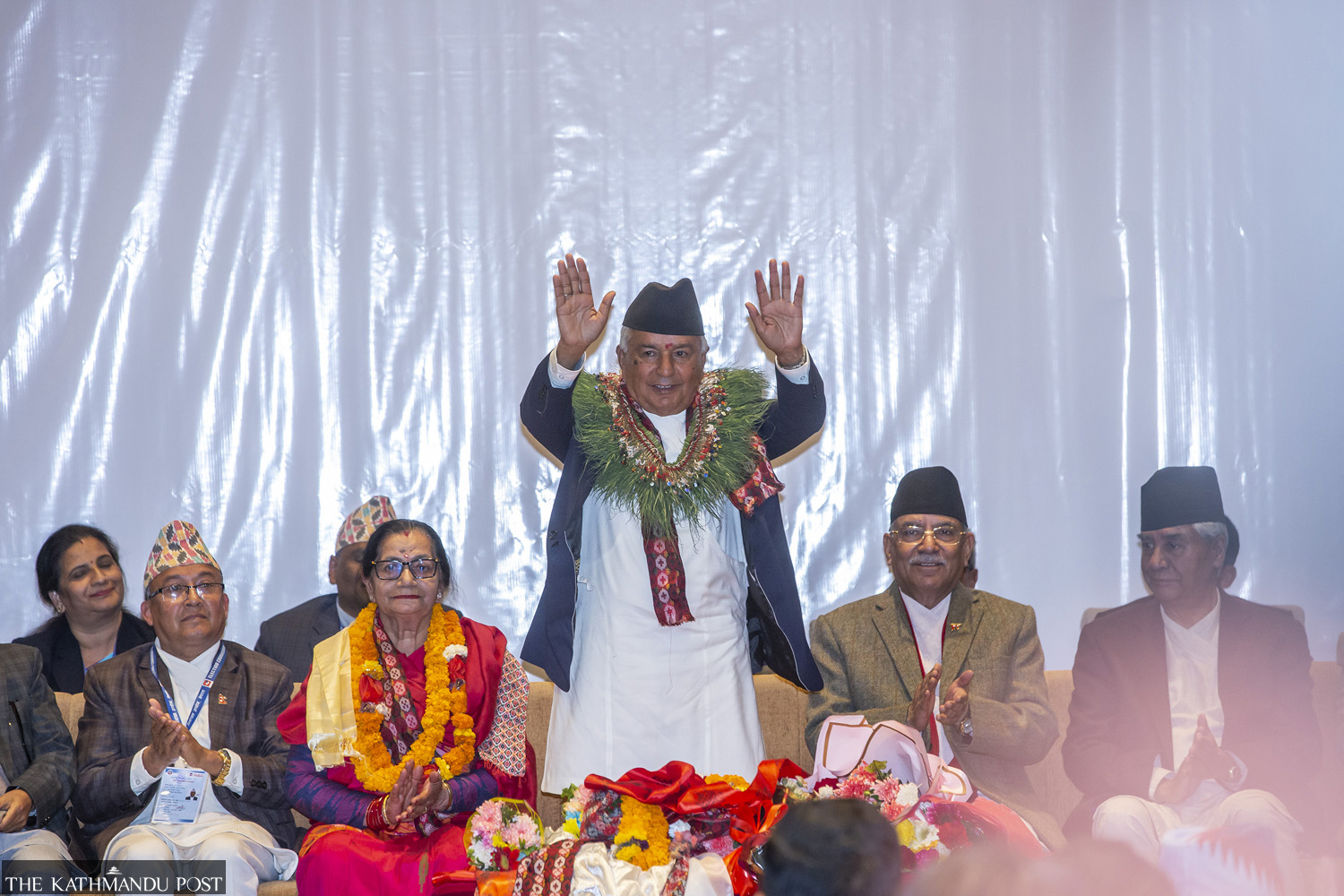 Prakash Chandra Timilsena/TKP
Of the 881 federal and provincial lawmakers eligible to vote, as many as 831 votes were cast in the presidential election held on Thursday.

According to Amrita Bhandari, assistant election officer of the president and vice-president election office, 313 federal lawmakers and 518 provincial assembly members cast their votes.

A total of 14 federal Rastriya Prajatantra Party lawmakers and Prem Suwal of the Nepal Majdoor Kishaan Party did not take part in the voting.

CPN (Maoist Centre) lawmaker Barshaman Pun and Nepali Congress lawmaker Chandra Bhandari could not vote as they are in China and India, respectively, for their treatment.

Likewise, UML's Laxmi Koiri, who is on the run, was also absent.

A total of 28 provincial assembly members of the Rastriya Prajatantra Party and three provincial assembly members of the Nepal Majdoor Kishan Party also abstained from voting.

The tenure of the outgoing president Bidya Devi Bhandari ends on March 12.

A former Speaker, Paudel has spent over a decade in jail. He has, till now, become a lawmaker six times, minister five times, and Speaker for one time.
---
---