'Tourist' candidates seen buying or renting houses in constituencies they don't originally belong
Although this is not seen as a breach of election code of conduct, such candidates' motive is to manipulate voters, says former election commissioner Uprety.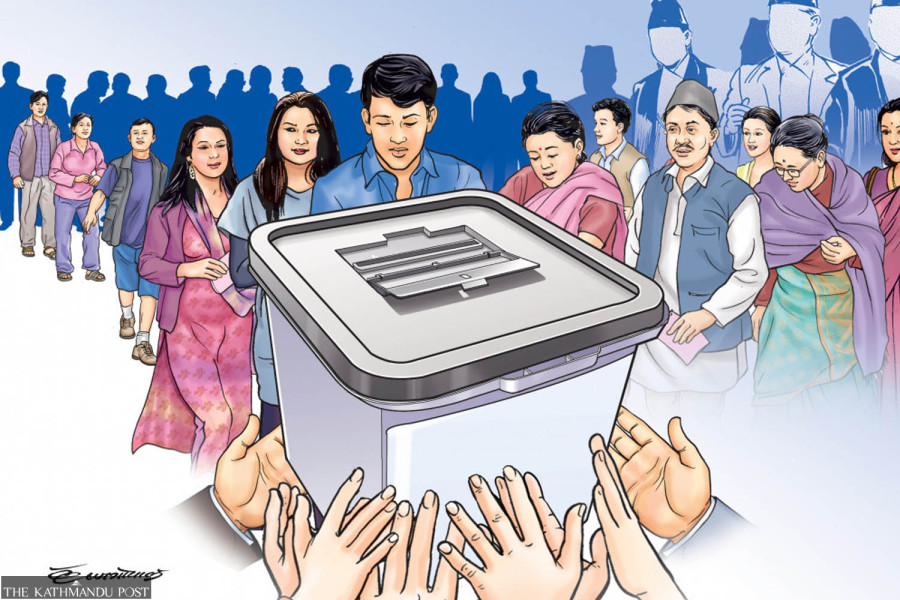 Post Illustration
bookmark
Published at : October 22, 2022
Updated at : October 22, 2022 09:51
Kathmandu
Several candidates for the forthcoming parliamentary elections are busy either purchasing or renting houses in their allotted constituencies. They haven't originally been residents there and are mostly constituency hoppers. What remains to be seen, however, is whether this move by 'outsiders' will enable them to connect better with voters and resolve their problems, if elected.
On Ghatasthapana, the first day of Dashain, Pushpa Kamal Dahal, the head of the CPN (Maoist Centre), hosted a house-warming ceremony in Chitwan-3, where he had previously run for a federal parliament seat. Dahal originally intended to contest the November polls from the same constituency, but he later changed his mind. He will now fight the election from Gorkha-2.
Some people say Dahal's chances of winning the election were poor in Chitwan, so he changed his constituency.
Earlier in 2017, when Dahal had fought the elections from Chitwan, he was criticised for being a tourist candidate. To avoid such allegations, Dahal had built a house in Chitwan.
Rabi Lamichhane, the president of the Rastriya Swatantra Party who is contesting for a federal parliament seat from Chitwan-2, has rented a house in Bharatpur-11 to set up his election campaign office. As he is not originally from Chitwan, some people started calling him a "tourist candidate."
But, Lamichhane has promised voters he would build his own house there.
Lamichhane was born in Kavrepalanchok district and currently lives in Hattigauda, Kathmandu.
Nikita Lamichhane, Lamichhane's wife, has already started referring to Chitwan as "our second home". Recently, she posted a picture of their rented house on the internet along with a photograph of the housewarming ceremony.
Mukul Dhakal, a spokesman for the Rashtriya Swatantra Party, confirmed that Lamichhane indeed has rented a six-room house in preparation for the elections, but has not bought any house in Chitwan.
"Owning property is an individual's right, therefore there is no ground to restrict it," commented Mohan Banjade, a former secretary in the Law ministry.
"However, the state needs to be mindful of where the funding for elections have originated from to enable a candidate to buy a property ahead of an election," Banjade added.
Agni Kharel, a former minister and attorney general, bought a house in Jhapa-2 soon after resigning from his position. The CPN-UML leader's purchasing a house in Jhapa-2 when he already had a house in Jhapa-5 and another in Kathmandu was apparently triggered by his anticipation of being fielded from that constituency by his party.
However, Kharel's party chose to field him from Jhapa-1 in the federal elections.
Another candidate, Arzu Rana Deuba purchased a house worth 30 million rupees in Kailali-5 ahead of the last federal elections after she was criticised for being a tourist candidate. It was alleged that Deuba's property was purchased for her by a businessman.
While the purchase of a house by a contestant who does not have his own home in the constituency is not legally wrong, Neil Kantha Upreti, a former chief election commissioner says the idea behind the move is to manipulate the voters.
"We have a provision which gives leverage to leaders to contest elections from any of the constituencies. However, buying or building houses at the time of elections could manipulate voters," Upreti told the Post.
Candidates are only allowed to spend a certain amount of money on campaigns, according to the Election Code of Conduct. However, its restrictions have no bearing on individual candidates who purchase houses in their constituency to give an impression to people that they belong to the same constituency.
"Even though this is not seen as a breach of the electoral code of conduct, such behaviour impacts voters," Upreti added.
In the past, top leaders used to contest elections from two constituencies to ensure their presence in parliament, even if they lost in one. Prime Minister Sher Bahadur Deuba of the Nepali Congress, Dahal of CPN (Maoist Centre), and Madhav Kumar Nepal of CPN (Unified Socialist) are prominent names among those who had fought from two constituencies before the promulgation of the present constitution. But, the election law enacted at the time of the previous parliamentary polls barred candidates from contesting from more than one constituency. The new provision has made even influential leaders feel insecure during the elections.
Though candidates of local units can't run from any constituency other than their present permanent address, aspirants for federal seats are allowed to contest from any constituency within the country for a federal seat.
---
---