Most UML office bearers will be contesting elections as constituencies fixed
Most dissident faction leaders fail to secure unanimous nominations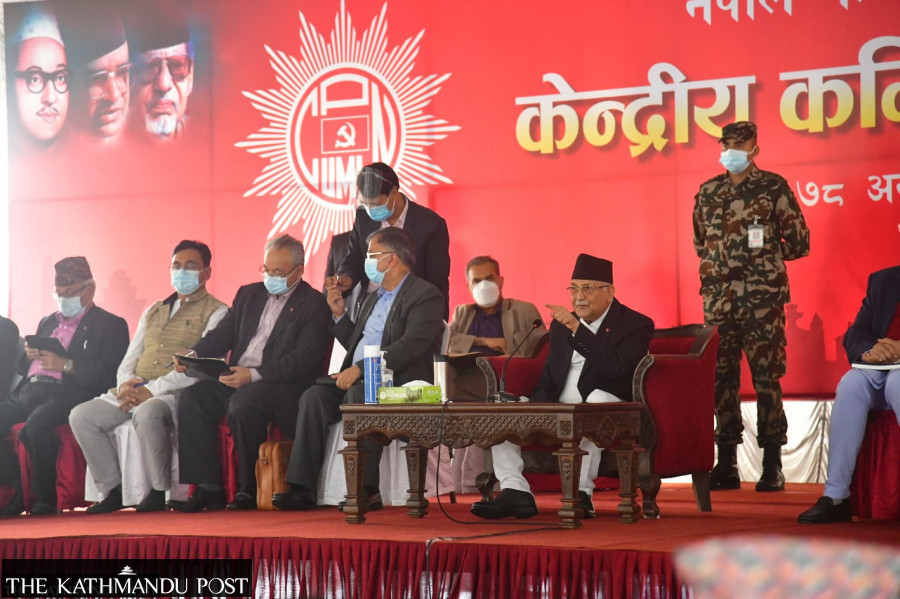 Post File Photo
bookmark
Published at : October 3, 2022
Updated at : October 3, 2022 09:45
Kathmandu
The CPN-UML has fixed the constituencies for its office bearers who will contest the November 20 elections.

The electoral constituencies for the leaders who were the sole nominees from the respective party committees have been confirmed by higher bodies, according to an office bearer involved in the candidate selection process.
According to the party rule, candidacy aspirants are first recommended by their constituency, and subsequently the district and provincial committees. Many of the local chapters have recommended a single candidate unanimously for a constituency while many others have failed to forge consensus on a single contestant. In that case, multiple names were forwarded to the provincial and central committees.
"For the leaders who were unanimously recommended by the lower level committees for the federal election, the constituencies have been fixed, and their candidacies confirmed," Prithvi Subba Gurung, the deputy general secretary of the party, told the Post. "The party will decide about the leaders who were not recommended unanimously."
It is now certain that the majority of the party office bearers will contest the election since they secured unanimous support and were accordingly recommended by the party, Gurung said.
The UML district committees had recommended 56 people as single candidates for their constituencies. The recommendations were forwarded to the provincial committees and then to the party's head office. Despite the Centre's request to nominate three leaders including one woman from each constituency, 56 constituencies had recommended single names.
Party chair KP Sharma Oli (Jhapa 5), Senior Vice-chair Ishwar Pokharel (Kathmandu 5), Vice-chair Bishnu Poudel (Rupandehi 2), and Vice-chair Subas Nembang (Ilam 2) were unanimously recommended by their constituencies. General Secretary Shankar Pokharel (Dang 2) and Deputy General Secretary Pradeep Gyawali (Gulmi 1) were also the sole choices of their constituencies. Secretaries Top Bahadur Rayamajhi (Arghakhanchi), Lekhraj Bhatt (Kailali 4), Raghubir Mahaseth (Dhanusha 4), and Chhabilal Bishwakarma (Rupandehi 1) were also recommended unanimously.
Ten of the 19 office bearers were able to secure unanimous nominations. Vice-chairs, Ashta Lakshmi Shakya and Yuvraj Gyawali have announced that they would not run in November.
Vice-chair Ram Bahadur Thapa has not been recommended from any of the constituencies. His wife Nainkala Thapa is on the closed list of the party's Proportional Representation though.
Deputy General Secretary Bishnu Rimal, who is considered a close aide to Oli, is not contesting election, whereas another Deputy General Secretary Gurung is running for the provincial assembly from Lamjung. He is believed to be eyeing the chief ministerial post in Gandaki Province for his second stint. Vice-chair Surendra Pandey and Secretaries Yogesh Bhattarai, Gokarna Bista, and Padma Aryal have secured nominations from their constituencies. But they couldn't be unanimous.
Jagannath Thapalia has also been recommended from the constituency of party vice chair Pandey, which is Chitwan-1.
Secretary Bhattarai is preparing to contest from his home district Taplejung but Tilkumar Menyangbo, Pasang Sherpa, Tank Angbuhang, and Ram Prasad Subedi have also been recommended from the same constituency. Bhattarai was elected last time from this constituency.
Secretary Bista is preparing to contest from his old constituency (Gulmi-2), but he could not secure a unanimous nomination. Rajendra Aryal, and Sheshkant Gautam have also been recommended from Gulmi-2. Bista was elected from the constituency multiple times in the past.
All other office bearers who failed to be recommended unanimously are from the party's dissident faction that had supported Oli's arch-rival Madhav Kumar Nepal, who split the party a year ago.
A senior leader of the party said leaders have fixed constituencies for all office bearers except for two, who have announced not to contest the polls. The leader, who requested for anonymity, said, "Apart from the office bearers who aren't interested in contesting the elections, constituencies for all other office bearers have been fixed."
The leader also informed that it is certain that those who are recommended unanimously from their own constituencies are certain to get tickets.
He, however, didn't mention about the case of Bhim Rawal, who was unanimously recommended from his constituency (Achham 1) but party chair Oli, a few days ago, had questioned the rationale of the unanimous selection saying that "Rawal was not even in party's contact."
A UML leader, meanwhile, said although candidates have been fixed for most of the constituencies, some leaders might have to withdraw from the race if the party decides to forge electoral alliance with other parties.
"There have been attempts to partner with some other parties in a few constituencies," the UML leader said. "Some leaders, whose tickets and constituencies have already been fixed, might not be able to contest the elections if the same constituencies have to be shared with any other party."
---
---