Madhav Nepal back to UML, but his coexistence with Oli won't be easy
Oli is the party chair and prime minister but Nepal and his allies vow to fight the former's unilateral ways in the party and any attempts to sideline his old rival.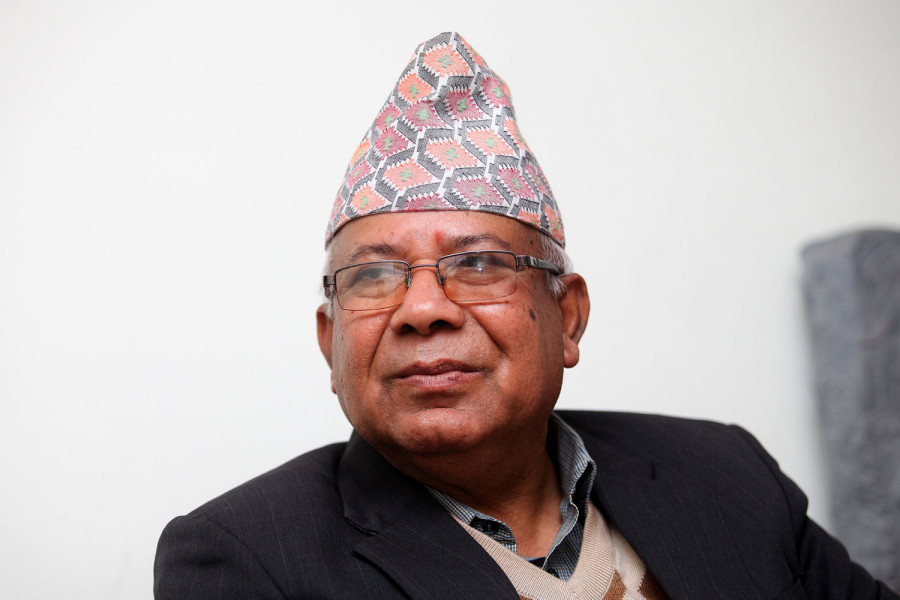 Post File Photo
bookmark
Published at : March 12, 2021
Updated at : March 12, 2021 07:45
Kathmandu
After Sunday's Supreme Court decision revived the CPN-UML and the Communist Party of Nepal (Maoist Centre) as different parties, Madhav Kumar Nepal had said he would suffer the most from the verdict.

For someone who had led the party for more than 15 years and had been the prime minister of the country, the court decision has become a bitter pill to swallow.
But Nepal had no other option—even though his supporters within the party are putting up a brave face and have said they fight against Oli's ways.
"After today's meeting of Standing Committee members, we are determined to take any [necessary] step in the party to counter whatever Oli comes up with that is against us," said a Standing Committee member close to Nepal following a factional meeting on Thursday. "It all depends on how Oli will treats us."
For Nepal, finding a rightful place in the party itself is going to be a struggle.
Oli has not met him and has not called any party meetings following Sunday's court decision even though he has been holding talks with Janata Samajbadi Party leaders to save the government.
UML General Secretary Ishwar Pokhrel has said they would give a chance for Nepal and Khanal, the senior party leaders, to self-criticise.
In communist party parlance this means they have to admit that they made a mistake.
Oli's press adviser Surya Thapa had even stronger words.
"I recall the face of criminals who declared that Prime Minister and party chair KP Sharma Oli had been ousted even as a party member four times," Thapa tweeted on Tuesday. "We cannot forget the immoral moves of these people who tried their best to make the government with a two-thirds majority a failure."
Questions on how the Nepal-led faction of the UML will cope with Oli's dominance in the CPN-UML after its three years of struggle against him in the now defunct Nepal Communist Party (NCP) are natural. While he could rely on the support of Pushpa Kamal Dahal, the other chair of that party, if push came to shove, the latter now leads his own Communist Party of Nepal (Maoist Centre).
Nepal's fight against Oli's unilateral moves in fact goes as far back as July 2014 after Oli was elected party chair.
That fight by the signs of it will continue.
Following the meeting on Thursday, Nepal and Khanal decided to issue a statement, denouncing the recent activities of the Oli faction capturing party offices and humiliating leaders and cadres opposing Oli by his men around the country.
The leaders said they will strongly counter Oli if he tries to increase the existing number of leaders in the party committees violating the party statute and will form parallel committees to counter them.
On Wednesday, Nepal called an informal meeting of the central committee members who support him and discussed ways to revolt if Oli continued to dominate and suppress them.
"We will put pressure on Oli not to change the organisational structure of the UML that existed before the merger with the Maoist Centre in May 2018," said a Central Committee member who attended Wednesday's meeting. "If Oli tries to fill the committees unilaterally we might even take a decision to revolt."
Nepal was defeated by a small margin of 44 votes by Oli in the race for party chair in the UML's ninth general convention and he has strong organisational bases throughout the country and has a majority in most of the district committees but Oli could change them.
Insiders said it was Oli's turn to dominate Nepal after his victory in 2014 and a vindictive Oli started to take revenge.
Even after the merger with Maoist Centre, Oli did whatever he could to crush Nepal's faction.
"He gave a chance to Maoist candidates where leaders close to Nepal were stronger during the elections of 2017," said Dilu Panta, a Central Committee member close to Nepal. "We have been fighting with him ever since he became the party chair and the fight will continue."
Clashes between the Nepal faction within the UML and Oli's men have already begun.
Earlier this week there was a fight over the nameplates of Lekhraj Bhatta and Bhim Rawal in Dhangadhi. Rawal was in charge of the Sudurpaschim Provincial Committee of CPN-UML but former Maoist leader Lekhraj Bhatta was appointed its chief by Oli after the Nepal Communist Party split on December 22 following the House dissolution move.
Besides Bhatta, the minister of industry and commerce, Oli wants to welcome Home Minister Ram Bahadur Thapa, Energy Minister Top Bahadur Rayamajhi, Water Supply Minister Mani Thapa—all from the Maoist Centre—in the party's Standing Committee, according to a UML Standing Committee member close to Oli.
"Thapa could even be elevated to the post of party vice-chairman which has been vacant since Bidya Devi Bhandari became President," the Standing Committee member said.
At present, Bamdev Gautam, Yubaraj Gyawali, Bhim Rawal and Asta Laxmi Shakya are the vice-chairs. Gyawali, Rawal and Shakya are supporters of Nepal while Gautam has remained neutral.
But whatever Oli does, Nepal's supporters say they will not give up without a fight.
"We cannot just watch if Oli keeps on adding outsiders to the party committees to ensure his majority," said Panta. "We will have to form parallel committees and continue our activities throughout the nation."
The Nepal faction also blame Oli for giving up UML's ideology when it merged with Dahal's Maoist Centre.
"It was Oli who shed both the CPN-UML and the People's Multi-Party Democracy but as a member of his party, our weakness was to accept his secret decision," said Jagannath Khatiwada, a Central Committee member close to Nepal. "We will keep our struggle against Oli's way of flouting procedures and decisions of the committee meetings."
Before announcing the merger, Oli and Dahal had signed a five-point agreement in the presence of Bishnu Poudel and Janardan Sharma to lead the government in turn and adopt People's Democracy as the party's ideology instead of the ideologies of the UML and the Maoist Centre. This agreement came to light only after it was made public by Dahal in 2019, a year after it was signed.
But Oli's behaviour on treating the Nepal led faction will determine how far the two factions could go together.
"It's up to Oli's behaviour. That will determine how long we could remain with him," Khatiwada said.
That bravado was also expressed by a Standing Committee member.
"We will cover the distance until it reaches a breaking point countering him," said a Standing Committee member close to Nepal on condition of anonymity.
But it will not be easy for Nepal to break away from Oli to form his own party since, by law, he will need 40 percent support of the Parliamentary Party, which he lacks, and 40 percent support in the party's Central Committee which he lacks too. Further, he will have to forgo the sun election symbol with which he has been fighting elections for decades.
Supporters of Oli know this well.
"They have no option now. They should either accept what the party decides or part ways," said Krishna Rai, a Central Committee member close to Oli. "If they try to form parallel committees, the party will take action."
He said they had tried their best to push Oli down the cliff so the party chair has no obligation to treat them right.
"If they had the numbers necessary to split the party and their positions as lawmakers would not have been affected, they would never come back to the party," Rai said. "So they will have to stay accepting whatever comes to their plate."
Political analysts too agree that Nepal and Khanal and their supporters within the party will come to terms with Oli's ways and they are going to surrender.
"Their facial expression, words and all other expressions show that they are ready to surrender," sad Rajendra Maharjan, a political analyst, "like how a soldier losing a battle surrenders to the winners."
Maharjan said, however, that if they could revolt against the autocratic ways of Oli, they could earn some sympathy from party cadres and the general public.
"But that is not their nature. They just want to save their positions," said Maharjan.
---
---