In Oli's absence, two ruling party factions vie for Madhav Nepal's favour
Nepal has emerged as a key player in the party as both Oli and Dahal factions want him on their side to tilt the nine-member Secretariat.

The unified Nepal Communist Party has been a divided house. Post File Photo
bookmark
Published at : March 13, 2020
Updated at : March 13, 2020 08:42
Kathmandu
When the Nepal Communist Party Secretariat decided to send party vice-chair Bamdev Gautam to the National Assembly earlier this month, party chair Prime Minister KP Sharma Oli was noticeably reluctant. The decision from the nine-member Secretariat came at the behest of Pushpa Kamal Dahal, the other chair in the party. There were speculations of a head-on confrontation between the two camps led by Oli and Dahal.

However, before the situation could escalate, Oli went for a second kidney transplant and the following Secretariat meeting failed to take up the issue of Gautam's nomination.
After his kidney transplant surgery on March 4, Oli is currently recuperating in hospital. Doctors have yet to say definitively when he will be discharged. Oli's absence appears to
have paused party activities, but insiders say that factional meetings have been going on.
"In a vibrant party like ours, leaders won't stay idle. After Oli found himself in the minority, his men have started courting Madhav Kumar Nepal, while Dahal has been working to ensure his team remains intact," said a Standing Committee member with close relations to Nepal.
In the Nepal Communist Party (NCP), where three distinct factions—led by Oli, Dahal and Madhav Nepal—were once stacked precariously, there are now two—led by Oli and Dahal.
After being cornered by Oli, Nepal decided to side with Dahal, who has already managed to bring Jhala Nath Khanal and Gautam into his fold.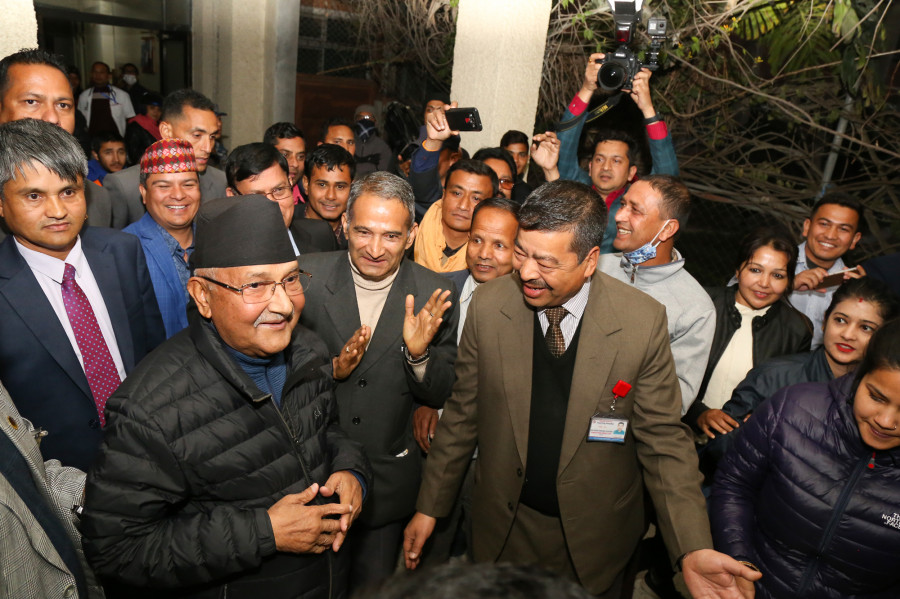 KP Sharma Oli at the Tribhuvan University Teaching Hospital ahead of his surgery. Post File Photo
According to insiders, leaders from the Oli camp have been engaged in discussions with Nepal and his coterie.

According to the Standing Committee member, Deputy Prime Minister and Defence Minister Ishwar Pokhrel, who is also a Secretariat member, Oli's chief advisor Bishnu Rimal and Province 5 Chief Minister Shankar Pokhrel, who is also a Standing Committee member, have separately met Nepal lately.
"This is part of the exercise by Oli confidantes to placate Nepal to ensure the unity of former UML leaders," he told the Post.
Dahal, despite reports that he had caught the flu, has also been holding meetings with various leaders at his Khumaltar residence, said one of his confidantes.
On Wednesday, Dahal called on President Bidya Devi Bhandari for a 45-minute meeting where the two discussed political developments, according to Bishnu Sapkota, Dahal's press advisor.
Insiders say that Dahal's meeting with the President was partly an attempt to send a message to Nepal that he has other options up his sleeve should Nepal decide to abandon Dahal and partner with Oli.
Since its formation, the Nepal Communist Party has always been divided along UML and Maoist lines. But that equation was largely broken after Dahal managed to court Nepal, along with other leaders from the former UML. In the evolving dynamics, Nepal suddenly emerged as a key player, as both Oli and Dahal now want him on their side.
But according to leaders close to Nepal, he has been demanding that every deal be made in "black and white" and that he is not going to accept anything "on credit".
"Oli is now trying to placate Nepal with a promise to make him the party chair," another leader who also spoke on condition of anonymity told the Post.
The Central Committee member, who has close relations with Dahal, said that unless Nepal gets concrete assurance, he is not likely to rise to Oli's bait at this point in time.
"Then again, if Oli makes a concession to Nepal, the latter will become more powerful and Oli will lose his grip on the party. I don't think Oli will do that," said the Central Committee member.
Official meetings of the party, however, have been halted for now because Oli is in hospital.
According to Haribol Gajurel, a Standing Committee member close to Dahal, there is nothing for Dahal to do by calling party meetings, as some unification-related tasks are still pending.
"Dahal has not taken any initiative to continue with party activities on his own because the other chair is needed to finalise the remaining tasks of unification," said Gajurel. "Other activities too have been affected due to coronavirus concerns."
Doctors have said it will take at least six months for Oli to fully recover and resume work, but Gajurel is optimistic that it will not take that long.
"But in case the prime minister has to stay in hospital for a longer period, we will come up with a solution to ensure that both the party and the government are run smoothly," he said.
---
---