Feast and famine
Is Nepal still devoted to farming as it was before? It would not be incorrect to say no. If the country's food import bill for the last couple of years is any indication, the answer is an emphatic no.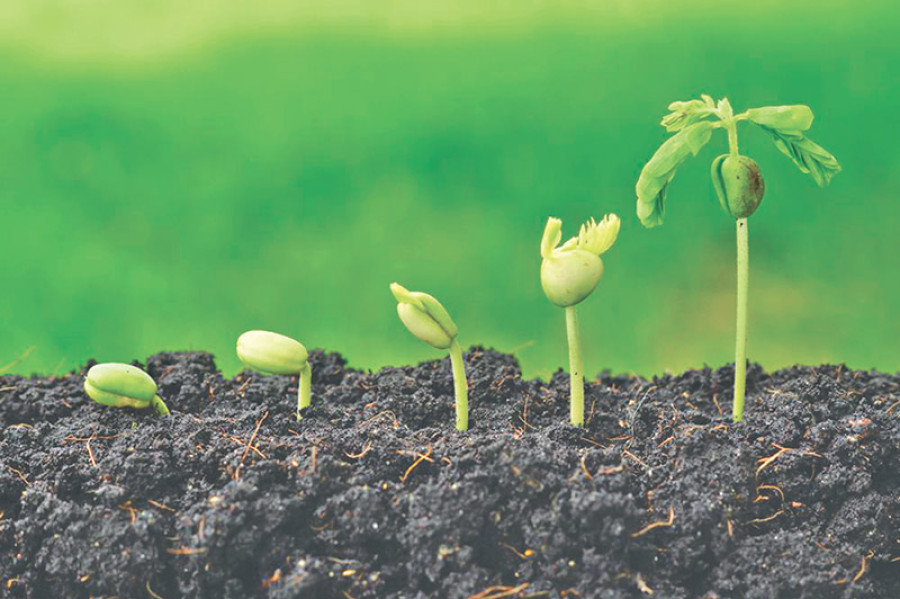 bookmark
Published at : September 5, 2017
Updated at : September 5, 2017 08:10
Is Nepal still devoted to farming as it was before? It would not be incorrect to say no. If the country's food import bill for the last couple of years is any indication, the answer is an emphatic no. Nepal's agricultural imports reached the Rs200 billion mark in the last fiscal year. This is equivalent to one-fifth of that year's total imports, and roughly eight times the figure from a decade ago. Agricultural imports have been increasing for more than a decade. For an economy where agriculture accounts for one-third of the Gross Domestic Product and employs three-fourths of the country's households, this is a matter of intellectual curiosity. Here are two contradictory views in this regard.
One, according to optimists, the increased farm imports reflect a growing demand for high quality food following a rise in people's income. As families lift themselves out of poverty, they start to buy higher quality cereals, like basmati rice for instance, and consume more meat which puts greater stress on grain production and imports. Since this argument is based on people's increased income and their tendency to consume more food, the growing agricultural imports are nothing to be concerned about. Although food imports can enlarge the trade deficit, we need not worry as long as the country's net receipts of foreign exchange, for example, remittance sent home by migrant workers, can cover the import bills.
On the other hand, pessimists question the country's increased dependency on food imports and its food security in the long run. There are two explanations behind this view. While imports of subsidised farm products have surpassed domestic output, the country's farms lie fallow due to a shortage of farm labour. If both problems deepen, Nepal's dependency on agricultural imports will grow further. The country will inevitably sink into a food crisis if food exporting countries rein in shipments or farm subsidies are outlawed internationally. Moreover, the country will face a grave situation if nothing is done to improve farming at home. Nepal's agriculture sector, thus, deserves protection at least on the basis of food security as commonly practiced globally.
Guarding self-interests
Providing protection to the farming sector is an international phenomenon. Subsidies occupy a central role in the production and export of farm products in rich countries. Considering food security, geographically small but wealthy countries like Japan and South Korea have been imposing outright barriers to rice imports. These countries levy as high as 800 percent of tariff on rice imports. The European Union (EU) is a keen supporter of farm subsidies as it has a common agricultural policy (CAP). Although CAP costs billions of dollars a year and accounts for 40 percent of the total EU budget, the programme has been continued for the protection of 2 percent of its farm workforce.
It is an irony that agriculture in Nepal has rarely been provided incentives. Already a net food importing country, it has been threatened by growing competition from imports and dwindling domestic production. The growth rates for both agriculture and population are almost the same, a meagre 1.3 percent. This means a possible drop in the food surplus if a natural disaster were to occur. Given this situation, Nepal urgently needs a revolutionary plan to control food imports and boost falling farm productivity. Two conditions will have to be fulfilled for this to happen. One, domestic prices for grain will have to rise to incentivise farmers. The simplest way to do this would be imposing high tariffs on food imports. But this is not desirable as it will affect consumers at large and goes against the people's welfare.
Outcome driven plans
Alternately, productivity related subsidies can be offered to help offset the price variation with imported products. These subsidies can be direct cash incentives or subsidised agriculture credit. Next, investments in infrastructure, primarily irrigation and access roads to agriculture markets, are crucial from the government's side as the former is meaningless without the latter.
There has been no shortage of plans designed to develop agriculture in Nepal. One of the popular programmes is the donor-driven Agricultural Perspective Plan (APP) which was much hyped without satisfactory yields. This is because past programmes were influenced largely by external advice which sought to promote free trade and was hostile to protection. Nepal needs a home-grown plan that includes incentives for farmers who have been suffering from depressed prices due to the largesse that rich countries heap upon their farmers and uncontrolled imports. This approach will help Nepal to reduce import dependency and ensure food security. If not, the feast might turn into a famine in the long run.
Shakya is an associate professor of economics at Tribhuvan University
---
---