Sports for a cause
Nepal's flag could fly high at Paralympics in a few years if it invests in disability sports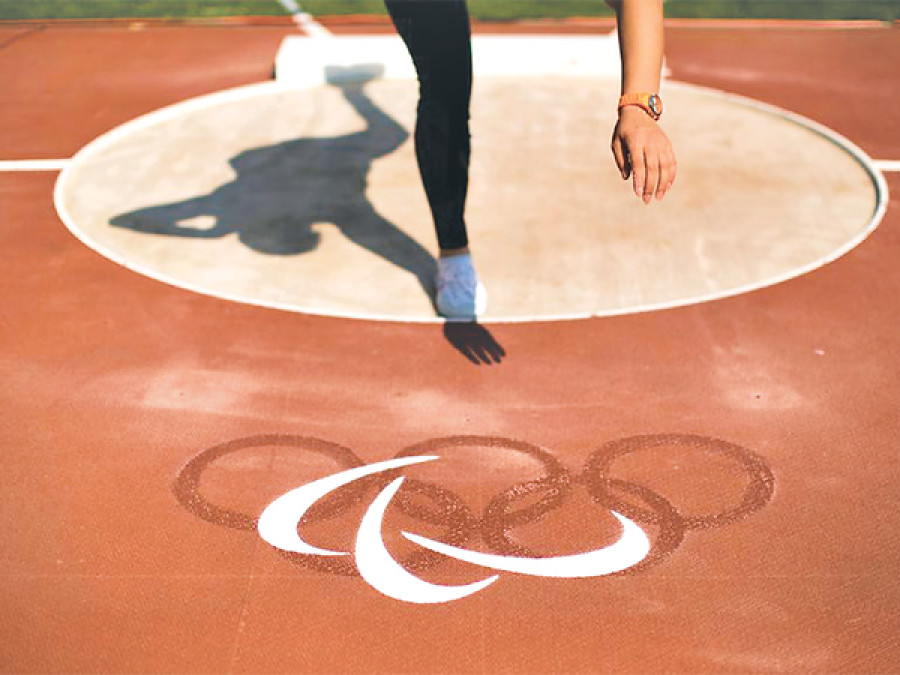 bookmark
Published at : November 8, 2015
Updated at : November 8, 2015 08:40
Recently, new the executive members were elected to the National Olympic Committee, ending the long-standing controversy of having parallel Olympic committees in the country. This, along with a new and strong leadership at the National Sport Council, could rejuvenate Nepal's sports sector. Though the timeframe is too short to expect any major achievement in the upcoming Olympic Games in Rio de Janeiro next year, the country does have hopes for Tokyo 2020.
Unnoticed and invisible
Sports can be a unifying element in the national reconciliation project as citizens regardless of their caste and creed rally behind the national teams. Unfortunately, we tend to forget that sports can unite the nation in another different but equally powerful way: by cheering up and rallying behind the athletes living with disabilities who often remain neglected and invisible.
Yet you can find them out there on the basketball courts, on the cricket and football fields, training and sweating hard day by day. Athletes living with disabilities are able to defy the unequal structures of society. Deprived of the connections and often lacking the skills to land a job, and highly unequal and inaccessible urban and rural spaces, an increasing number of youths and young adults living with disabilities are taking up sports as way to empower themselves. Inclusive sports can help to create a new narrative for an inclusive and cohesive nation that does not discriminate and prevent anyone from succeeding in life. But even as these athletes are left to their own devices, they strive to improve their performances and achieve new goals.
If only more resources were dedicated to the development of disabled sports and more importance was given to building disabled friendly sports infrastructure. If only there was more awareness among the people to mainstream disabled sports in the country and to bridge the existing divide between sportsmen and sportswomen with and without disabilities. By giving sportspersons with disabilities the same level of recognition and importance bestowed on their colleagues without disabilities, the country could set an example for other nations on ways to include disability in the national agenda.
Beyond infrastructure
In the past two years, the Nepali national team has played some memorable football and cricket games in Kathmandu. And it was not only the people in Kathmandu but those from across the country who stood in the line for hours to get the tickets to those matches. The same could happen with disabled sports. There is much potential. For example, last year, the best among the wheelchair basketball athletes had the opportunity to play in a major sport competition in Bangladesh. But Nepal does not have a national wheelchair basketball team. If it did, the team could excel in wheelchair basketball not only in South Asia but the entire Asia-Pacific region. Oftentimes, we think that the only problem keeping Nepal from having a strong paralympics team is the lack of resources to do so. And when we talk about infrastructures, we end up discussing only about physical playgrounds that are certainly indispensible for trainings and practice. But it is not a sufficient condition to develop the sector.
We need to go beyond the 'hardware' component and think about how the entire 'governance' of disability sports movement is organised and how we can strengthen it or maybe even radically change it. We also need to talk about coaching, training standards and about challenges the differently-abled face while commuting to take part in trainings.
Dream big
Nepal often prides itself on having a strong disability movement but within it, disabled sports remains unnoticed. It is a pity because in terms of visibility, inclusive sports could boost the entire disability movement. Athletes who chase a ball while on a wheelchair or bat on a cricket pitch despite being visually impaired could become the real ambassadors of a new and more inclusive nation. If we want a change and really develop disability sports in Nepal, the actors and other stakeholders involved in it, must forge a new consensus and work together with a renewed sense of unity.
For encouragement, Nepal could turn to China: it took at least 20 years for the country to emerge as a global sports player. It would certainly be unfair to compare Nepal to China. Even India has only just begun to invest in sports and it could take at least a decade to reap some results. Regardless, Nepal with all its limitations and challenges should play smart and set ambitious and realistic goals. And disability sports could do even better than so called 'mainstream' sports. Imagine the flag of Nepal flying high during the Tokyo Paralympic Games in 2020. Imagine if a strong paralympics team from Nepal would do well in Tokyo. Now fast-forward to 2024 Games with the Paralympic venue still undecided. Just imagine the happiness a paralympics games medal could bring to Nepal. A 10-year long framework could be the basis on which Nepal could launch a new disability sports movement. The corporate sector should also be actively involved in it.
Sometime back, Pete Hughes, one of the most successful wheelchair basketball coaches in the US told me, "Remember the most important thing about wheelchair sports is the effort in the chair. It does not matter if you can score a basket, but maneuvering that chair is the primary objective." At the end of each day it brings a smile on the faces of the players and a sense of accomplishment. "This," according to Hughes "is called empowerment".
Therefore, the bid to promote disability sports in the country could be listed as one of the national pride projects. This should encourage us all to build a more inclusive country by leveraging the power of sports.
Galimberti is co-Founder of ENGAGE and Editor of Sharing4Good
---
---