Kantipur Publications marks 30th anniversary
Journalists, employees and top journalism students were felicitated with awards as part of the anniversary programme.

Post Photo
bookmark
Published at : February 19, 2023
Updated at : February 20, 2023 07:45
Kathmandu
Chairman and Managing Director of Kantipur Media Group (KMG) Kailash Sirohiya vowed to fight the rising wave of misinformation and disinformation. He expressed his confidence that with the strength of the 2,000-member Kantipur family, the KMG will be able to overcome the challenges that have emerged in different forms, just like it has done in the past.
"Kantipur has continuously been the number one media organisation of the country, which was possible only because of our teamwork," he said, speaking at the Kantipur Publications' 30th anniversary function organised at its offices in Thapathali.
Addressing the same function, Sudheer Sharma, Editor-in-chief of Kantipur Daily, said the role of mainstream media has become vital in terms of giving readers authentic information. "The trend of confusing the public with the help of unverified information on social media has become rampant," Sharma said. "Organisations like ours should be able to win public trust as a media outlet that gives authentic information that clears such confusions."
CEO of Kantipur Publications Mahesh Swar said the publications will continue to fight all obstacles placed on its way and to come up with innovative plans in order to retain its top market position.
On the occasion, CMD Sirohiya honoured various journalists and employees with awards of different categories.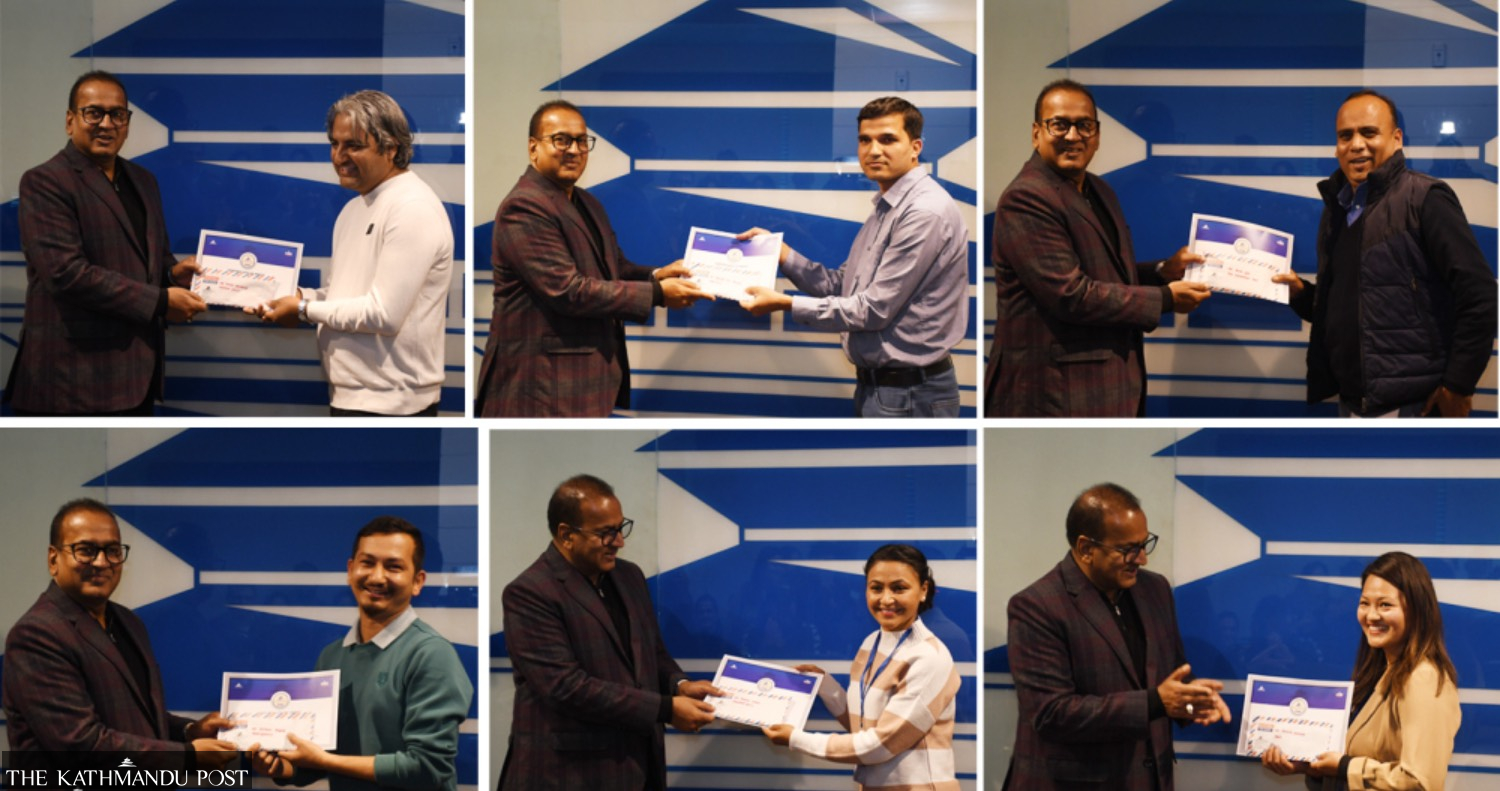 Post Photo
Anil Giri of The Kathmandu Post, Tufan Neupane of Kantipur Daily, Upendra Raj Pandey of eKantipur, photojournalist Keshav Thapa, Diva Bhattarai of Radio Kantipur, and radio programme presenter Priyanka Prasai were felicitated with the best performer awards in their respective departments. CMD Sirohiya honoured them with certificates and cash prizes.
Similarly, Bhaskar Khanal of the finance department, Sanoj Pandey of marketing, Kishore Basnet of circulation, Binod Subedi of the press, delivery boy Bikas KC of the circulation department and driver Tshering Tamang of the administration department were honoured with the best employee award.
The publications also awarded employees working in various departments with the 'Incentive Award'.
Madhu Shahi of Kantipur Daily, Sujata Mukhiya of Nari magazine and Chitwan correspondent Ramesh Kumar Poudel received the award.
Likewise, Santosh Dhakal of the marketing department, Lakshmi Upreti of the human resources department, Saru Maharjan of the administration department, Suresh Dayal of the finance department, Arjun Magar of press, Lalit Kumar Chaudhary of the IT department, driver Pema Dorje Tamang of the administration department and security guard Homanath Dahal were also bestowed with the Incentive Award.
The Incentive Award was also given to Yamakant Bhusal of press section in Bharatpur, Sita Devi Adhikari of marketing section in Pokhara, Dipendra Lama of the scanning department in Biratnagar and Govind Chhetri of the design and layout department in Nepalgunj.
On the occasion, KMG also awarded 21 delivery boys with the same Incentive Award.
KMG also presented this year's Kantipur Journalism Award to various students who excelled in journalism studies.
The award was conferred to Gagan Dhakal, who excelled in basic journalism training conducted by the Nepal Press Institute; Risheka Joshi for outstanding educational performance in +2 level journalism; and Anusha Rokka, who received excellent marks in journalism as an undergraduate degree at Tribhuvan University.
---