'Namaskar, main Ravish Kumar'
A veteran Indian journalist talks about Indian media, its future, and India under Modi.

Keshav Thapa/TKP
bookmark
Published at : May 7, 2022
Updated at : May 7, 2022 08:30
Kathmandu
Ravish Kumar is a veteran among a few journalists in India who continue to receive death threats for doing what journalists are supposed to do: question the government.

He started receiving death threats as early as 2015, months after Hindutva strongman Narendra Modi came to power in India.
Death threats have become a regular occurrence for journalists who are critical of the government, as if it were a recognition that they are doing their job of questioning the government well enough.
To be sure, his work has been recognised with the Ramon Magsaysay Award in 2019, and the Ramnath Goenka Excellence in Journalism Award 2013 and 2017. But he himself does not want to be recognised in public.
"If you ask questions, it might even be dangerous to your life. In society, you cannot identify as a journalist," Ravish told the Post on Friday as he arrived in Kathmandu.
More than his own security, though, Ravish says he is worried about where Indian journalism is headed.
In an interview with the Post, Ravish, who is in Kathmandu to speak at the Himal Media Mela, talked about what ails Indian journalism and why he has little hope for its future in the decades to come.
"Indian journalism, as we know it, has been finished more or less," said Ravish.
For one, the profession he learnt about in his journalism school and in the field has changed beyond recognition. Media houses nowadays do not write or speak about what the people need to know, but what the government wants the people to know.
Rather than act as mediators of information, journalists are now creators of perception on behalf of the government, he feels.
As the world's largest democracy slides to 150th position in the 2022 World Press Freedom Index as per the global media watchdog Reporters Without Borders, Ravish looks like one of the last few members of a tribe called journalists.
He continues to make the government nervous as he presents his weekday show "Prime Time with Ravish Kumar", where he starts with "Namaskar, main Ravish Kumar," with a full assertion, piquing the viewer's curiosity as to what he is going to offer.
But he is aware that his tribe is getting smaller by the day, and the idea of a free voice is becoming a lost cause.
"It has been accepted in the public that you cannot ask questions. Asking questions is considered a bad trait," said Ravish.
When Ravish stepped out of journalism school into the field as a reporter in the 1990s, this was not the scene.
A senior executive editor of NDTV, a television channel he has stuck to for a decade and a half, Ravish is one of the rare breeds to ask questions to leaders and seek to hold to account those in power at a time when the Indian media seems to be toeing the government line.
In his programmes, Ravish tells stories that India may not have heard or seen and talks to those whom the rest of the Indian media may have ignored while being busy singing paeans for the government, especially since the Bharatiya Janata Party came to power in 2014.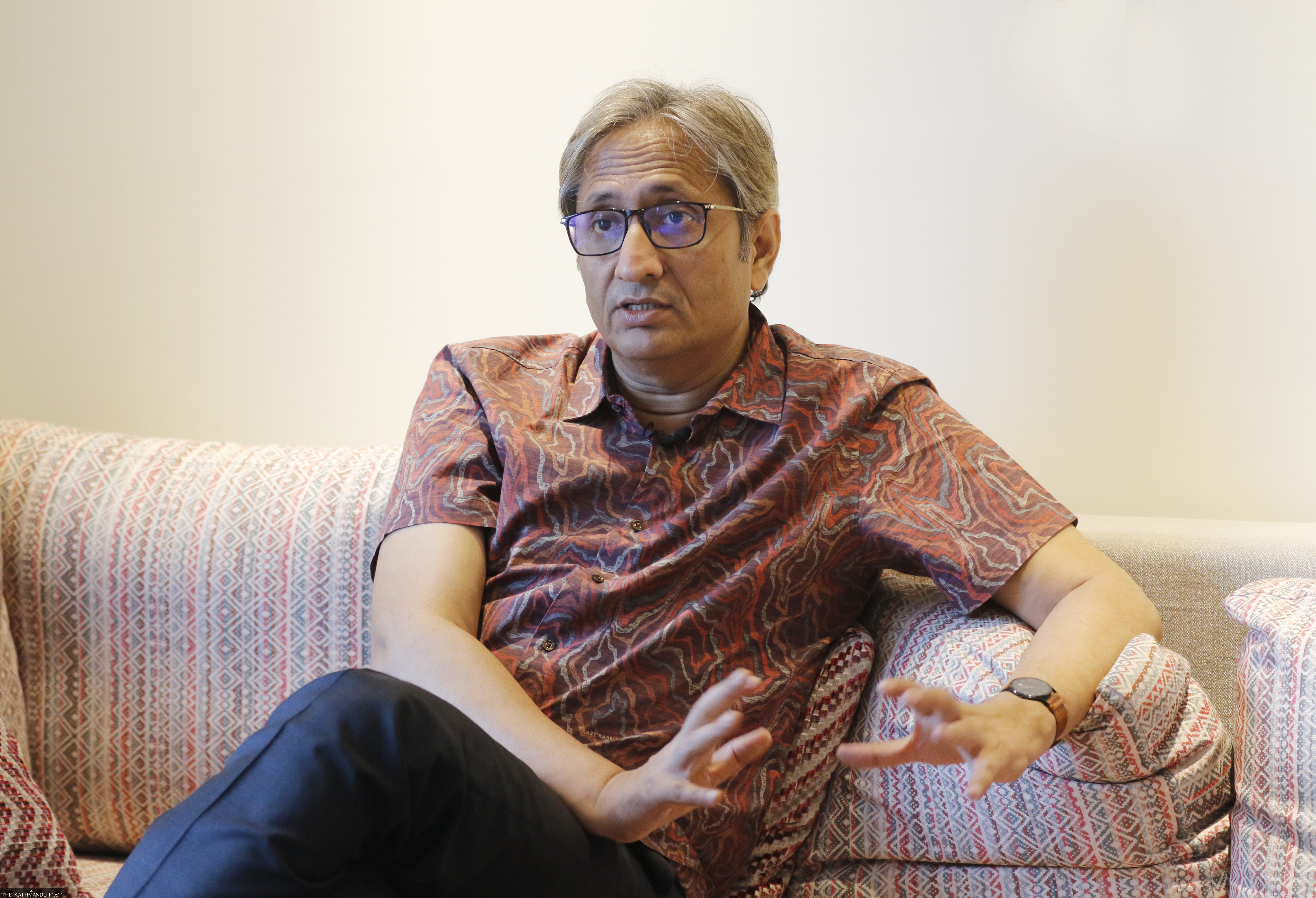 In his programmes, Ravish Kumar tells stories that India may not have heard or seen. Keshav Thapa/TKP
Over the years, Ravish has emerged as someone who offers some solace to the viewers at a time when television has become a cacophony, with anchors engaging in shouting matches. But he stands alone and aloof, just to tell stories that matter to the marginalised, the downtrodden and those who rarely come to the radar of the conventional media.
"The ethics we learnt as journalists, it has all changed now. The ideals and the objectives of journalism have all but gone for a toss. The kind of journalism that is happening now is all about Hindu-Muslim. The ethics, ideals and objectives of journalism have been finished, as an anchor or a media house is now busy spreading religious fanaticism," said Ravish.
The very idea of what journalism is for has changed as media houses toe the line of the government and expend all their resources against the opposition, which is already too weak of its own.
"This is not journalism in the classic sense. But if you look at it from the perspective of the society today, you'll see that it considers this is what journalism is. The very idea of how journalists should function has changed," he said.
Citizens have for the past eight years been subjected to propaganda from 'Godi Media' and 'WhatsApp University'—terms Ravish uses to identify media institutions or social media messaging groups that are unapologetically close to the government.
Ravish seems to have coined 'Godi Media' rather uncannily to express how the Indian media under Modi has become a lapdog from a watchdog. 'God [pronounced gowd] in Hindi means "lap."
And the man from Champaran in Bihar, a state bordering Nepal, refuses to be part of what he also calls "Lutyens' Media" which is understood as left-leaning and elitist.
Amid all that is going on in India, where television cacophony rules the roost, Ravish seems to be standing afar, trying to offer the real picture of India— stories that are untold, people who are unseen and politicians who are barely talked about.
And, Ravish has a new name for the propagandist media houses–'Hindu Media'.
"For weeks now, media houses have run debates on loudspeakers being used in mosques [for azaan]. From Godi Media, they have turned into Hindu Media. This is a golden period for this kind of media".
Communalism has become a daily affair in India today. In a country full of unmatched religious and cultural diversity, fanatics inspired by Hindutva raid streets and homes looking for traces of food items or relationships they consider unpious. Just as questioning the government, eating beef or marrying outside of religion is a crime for the fanatics who seek to 'protect' a deeply problematic, homogenous idea of India. And the media has added fuel to the fire as television anchors spit venom against minorities, especially Dalits, Adivasis and Muslims, relaying the government's narrative of "Hindu khatre mein hain", or "Hindus are in danger".
Ravish sounds overly pessimistic about the future of Indian journalism.
"In our society, journalism without information is increasingly being accepted as perception has become more important. There is nothing to do in this kind of journalism; you can just spit venom against people of other communities. This kind of journalism does not build a mature society." This, however, is not a crisis of journalism only, says Ravish, adding, "It reflects a crisis in Indian society itself."
Having worked in television for more than two decades, Ravish now famously asks his viewers not to watch television, an irony in itself that he works for a television channel.
Asked if he is contradicting himself while he himself uses television to earn bread and butter, Ravish quipped: "The viewers know which channels I'm imploring them not to watch."
As Nepal prepares to go for a second iteration of local elections, Ravish has an advice for journalists.
"There cannot be a democracy with only one side. Democracy, rather, is a competition of ideas," he said. "In India, the media has finished the spirit of opposition. Journalists should be careful that they do not have any competition outside of professional interest."
---
---