Education incentive: Scholarships for daughters-in-law
In Makawanpur, Raksirang Rural Municipality has rolled out a scholarship scheme for daughters-in-law to uplift the socio-economic status of the local residents.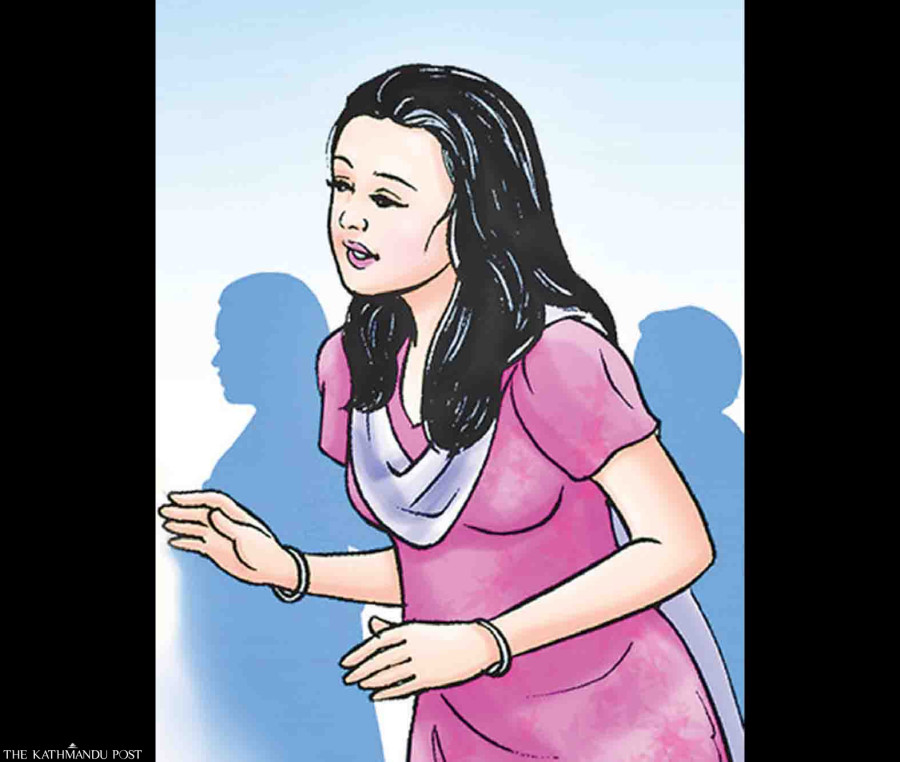 Post Illustration
bookmark
Published at : April 20, 2022
Updated at : April 20, 2022 07:43
Kathmandu
Less than 100 kilometres southwest of Kathmandu, about a four-hour drive away, lies Makawanpur district, where the rate of child marriage is 59.7 percent.

In the fiscal year 2018/19, government records show that 53.39 percent of young girls—out of 12,220 children—dropped out from community schools in the district.

The school dropout rate was 15.84 percent then.
According to district authorities, a combination of socio-economic realities — poor financial condition, food insecurity and lack of awareness among the guardians — in Makawanpur is contributing to high dropout rates in the district.
"The Human Development Index (HDI) of Makawanpur is extremely low. We are far behind in development in terms of health and education. People barely educate their daughters here. Many continue until grade eight, and then discontinue their education for various reasons," says Rajkumar Malla, mayor of Raksirang Rural Municipality, Makawanpur.
Raksirang is one of the bottom 10 local federal units with the lowest value of mean years of schooling across Bagmati Province, and also falls in the bottom 10 in terms of Education Index and HDI values.
In a society where the residents are superstitious and unaware of their health and rights, the municipality realised that the only way forward would be promoting education for young girls. To do so, they rolled out 'Buhari Chhatrabritti' — scholarships for daughters-in-law—three years ago.
"Many don't know how to take paracetamol as well. If a pregnant woman has any complications, they go to witch doctors. In a society like this, we saw superstitious beliefs as a threat to our social development," says Malla. "That is why we felt the need to invest in female education, particularly daughters-in-law."
Daughters aren't encouraged to study in Makawanpur, according to elected representatives. By conducting awareness programmes and ensuring incentives for the education of daughters-in-law, they hope to see a positive change in female education in the region.
Gender and education experts find Raksirang's policy praiseworthy. In a country where women burn their daughters-in-law, they say such a policy that encourages them to be educated, paving the way for their financial independence, is commendable.
"Makawanpur lies at the nexus of the dowry system in the Tarai and the remnants of conflict-era crimes. In such a place, the opportunity for transforming and changing women's status in society is huge," says Nirmala Sharma Dhungana, a pioneer of Women and Gender Studies at Padmakanya Campus. "Such policies will enable women to be financially independent and have better decision-making capacities."
Under Buhari Chhatrabritti, in the fiscal year 2020-21, four female students were awarded the scholarship, and each received a total sum of Rs30,000.
A year on, in the fiscal year 2021-22, out of seven applicants, only four were awarded the scholarship, where each received Rs16,000.
Two applicants were denied the scholarship because they were married before the age of 20 and the third applicant was denied because she had discontinued her education.
The criteria for the application require the daughter-in-law to be above 20 years of age. She has to provide official documents such as a marriage certificate, proof of her enrollment at a local educational institution and a recommendation letter from the school.
Policies that are homegrown to tackle contextual problems have a greater chance of coming to fruition. However, experts also emphasise the need to be wary of the non-implementation of the policy. An intersectional analysis is key to evaluating the effectiveness of the policy, they say.
"We need to have short- and long-term research plans. Data should be collected on the social status, class, caste, age of the daughter-in-law, and son's age to identify the demographics that come to access the funds," says Dhungana. "Rampant misuse of such scholarship schemes is evident, and if the policy is to be effective, we should monitor from the get-go."
Community aid workers in Raksirang commend the local government for the initiative. However, they express that communities such as Chepang are unable to take advantage of the opportunity because of the existent mindset that daughters-in-law are meant for household chores only.
"The major reason the Chepangs marry children early is that young girls can help in household chores. These young girls don't have the luxury to attend schools by leaving the chores at home," says Ankita Shah, executive director at Bighnaharta Nepal, a non-profit organisation working towards socio-economic and livelihood upliftment of the Chepangs.
"Until the socio-economic condition of the communities is better, initiatives as such will not be successful in uplifting the lives of the marginalised," says Shah.
In recent years, married girls younger than 20 have also shown an interest in the scholarship. Given that their marriage is illegal under the law, they are ineligible for the scholarship, according to Malla.
However, the municipality aims to smoothen the process of acquiring such documents for anyone interested. According to Malla, locals showed very little interest in the programme in the previous year because the paperwork posed a hassle.
"We understand that the documents are a hassle," says Malla. "This year, we have focused on making paperwork easy and accessible, and that is why we have seen an increased enrollment."
---
---