At least 18 killed as floods, landslides cause devastation in several districts
As many as 24 people reported missing in Bajhang and around 2,600 people displaced in Kanchanpur.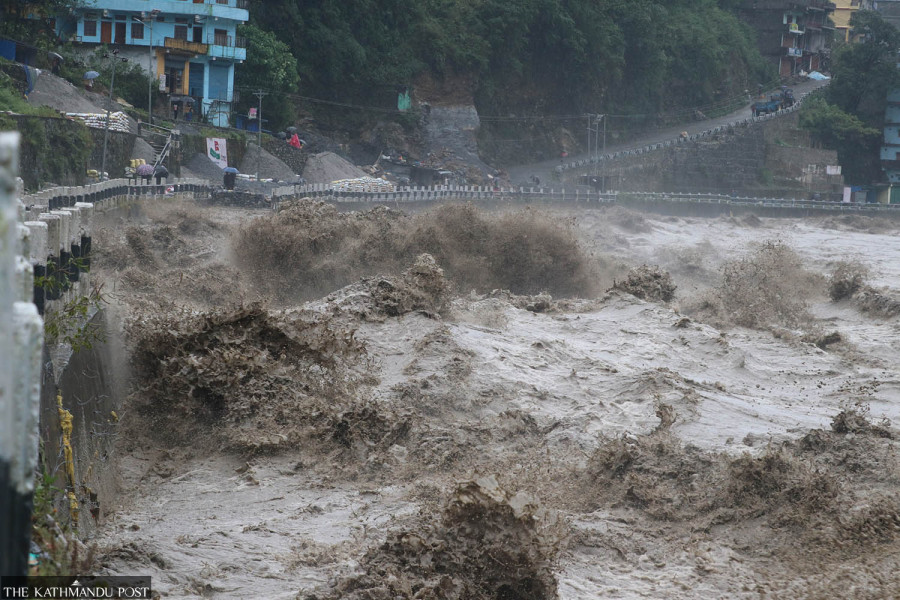 The rain-swollen Mahakali river in Darchula district as seen on Tuesday. Manoj Badu/TKP
bookmark
Published at : October 20, 2021
Updated at : October 20, 2021 07:45
Dhangadhi
At least 18 people were killed and dozens were reported missing after heavy rains triggered floods and landslides in different parts of the country, authorities said on Tuesday. Hundreds of families were also displaced.

Sudurpaschim Province was hit hardest by the disaster brought upon by an unseasonal rainfall. Kanchanpur, Kailali, Doti, Baitadi, Dadeldhura, Baitadi and Bajhang districts were hugely affected. Mahakali, Karnali and Seti rivers recorded the highest water flow in decades, causing huge loss of life and properties.
According to the District Police Office in Doti, at least nine people were killed and one is missing in separate incidents of floods and landslides.
"Four members of a family were killed after their home was swept away by a rain-swollen stream in Jorayal Rural Municipality," said Police Inspector Rabindra Chand.
In Baitadi, three members of a family were buried to death when a landslide swept away their house in Shivanath Rural Municipality-6, a local government official said.
Sudurpaschim Province Police Office reported at least one death in Dadeldhura and one incident of missing person in Kailali.
In Kanchanpur, the flooded Mahakali river entered various settlements in Bhimdutta Municipality on Monday night, displacing more than 600 families.
"I was awakened by the noise in the neighbourhood. We immediately moved our domesticated animals and some valuables to safer places, but we could not salvage food and clothes," said Shakuntala Deuba, a local resident.
District Police Office, Kanchanpur said around 2,600 people have been displaced by the floods in Bhimdutta and Dodhara Chandani municipalities over the last two days.
The water flow in the Mahakali river was recorded 547,224 cusec, highest in decades, at 2pm on Tuesday.
"It was the highest recorded water flow since the barrage was constructed in 1928," said an employee at the Sharda Barrage.
He said the water level was receding by Tuesday evening.
In Bajhang district, as many as 24 people were reported missing after a landslide buried seven houses at Dikla village in Thalara Rural Municipality.
"Search and rescue have been hindered as the landslide has not stopped," said Deputy Superintendent of Police Rupak Khadka.
Meanwhile, around 50 people who are stuck due to the Seti river floods in Dungaad area of Baitadi district were awaiting rescue till late Tuesday evening.
An official said 50 to 60 people were trapped after the floodwaters surrounded their settlement. He said a Nepal Army helicopter deployed to rescue the trapped villagers had to turn back due to adverse weather.
In Sunsari, two siblings died when a landslide buried their house at Dharan Sub-metropolis.
In Kalikot, a teenager was buried to death while a house collapsed following heavy rainfall at Mahabai Rural Municipality on Monday night.
In Bardiya, more than 1,000 houses were inundated in Rajapur Municipality and Geruwa Rural municipality when the flooded Karnali river entered the settlements, said Chief District Officer Santa Bahadur Sunar.
Rajapur residents claimed that their homes were flooded after Indian authorities closed the sluices of Girijapuri barrage.
Authorities advised the residents to remain alert as the water level in Karnali was still increasing.
In Janakpur, a historical town in Dhanusha district, incessant rainfall waterlogged several places. Officials said properties worth millions of rupees were damaged.
In Myagdi, the floods and landslides blocked the Beni-Jomsom road. The landslides disrupted the road stretch at Galeshwar, Rupsechhahara, Kapre and Bandarjungbhir areas. Hundreds of people returning after visiting Mustang during their Dashian holidays have been stranded due to the transport disruption.
Likewise, fresh floods and landslides disrupted Besisahar-Chame road, the only road connecting Manang district to the national road network.
'The road has been disrupted in several places in Manang district. We will start the repair work soon after it stops raining," said Achyut Bilas Panta, an engineer at Dumre-Besisahar-Chame Road Project.
(With inputs from our local correspondents)
---