Government team to visit Humla to study Nepal-China border dispute
The committee is led by Jaya Narayan Acharya, a joint-secretary at the Home Ministry.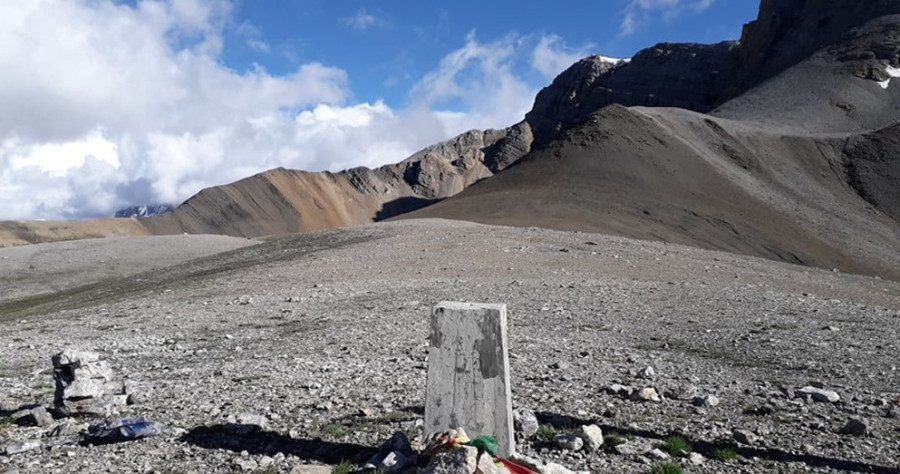 File Photo
bookmark
Published at : September 4, 2021
Updated at : September 4, 2021 22:55
Kathmandu
The Ministry of Home Affairs has decided to send Jaya Narayan Acharya, joint-secretary at the Home Ministry, to study the border dispute issues with China in Namkha Municipality of Humla district.
Acharya will lead a team comprising the representatives from Nepal Police, Armed Police Force and the Survey Department, said Phanindra Mani Pokharel, spokesperson for the Ministry of Home Affairs.
Acharya, who was working as the chief district officer of Saptari, was recalled to lead the border study team.
"Joint-secretary Janardan Gautam will fill Acharya's position in Saptari," Pokharel said.
Earlier, Gautam was made the coordinator of the team investigating the July 30 Darchula incident, in which a Nepali man is missing in the Mahakali river after the improvised cable crossing that he was using to get across the river was reportedly unfastened by the Indian border security personnel.
The Cabinet meeting on September 1 had decided to form a committee to study the border issue with China.
Jeevan Bahadur Shahi, a member of the Karnali Provincial Assembly, has been repeatedly demanding an investigation into the issue. He had prepared an independent report, stating that pillars numbered 9, 10, 11, 12, 5 (1), 6 (1), 7 (1) and 8 (1) were damaged in Humla district, which borders China.
He had also claimed in the report that Pillar 12 was replaced by the Chinese side, and as a result, a large swathe of Nepali land is demarcated as Chinese territory.
Nepali Congress Vice-president Bimalendra Nidhi, who is also a former deputy prime minister, had also supported Shahi's demand and urged Prime Minister Sher Bahadur Deuba to investigate the issue.
After the issue of border dispute was raised in Namkha, the Chinese embassy in Kathmandu on Friday expressed its interest in the matter and claimed that there was no border dispute with Nepal.
On Saturday, former prime minister and UML chairman KP Sharma Oli also said there was no border dispute with China.
In September 2020 last year, a team led by Nepali Congress leader Shahi had inspected the Lalungjong area in Namkha Rural Municipality-6 of Humla and concluded that China had encroached upon the Nepali land.
After the inspection report was sent to the party's central committee alleging that China had encroached on the border, Chinese Ambassador to Nepal Hou Yanqi had denied the report's claim.
The Nepal-China border area is about 1,414 km long.
Nepal is taking the initiative to correct the border demarcation saying that the pillar number 57 in Tippa has been buried in such a way that 6 hectares of land has been encroached. The technical teams of both the countries are preparing the updated details of the border area.
---