Government seeks logistical support from India, China even as poll uncertainty continues
Poll body has yet to resolve dispute in Nepal Communist Party, a must for holding elections, but it has expedited other works.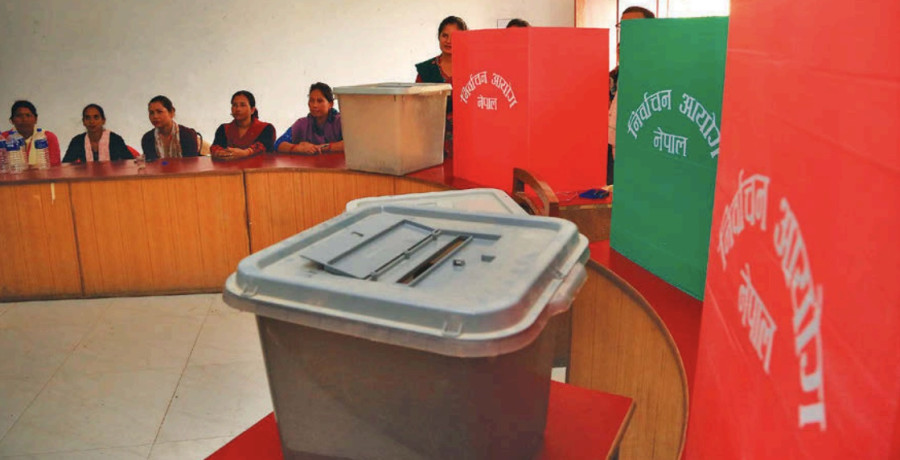 The requested support ranges from stationery items to vehicles. Post File Photo
bookmark
Published at : February 17, 2021
Updated at : February 17, 2021 07:27
Kathmandu
Almost two months after Prime Minister KP Sharma Oli declared snap polls for April 30 and May 10, the Supreme Court is in the final leg of hearing writ petitions against his House dissolution move, with the amicus curiae starting to present their arguments from Tuesday.

If five members of the amicus curiae complete their arguments by Friday, a verdict is likely in about two weeks. Elections will take place only if the court upholds House dissolution.
The Election Commission has meanwhile expedited its preparations. After holding a consultation with the parties, the poll body has sought support from neighbouring countries. It, however, has yet to resolve the Nepal Communist Party legitimacy dispute, the sine qua non of the elections.
The Ministry of Finance through the Ministry of Foreign Affairs has already shared Nepal's possible requirements with India and China, officials familiar with the development told the Post.
Though Nepal has in the past too sought assistance from its friendly nations for elections, this time clouds of uncertainty still hover over the proposed polls—first because the court is yet to come up with a verdict, and second, it's a race against time. As per the declared dates, the first phase of voting takes place 74 days from Tuesday.
Election Commission officials say they have not sought support from any country directly but had requested the ministries to facilitate the process.
"During a recent meeting with the Ministry of Finance, our joint-secretary submitted the list of items we will require for the polls," Dinesh Thapaliya, chief election commissioner, told the Post. "As per our requirements, the Finance Ministry could have written to different countries, which we are not aware of."
Recently, through the Ministry of Foreign Affairs, a separate request was made to governments of India and China, seeking logistic support for the polls, according to sources.
"We have already communicated our requirements in writing to India's Ministry of External Affairs," a diplomat at the Nepali embassy in New Delhi who did not wish to be named told the Post.
Foreign Ministry Spokesperson Sewa Lamsal confirmed to the Post that the ministry has made a request with both India and China seeking support for election preparations.
"Other requests are being worked out," said Lamsal. "Such requests are a routine, as we do seek friendly countries' support for election purposes."
Lamsal, however, refused to provide details.
Both India and China have by and large not said anything specific on Oli's election announcement, which many believed could be because the House dissolution case is still pending at the Supreme Court.
Five days after Oli dissolved the House, India had called it Nepal's internal matters.
"We have noted the recent political developments in Nepal," India's Ministry of External Affairs said in a statement on December 24. "These are internal matters for Nepal to decide as per its democratic process."
China, which was caught unawares by Oli's sudden House dissolution, has not officially responded to political developments in Nepal. It, however, had sent a high-level delegation to "assess the ground situation" in Nepal.
On February 8, the Chinese Foreign Ministry said in a statement that being a friendly neighbour, China hopes that all parties and factions in Nepal will bear in mind the fundamental and long-term interests of the country and its people, seek common ground while shelving differences, and maintain unity and stability, so as to create favourable conditions and environment for its own development and prosperity.
Both India and China, which have their own rivalry, are Nepal's high-stake friends.
According to sources, Nepal has sought various kinds of vehicles, including regular vans, police vans and patrolling vehicles, and other items like ballot boxes in assistance for the elections.
"We have conveyed to the Indian side about our requirements," said the official at the Nepali embassy. "Once [Indian] Foreign Secretary Harsh Vardhan Shringla returns from his Russia trip, we will discuss the matter with him."
Shringla is embarking on a two-day visit to Moscow on Wednesday.
According to the poll official, when the items requested by Nepal could reach the country depends on how India responds.
In 2013, India had gifted 630 various types of vehicles to Nepal for the Constituent Assembly elections. Ahead of the local elections in 2017, India gifted nearly 50 vehicles and motorcycles.
Officials said vehicles provided by India in the past have become old or are not operational. Nepal has sought new vehicles, whose number could be around 100 or so.
Rajkumar Shrestha, spokesperson for the Election Commission, said that during an internal discussion, the poll body estimated that it needs around 50 to 60 vehicles.
"We need some vehicles for our provincial and district offices. But we are planning to repair the old vehicles as well, as the government has urged us to maintain austerity during the election process," said Shrestha. "Such requests for assistance, however, are not made by us directly."
It is likely to cost around Rs7 billion to conduct the elections.
The Election Commission has sought Rs7.79 billion from the Ministry of Finance for poll expenses, including Rs374.41 million for procuring necessary safety materials in view of the Covid-19 pandemic, according to a statement issued on February 3.
From China, an official at the Ministry of Finance, said support for logistical items like pens, pencils, paper, ink and other miscellaneous items, among others, has been sought.
"We are aware that the Supreme Court is hearing the House dissolution case, but it's our duty to carry on our preparations as the government has declared the elections," said a senior official at the Election Commission who spoke on condition of anonymity.
"And seeking support from friendly nations is part of our preparations. In the past too we have sought assistance from India and China."
Ahead of sending requests to India, China and other countries, senior officials from the Election Commission, Ministry of Home Affairs, Ministry of Finance, the Ministry of Foreign Affairs and other government agencies had held a series of meetings to finalise the things that will be required for the polls.
"The meetings were held to identify our needs and the resource gap and we had accordingly communicated to the Finance Ministry," said Chakra Bahadur Buda, spokesperson for the Home Ministry. "Then formal requests were made. This is a routine process."
---
---