Campaigners decry use of force by police on peaceful civic protest against the House dissolution move
Unwarned, protesters were hit by water cannons and beaten up as they marched towards Baluwatar. Earlier in the day, rights activists were rounded up from same area.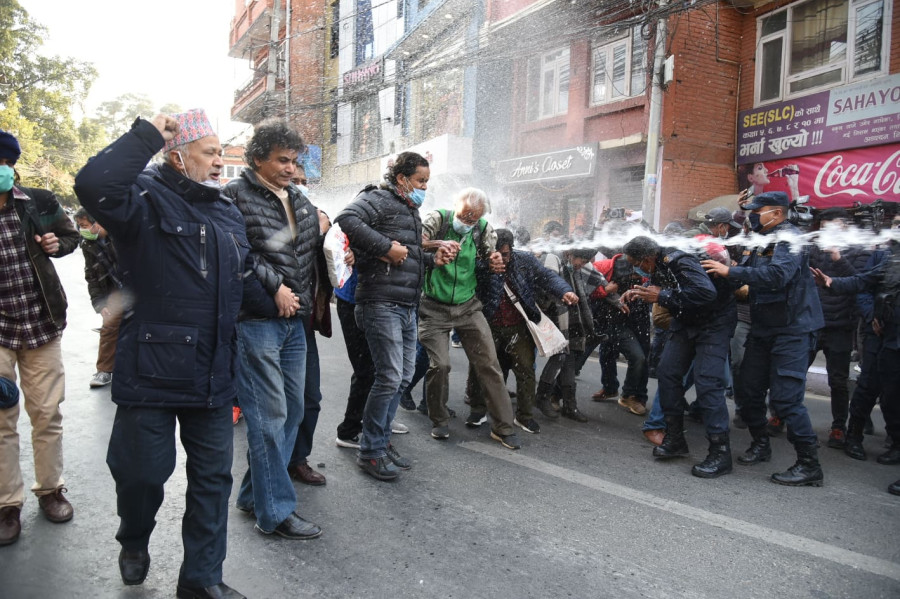 Keshav Thapa/TKP
bookmark
Published at : January 26, 2021
Updated at : January 26, 2021 07:36
Kathmandu
The KP Sharma Oli administration's intolerance of dissent and civil liberty was in full display on Monday. Police on Monday afternoon brutally charged members of civil society, who had gathered under the umbrella of Brihat Nagarik Andolan, when they were marching towards Baluwatar to protest against Oli's decision to dissolve the House on December 20.
In a statement in the evening, Brihat Nagarik Andolan said that the government forcefully led the peaceful protest into a violent clash.
"The police intervention in a peaceful protest shows KP Sharma Oli government's fearful and suppressive mindset," reads the statement.
Monday's demonstration had started from 'Kamal Pokhari', which has drawn heritage conservationists' attention of late because of the authorities' bid to turn it into a "concrete pond".
Renowned personalities including writers Narayan Wagle, Khagendra Sangraula, Ujjwal Prasain, Yug Pathak, professor Sanjeev Upreti, activist Rita Shah, social campaigner and orthopaedic surgeon Dr Govinda KC, human rights activist Mohna Ansari, Communist Party of Nepal leader Raghuji Pant and actor Dahayang Rai, among others, led the protest.
But no sooner had the demonstrators reached close to Baluwatar, the official residence of Prime Minister Oli, than police charged batons and used water cannons to disperse them, in what was reminiscent of the days when protesters were assaulted during the 2006 movement, which is dubbed the second Jana Andolan, the first being the 1990 movement.
The 1990 movement ushered in democracy in the country and the second culminated in the abolition of monarchy.
In a video clip by photojournalist Narayan Maharjan of Setopati, an online news portal, Wagle is seen falling down due to the force of the water cannon, and many others being brutally beaten up by police.
"We were holding a peaceful protest. Without prior information, police used force on us," said Wagle. "This is the beginning of the third Jana Andolan."
Oli faces charges of behaving as though he is the state, and since dissolving the House, he has been making statements, branding all who criticise him as anti-national forces.
His aversion to civil liberty and peaceful protests had become apparent just after he assumed office, as he had banned protests at Maitighar.
Civil society members and rights defenders have called Oli's House dissolution move unconstitutional, saying he has committed a fraud on the constitution because it does not allow him to do so.
Despite a dozen writ petitions against his move being heard by the Supreme Court, Oli has been making claims that the court cannot revive the House, in what many say his attempts to influence the judiciary.
"The Oli government has failed to show regard for democrotic norms," Uprety, the professor, told the Post. "The state is so fearful of its own citizens that it is not even allowing them to speak."
Earlier on Monday, police had rounded up around two dozen rights defenders from the Baluwatar area for protesting against the House dissolution.
Police, however, said no arrests were made during the civil society protest.
"A few people might have sustained minor injuries but we did not arrest anyone," said Senior Superintendent Pradeep Kumar Shrestha, also the spokesperson for the Metropolitan Police Office, Ranipokhari.
Shrestha defended security personnel's baton-charge and use of water cannon, saying "minor force" was used as the protesters were attempting to enter the prohibited zone.
"Five protesters and as many security personnel were injured," said Shrestha. "But all those injured protesters have returned home after receiving treatment at TU Teaching Hospital."
But the campaigners in their statement said that over a dozen people were injured.
"Six critically injured persons including Nirga Raj Jaishi, Janak Dhungana, Suroj Tamang, Kuldip Sharma, Sunil Shrestha and Govida Bhandari are receiving treatment at TU Teaching Hospital in Maharajgunj," read the statement.
Earlier in June also, police had used force on youths who were demonstrating at Baluwatar against the Oli government's lacklustre response to the Covid-19 pandemic.
Basanta Ranjitkar, one of the coordinators of the Brihat Nagarik Andolan, said Monday's was a planned attack from the government side.
"A democratic government never behaves in the way the Oli government has done today," said Rajitkar. "No regime is afraid of the people unless it has committed anything wrong. Since the Oli regime has lost its legitimacy, it is too afraid of the people."
---
---