47 potentially dangerous glacial lakes tickling in Koshi, Gandaki, and Karnali river basins
Of total 3,624 glacial lakes identified by the inventory, 1,410 lakes are equal to or larger than 0.02 sq km which are considered large enough to cause serious damage downstream once they burst.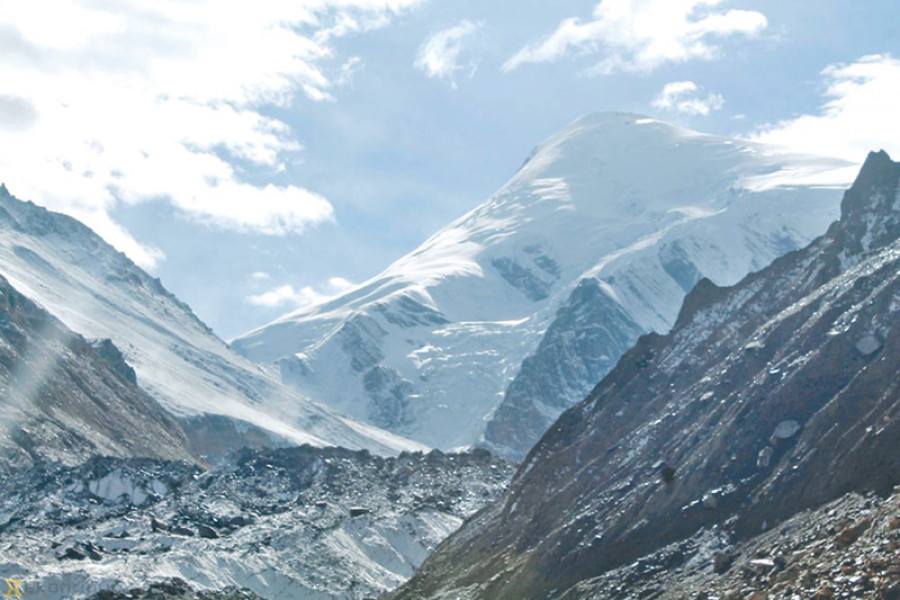 With the rising temperature and climate change, high-mountains have witnessed excessive melting of snow, and most of the Himalayan glaciers are rapidly melting and shrinking. Post file photo
bookmark
Published at : September 8, 2020
Updated at : September 8, 2020 07:28
Kathmandu
A new study has identified as many as 47 glacial lakes within the Koshi, Gandaki, and Karnali river basins of Nepal, the Tibet Autonomous Region (TAR) of China, and India as potentially dangerous, the ones that could damage physical infrastructure and cause loss of human lives and livelihoods downstream.
A new inventory of glacial lakes in Nepal, TAR China, and India, has not only found 3,624 glacial lakes located in the three basins but also identified 47 glacial lakes that could potentially cause glacial lake outburst floods (GLOFs).
The study by the International Centre for Integrated Mountain Development (ICIMOD) and the United National Development Programme (UNDP), released on Monday, has once again rung the alarm bell of the adverse impact of climate change to the high mountain region.
The inventory has enlisted 25 potentially dangerous glacial lakes in China, 21 in Nepal, and one in India, which are at the risk of unleashing GLOFs—a prominent water-induced hazard for Nepal and other mountainous countries in the Hindu Kush Himalaya (HKH) region.
The report pointed out that these glacial lakes need to be closely monitored for minimising the vulnerability of mountain people and protect settlements downstream in the three river basins.
"This science-based report gives an alarm about the potentially dangerous glacial lakes," said Dr David Molden, Director General, ICIMOD. "Now investments are needed to reduce the risk, and climate action is needed to limit global warming."
Of the 47 identified potentially dangerous glacial lakes, 42 are within the Koshi basin, making it the river basin with the highest risk. The Gandaki and Karnali basins have three and two such lakes, respectively.
Likewise, out of the total 3,624 glacial lakes identified by the report, 2,070 lakes are in Nepal, 1,509 lakes in the TAR, China, and 45 lakes in India. According to the finding, 1,410 lakes are larger than or equal to 0.02 sq km, which are considered large enough to cause a glacial lake outburst flood.
With the rising temperature and climate change, high-mountains have witnessed excessive melting of snow, and most of the Himalayan glaciers are rapidly melting and shrinking.
The rapid shrinking and retreating of glaciers influence the formation and expansion of glacial lakes, multiplying the risk of GLOFs which are caused by a sudden release of water from glacial lakes that have breached their moraine dams.
A Nepal government study found that the trend in annual maximum temperature in Nepal was significantly positive, at 0.056°C/yr over 1971‒2014. The study also revealed that the temperature rises at an elevated rate of 0.086°C/year in the Higher Himalaya over that period, which can lead to excessive melting and retreating of glaciers in future.
"Glaciated areas have decreased in higher mountains of Nepal. Reducing glacier areas means either it is flowing down or remaining stuck somewhere in glacial lakes formation," said Deepak KC, who coordinated the study on behalf of UNDP Nepal. "With the temperature rising around the world, global glacier lake volume has increased by around 48 percent, an increment of lake numbers by 53 percent and total area by 51 percent between 1990 and 2018. The trend has also continued in Nepal."
While the rapid melting and the recession of many Himalayan glaciers due to climate change is leading to the formation of new glacial lakes, the enlargement of existing lakes is increasing the risk that their surrounding moraines will not be able to hold it for a long time.
Trakarding glacier retreated at 66 m/yr between 1957‒2000 whereas Imja glacier recorded the highest rate of retreat among Nepal's glaciers, of 74 m/yr over 2001‒2006.
A separate study has shown that the total glacier area had decreased by 24 percent in Nepal between 1977 and 2010, while the number of glacial lakes had increased by 11 percent.
The number of glacial lakes in the Koshi basin decreased from 2,119 in 2000 to 2,087 in 2005 and to 2,064 in 2015. But, the number of glacial lakes has increased in the Gandaki basin, from 377 in 2000 to 405 in 2005, and 432 in 2015, according to the report. The glacial lakes in the Karnali basin first increased from 1,105 in 2000 to 1,204 in 2005 before again decreasing to 1,128 in 2015.
"The increase in the number of glacial lakes is indicative of the rapid melting of glaciers and formation of new lakes, particularly those dammed by glacier ice and moraines," reads the report.
The study has also categorised identified potentially dangerous glacial lakes on the basis of their physical parameters, dams, and surroundings. These lakes are classified under Rank I, being the most dangerous.
Rank I glacial lakes have a greater possibility of expansion, are dammed by loose moraine material and could experience snow and/or ice avalanches and landslides in their surroundings that may impact the lake and the dam, the study found. Even a slight rise in the water levels of these lakes or a reduction in the strength of their dams could cause a breach, said the report.
Nepal has experienced catastrophic consequences due to GLOFs, leading to a loss of lives and livestock, and damage to multi-million dollar infrastructure projects and transportation routes.
As per the Home Ministry, on average, Nepal loses 333 lives and property worth over USD 17.24 million (Rs 2,099 million) each year to extreme climate events. With the changing climate resulting in an increasing rate of glacial melt, GLOFs remain an ever-present threat for Nepal.
According to ICIMOD, Nepal has witnessed 26 GLOF events since 1977, with and 11 of these have had transboundary linkage, highlighting the need for joint and regular monitoring, periodic mapping, and hazard assessment of glacial lakes, cooperation for implementing risk reduction strategies and minimising damages.
The most significant GLOF occurred in 1985 of the Dig Tsho glacial lake in eastern Nepal, which resulted in an estimated economic loss of USD 1.5 million, destroying infrastructure including the Namche hydropower plant, and causing a few casualties.
"Glaciers are part of global heritage, managing them is a transboundary issue and a collective responsibility so the decisions need to be made together," said UNDP Resident Representative for Nepal Ayshanie Medagangoda-Labe. "We are sure that these studies can connect scientists, researchers and climate activists together and thrust for strategic decisions that reconcile the people with Nature."
The study is part of the UNDP' proposal formulation for a project to protect lives and livelihoods against flood and glacial lake outburst floods (GLOFs) targeting finance from the Green Climate Fund.
The study has, however, broader usability for various stakeholders as it confirms the impact of climate change on the Himalayas where the consequences are more pronounced in comparison to other areas, according to KC.
"Making climate finance a reality is a global promise, but in order to access climate finance, particularly for issues like glacial lakes, you need robust scientific studies and that's why we need to invest," said Medagangoda-Labe. "You need data, research and analysis, experts and instructions. Countries like Nepal have to move fast to compete for less and less available climate funding. We hope that a study like this will give the country additional chances."
---
---