Kantipur journalist Balram Baniya passes away
Colleagues remember Baniya as a soft-spoken but tough journalist—fully devoted to his job.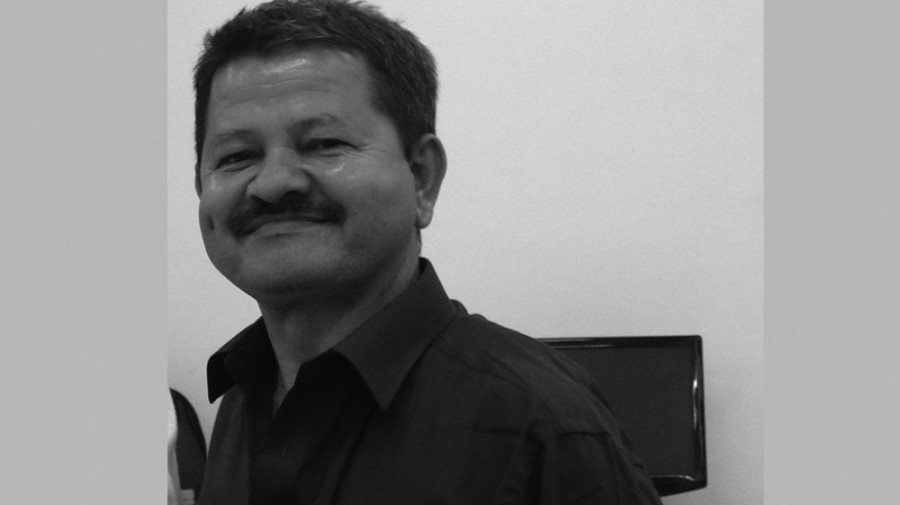 Post File Photo
bookmark
Published at : August 12, 2020
Updated at : August 13, 2020 07:59
Kathmandu
Kantipur journalist Balram Baniya has passed away.

He was 50.
His body was found near the Mando Hydropower Project area in Sisneri of Makawanpur on Tuesday morning.
Baniya was associated with Kantipur daily since the paper's initial days. After spending around 10 years as a core member of the editorial team, Baniya started his reporting stint in early 2000. He used to cover politics and parliament, but he made his name in journalism after he started doing extensive reporting on bureaucracy and governance.
Soft-spoken by nature with an unassuming personality, Baniya, according to those who have worked with him, however, was strict with fellow journalists when it came to new stories, the angle and accuracy.
Narayan Wagle, who edited the paper twice, remembered Baniya as an extraordinarily down-to-earth and honest person.
"I always felt the need of Balram in the newsroom to keep an eye on the proceedings and to raise questions," said Wagle. "He maintained the highest level of integrity and would spare none."
Baniya had an outstanding career of three decades, most of which with Kantipur.
He left Kantipur in 2009 to join Nagarik daily for a brief stint.
"He was an ideal journalist from all aspects," said Gunaraj Luitel, a former news editor at Kantipur who currently edits Nagarik. "He was a man of few words but he never hesitated to speak his mind."
Baniya returned to Kantipur about a decade ago.
Over the years, Baniya expanded his scope of reporting, covering issues related to energy, hydropower and infrastructure projects.
Hari Bahadur Thapa, former news editor of Kantipur with whom Baniya shared innumerable bylines, remembered Baniya as one of the best journalists.
"He was one of the rare journalists who was dedicated to his profession," said Thapa. "He was one of the few journalists with a deep understanding of Nepal's bureaucracy, governance and the system."
Baniya's sudden demise came as a shock not only to the Kantipur family but also to the entire media fraternity in the country.
Condolences poured in the whole day on Wednesday via social media as news came out about this death, with many expressing their shock and sadness at the sudden loss of a fighter journalist who never capitulated to any pressure.
Baniya had gone out of contact with his family and the office since Monday.
He had last communicated with the office on Monday to inform about an article by Nepali Congress leader Ram Chandra Poudel.
Amid Covid-19 concerns, most of the editorial staff of the paper has been working from home.
He had gone missing after he was swept away in the Bagmati river near the Balkhu bridge.
His body was found on Tuesday but the identity could not be ascertained immediately. The police could ascertain his identity on Wednesday only.
According to Senior Superintendent Deepak Thapa of the Metropolitan Crime Branch, Baniya's body was found near the Mando Hydropower Project area in Sisneri of Makawanpur at around 11am on Tuesday. His body has been kept at Hetauda Hospital.
According to the police, Baniya was last seen at Balkhu at around 3:45 pm on Monday.
A police team in Balkhu had even questioned him that afternoon, to which he had responded, saying he was going home.
According to police, he was then seen walking towards the vegetable market on the banks of Balkhu river near the Balkhu bridge.
Thapa said that Baniya had fallen into the river while walking under the bridge as his shoes got stuck in the mud. Locals had tried to rescue him but they failed, as he was swept away by the strong current of the flooded river, according to Thapa.
Further investigation is underway, said police.
Born in 1970 in Mirlung of Tanahun, Baniya had been living in Subidhanagar, Tinkune.
He was a former secretary of the Federation of Nepali Journalists.
Baniya is survived by his wife, a daughter and a son.
---
---