Tempest in the ruling party almost over after Dahal takes a conciliatory approach
Until a few weeks ago, Oli was cornered, but he has now managed to overpower mounting pressure to resign both as party chair and prime minister.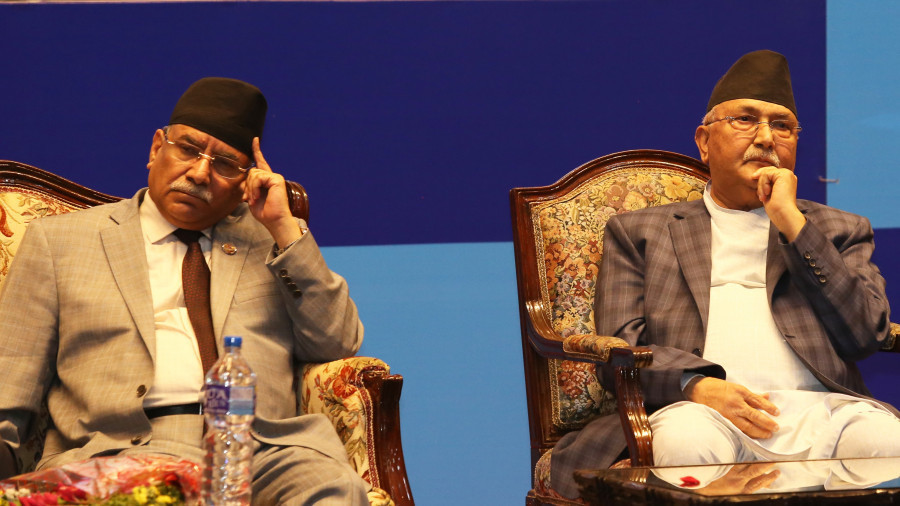 Post file photo
bookmark
Published at : July 21, 2020
Updated at : July 22, 2020 07:46
Kathmandu
Over the last three weeks, the ruling Nepal Communist Party' Standing Committee has been postponed for at least seven times. The reason: two chairmen KP Sharma Oli and Pushpa Kamal Dahal were "in a bid to strike a reconciliatory note". Until a few weeks ago, Dahal, backed by senior leaders Madhav Kumar Nepal and Jhala Nath Khanal, had driven Oli into a corner. But now the tables have been turned. Oli has managed to have the upper hand, putting Dahal on the back foot.
Insiders say Oli has not used all the weapons in his armoury yet and that he has so far played his cards pretty well and that he still has an ace or two up his sleeve.
"The recent bait that Oli dangled before Dahal was an early general convention to make the latter the sole party chair," said a Standing Committee member who spoke on condition of anonymity. "Oli, however, put forth a condition that Dahal should agree to embrace People's Multi-party Democracy as the party's ideology."
Dahal is now caught between a rock and a hard place.
Agreeing to Oli's early general convention to become the party chair means betraying his allies—Nepal and Khanal. Accepting People's Multi-party Democracy as the party's guiding principle not only means capitulating to Oli but also putting the Maoist party's legacy to an end.
"That's why after reaching a tentative understanding with Oli, Dahal was scrambling to placate the Nepal group and former Maoist members," said Mani Thapa, a Standing Committee member.
Insiders say the Standing Committee meeting that the Dahal-Nepal faction was demanding until a few weeks ago to force Oli to resign now has lost its relevance. The meeting on Tuesday lasted just for half an hour with the decision to direct the party's rank and file to be involved in rescue and relief in the wake of floods and landslides across the country.
"There was only one agenda for today to direct the party members to respond to natural disasters," said Narayan Kaji Shrestha, the party's spokesperson. "The meeting also expressed condolences to the families of those who lost their lives to floods and landslides and wished speedy recovery of the injured."
According to Shrestha, the next Standing Committee meeting has been scheduled for July 28.
According to leaders, with Dahal dropping the agenda of Oli's resignation for now means there is a status quo and Oli will continue to lead the government.
Oli over the past few weeks played too many tricks to corner Dahal.
Oli on July 2 suddenly prorogued the federal parliament, signalling that he could even split the party if the rival faction continued to pile pressure on him to step down. Two days later, Oli called all his ministers to Baluwatar and told them that the Dahal faction was trying to oust him and impeach the President.
"After Oli prorogued the House, the Dahal-Nepal faction became suspicious if he would split the party," said Haribol Gajurel, a Standing Committee member.
Dahal did not want to take the blame of a party split, even if Oli did that, as he would have been perceived as the cause for that.
"So talks started between the two chairmen," said Gajurel.
Oli and Dahal held a series of meetings, some between them only without the presence of second-rung leaders, but both failed to find a common ground.
In one of the meetings between Oli and Dahal, senior leader Nepal too was invited on July 16 where they reached a tentative understanding on calling the Central Committee.
The same day, the Dahal faction held a meeting at Khumalatar and decided that they should press for calling the Central Committee meeting by the third week of August. Oli too held discussions with leaders loyal to him the same evening at Baluwatar.
The Oli faction was quick to sense that the Central Committee could prove to be a threat, as the Dahal-Nepal faction holds a comfortable majority with almost 308 out of 442 members on their side.
Oli then at Saturday's Secretariat meeting proposed an early general convention with the promise that he would back Dahal for the sole party chair.
Dahal did not raise the issue of Oli's resignation.
After the meeting at Baluwatar, both Oli and Dahal met with President Bidya Devi Bhandari, raising suspicion among leaders of the Nepal and Khanal factions.
The Nepal faction a day later demanded an answer from Dahal whether he had reached a deal on the general convention by November/December.
Dahal on Monday admitted before some Standing Committee members that Oli had proposed the general convention with the promise to back him for the party chair but with a precondition that he has to embrace People's Multi-party Democracy as the party's ideology.
"That was a surprising proposal from Oli," a Standing Committee member quoted Dahal as saying on Monday.
Insiders say Dahal now is telling leaders close to him that there is no alternative to mending fences with Oli and move forward.
Oli's resignation is not an agenda now so there is not much to expect from the Standing Committee meeting next week, according to them.
"Now the meeting will dwell on the regular agenda of the Standing Committee and the two chairs will find a common ground of understanding within this week," said Gajurel. "There is no alternative to the Oli-Dahal union to save the party unity."
---
---