Prime Minister Oli directs high-level Covid-19 committee to strictly implement lockdown
Home ministry to stop people walking long distances on foot wherever they are, and send them to the nearest quarantine.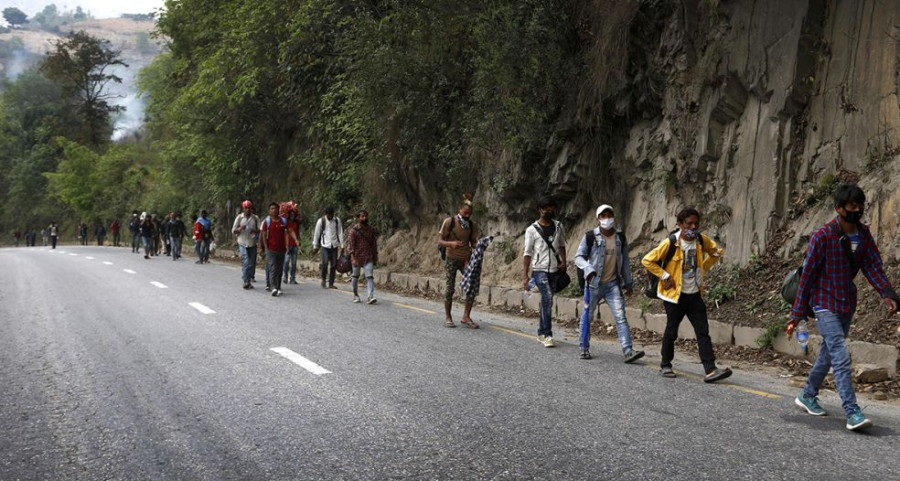 People are taking the long walk to their home. Post Photo
bookmark
Published at : April 18, 2020
Updated at : April 18, 2020 08:47
Hours after the Supreme Court ordered officials to ensure that people going home by walking long distances get free transportation, the government has decided not to allow people to move from one place to another on foot.
During a meeting with members of the High-level Coordination Committee to combat Covid-19 and the Covid Crisis Management Centre in Baluwatar on Friday, Prime Minister KP Sharma Oli directed authorities to implement the lockdown to contain the outbreak "more strictly".
"During today's meeting the prime minister directed all to strictly implement the lockdown," said Law Minister Shiva Maya following the meeting. "The local governments concerned will arrange necessary food and shelter wherever people heading home have reached."
Foreign Minister Pradip Gyawali, who also attended the meeting, said that the home ministry will send people heading home to the nearest quarantine and keep them there safe in cooperation with the provincial and concerned local governments.
"To stop people from heading home on foot, the home ministry will make provisions for food and shelter,"said Gyawali.
However, sources at the home ministry told the Post that the government will try to send stranded people to their city/ village wherever possible.
"As there could be protests from local governments, the government has not taken a concrete decision. But the understanding is to ensure those going on foot reach their local level (municipalities) safely," said a home ministry official.
Today's meeting concluded that the government's response to the global coronavirus outbreak has been satisfactory, and therefore the lockdown should be strictly implemented, especially after 14 cases were reported in the country on Friday alone. Prime Minister Oli is learnt to have told members of the committee that various people have been plotting to show that the government has failed to manage the crisis.
During the course of the meeting, the prime minister also briefed committee members about his discussions with officials from countries including India where Nepalis remain stranded.
According to Gyawali, the government has also started observing the situation of the Nepalis living abroad.
---
---