ICYMI: Top stories from Friday, April 10
These are some of the best stories from The Kathmandu Post (April 10, 2020).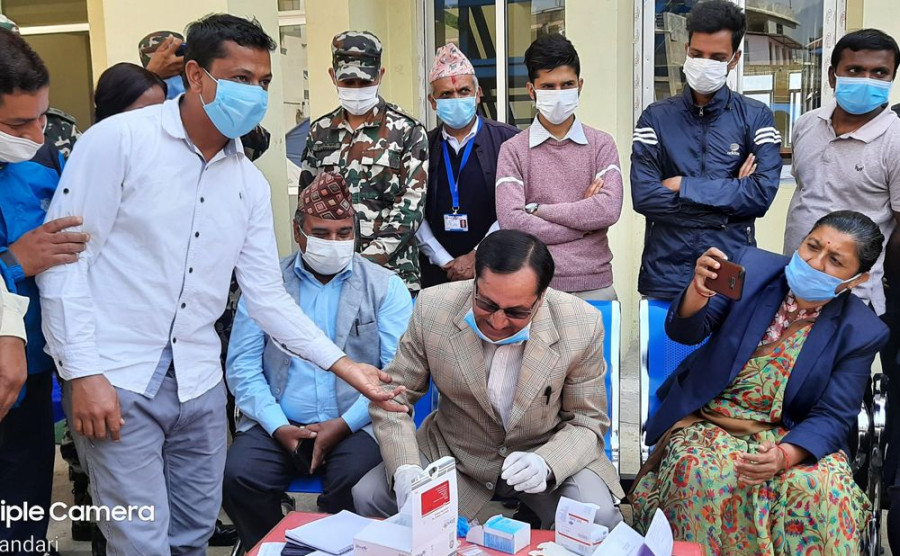 Test samples are collected from Covid-19 suspects at Dhaulagiri Zonal Hospital. Post Photo
bookmark
Published at : April 10, 2020
Updated at : April 10, 2020 12:41
Some of the big stories from today's Post.
Provinces roll out rapid testing on all suspects and all those who've returned from India
After long weeks of pressure from the public and from public health experts, mass testing for Covid-19 among Nepalis suspected of harbouring the disease has finally begun.
Sudurpaschim Province began mass testing in Kailali and Kanchanpur on Thursday, using the rapid test kits imported from China by Omni Business Corporate International, a controversial private firm.
On Thursday, 66 tests were conducted in Kailali and Kanchanpur districts, with all the results negative, said Dr Bikash Devkota, spokesperson for the Health Ministry.
Nepal Police's decision to deduct salaries for the Covid-19 fund unfair on its personnel, say critics
The Nepal Police's decision to deduct the pay of all officials above the rank of assistant sub-inspector to contribute to the government's fund to fight Covid-19 has been met with dismay, with many believing it could affect the morale of security forces.
The police's decision, made on Wednesday, makes it the first institution to divert salaries towards the national fund, but it has not been a popular one. As per the decision, all ranks from assistant sub-inspector to the inspector general will contribute three to seven days' salary to the fund.
Nepalis in Portugal live in fear of infection but are financially insulated
It has been over three weeks since Nabaraj Pokhrel left his apartment in Lisbon. Like many other countries, Portugal has enforced a state of emergency in light of the Covid-19 pandemic, limiting all residents to their homes. Pokhrel, along with his wife, two children, and two other Nepalis who share the flat, has been inside.
There's no work since the city is under a complete lockdown until April 17, as the Portuguese government has extended the state of emergency.
Vegetables to be sold at 11 designated sites as Kalimati bazaar is shuttered
The Kalimati vegetable bazaar, which keeps Kathmandu's homes supplied with fresh produce, has pulled down the shutters to comply with social distancing rules. The crowds were getting too big, raising contamination worries, said officials.
The Kalimati Fruits and Vegetables Market Development Board shut down all sales at the country's largest vegetable and fruit market from Thursday after Kathmandu Metropolitan City expressed concern over the large number of shoppers gathering at close quarters.
---