Baskota resigns following leaked audiotape where he is heard negotiating a 'commission'
If prosecuted and indicted, Gokul Baskota, the communication minister and Oli's close confidante, will be liable for up to 10 years in prison.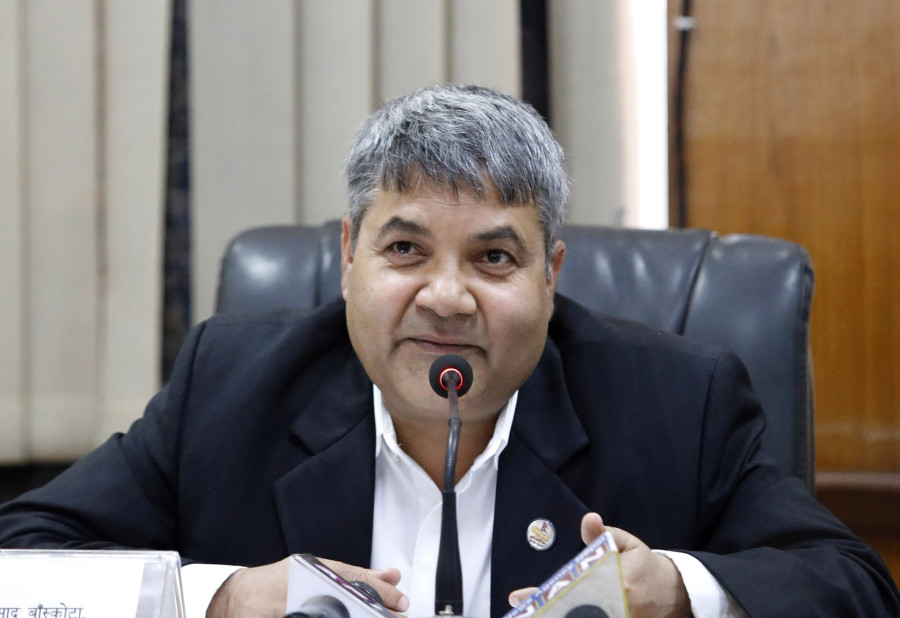 Baskota, who was also the spokesperson for the KP Sharma Oli administration, took to social media to announce his resignation. Post File Photo
bookmark
Published at : February 21, 2020
Updated at : February 21, 2020 07:33
Kathmandu
Gokul Baskota, the minister for communication and information technology, has resigned following the release of an audio recording of him allegedly negotiating a Rs700 million "commission" with the local agent for a Swiss company, initially published by the online portal hamrakura.com.

In the two-and-a-half-minute audio recording, a voice purportedly belonging to Baskota can be heard negotiating with Bijaya Prakash Sharma Mishra, the local agent for a Swiss company vying for a government contract regarding the security printing of passports and other sensitive material.
The Kathmandu Post could not independently verify if the voice in the recording is of Baskota. However, the minister's failure to refute the allegations and his resignation provide enough ground to believe that the voice on the recording is his.
Baskota, who was also the spokesperson for the KP Sharma Oli administration, took to social media to announce his resignation.
"I have tendered my resignation before the prime minister on moral grounds as questions have been raised about me," he wrote on Twitter.
The primary opposition Nepali Congress was quick to demand the minister's resignation and an impartial investigation into the allegations. The party first issued a press statement before going on to obstruct proceedings at both the Houses of Parliament.
The 11am meeting of the National Assembly was postponed after Congress lawmakers demanded Baskota's resignation and a clarification from Oli on the matter.
Jitendra Narayan Dev, a member of the Upper House from the Nepali Congress, said that they would not allow Parliament to function unless there is an assurance from the prime minister that proper action will be taken against Baskota.
"This is a very serious and condemnable issue," said Dev. "Oli, who always says he has zero-tolerance for corruption, should prove it through his actions."
The National Assembly meeting was postponed until February 27 following the obstruction while the Lower House was postponed till Tuesday, February 25.
Pushpa Bhusal, the whip of the main opposition party, said they have three conditions before they allow the House to function.
"First, sack Baskota; second, a clarification from Oli to the House; and third, an assurance from the prime minister that Baskota will be booked as per existing anti-corruption laws," said Bhusal. "Baskota's resignation alone will not be enough."
The Prevention of Corruption Act 2002 says any public servant who accepts or agrees to accept bribes of more than Rs10 million is liable for eight to 10 years imprisonment, confiscation of property equal to the graft amount, or both.
"Oli has always lauded Baskota as a very competent minister and various incidents suggest that the two have very close relations," said Bhusal. "What can be understood from this scandal that involves one of the Oli's closest confidantes?"
The opposition has seized this opportunity to take Oli to task for his grandiose claims regarding corruption. As recently as Sunday, Oli had said that he would not be involved in corruption and he would not tolerate corruption from anyone in his administration.
But Baskota is the second of Oli's close party members to be accused of corruption.
The involvement of both Nepal Communist Party General Secretary Bishnu Poudel, and his son Nabin was discovered in the Baluwatar land grab. However, the Commission for Investigation of Abuse of Authority refrained from filing a case against Poudel or his son, saying they had agreed to return two plots of land obtained illegally.
After Baskota's resignation, Oli, for his part, reiterated that he is committed to his zero-tolerance policy against corruption.
"I won't spare anyone," he said at a book launch organised at his residence in Baluwatar. "The people's representatives must understand that they are not elected to loot the people, but to serve them."
---
---