As other airports institute stringent screening, TIA installs thermal scanners and a health desk
All mandatory screening instructions for airlines flying to China have come from Chinese authorities while the Kathmandu airport has only circulated a manual.

A thermal scanner has been installed at the Tribhuvan International Airport after the health authorities confirmed the first case of coronavirus in the country Kiran Panday/TKP
bookmark
Published at : January 28, 2020
Updated at : March 19, 2020 16:08
Kathmandu
Kathmandu's Tribhuvan International Airport has activated an 'airport emergency plan' as part of its preparations to respond to the coronavirus outbreak, even as airlines cancel flights and adopt increasingly stringent screening measures.

Airports and airlines in many countries are taking drastic steps to protect staff and passengers amid heightened concerns over the outbreak of a new virus originating from the Chinese city of Wuhan. Many airports have instituted mandatory health screenings of passengers from China while Chinese airlines are checking the temperature of every passenger before flying in and out.
Read: What do we know about the new strain of coronavirus, and should we be worried?

Thousands of Chinese tourists visit Nepal every year but so do Chinese businesspeople and Nepalis who work and study in China. Despite this large influx of passengers from China, Tribhuvan International Airport has been slow to react.
"We've now started thermal screening of passengers arriving from all countries, not only China," said Deo Chandra Lal Karna, spokesperson for the Kathmandu airport.
Thermal scanners will scan the temperature of passengers arriving at the airport and if the temperatures are abnormal—above 98.6 degrees Fahrenheit or 37 degrees Celsius—the passenger will be isolated and sent to the government-authorised hospital via ambulance, said Karna.
Thermal scanners were only installed late last week, despite concerns about their efficacy. Public health experts had told the Post last week that thermal scanners only work well in airconditioned environments. Tribhuvan International Airport is not airconditioned.
Gopal Pandey, in-charge of the airport health desk, told the Post that the airport authorities have started to install an air conditioner in the health desk area.
"In cold temperatures, like it is in Kathmandu, the screening machine should work," said Pandey. "If any passenger suffers from high fever, the pilot has to communicate the issue with air traffic controllers in the destination airport."
If a passenger takes medicine before boarding or disembarking, the thermal scanners will not show a high temperature, say doctors, who also point out that the virus is transmissible in its incubation period of 14 days, and during this time, patients do not show any outward symptoms.
According to Karna, there will also be an announcement on every arrival flight, asking passengers if they are suffering from a fever or a cough and if so, to report to the health desk. Passengers will also have to present themselves to the health desk if they have travelled to Wuhan in the past two weeks, Karna said.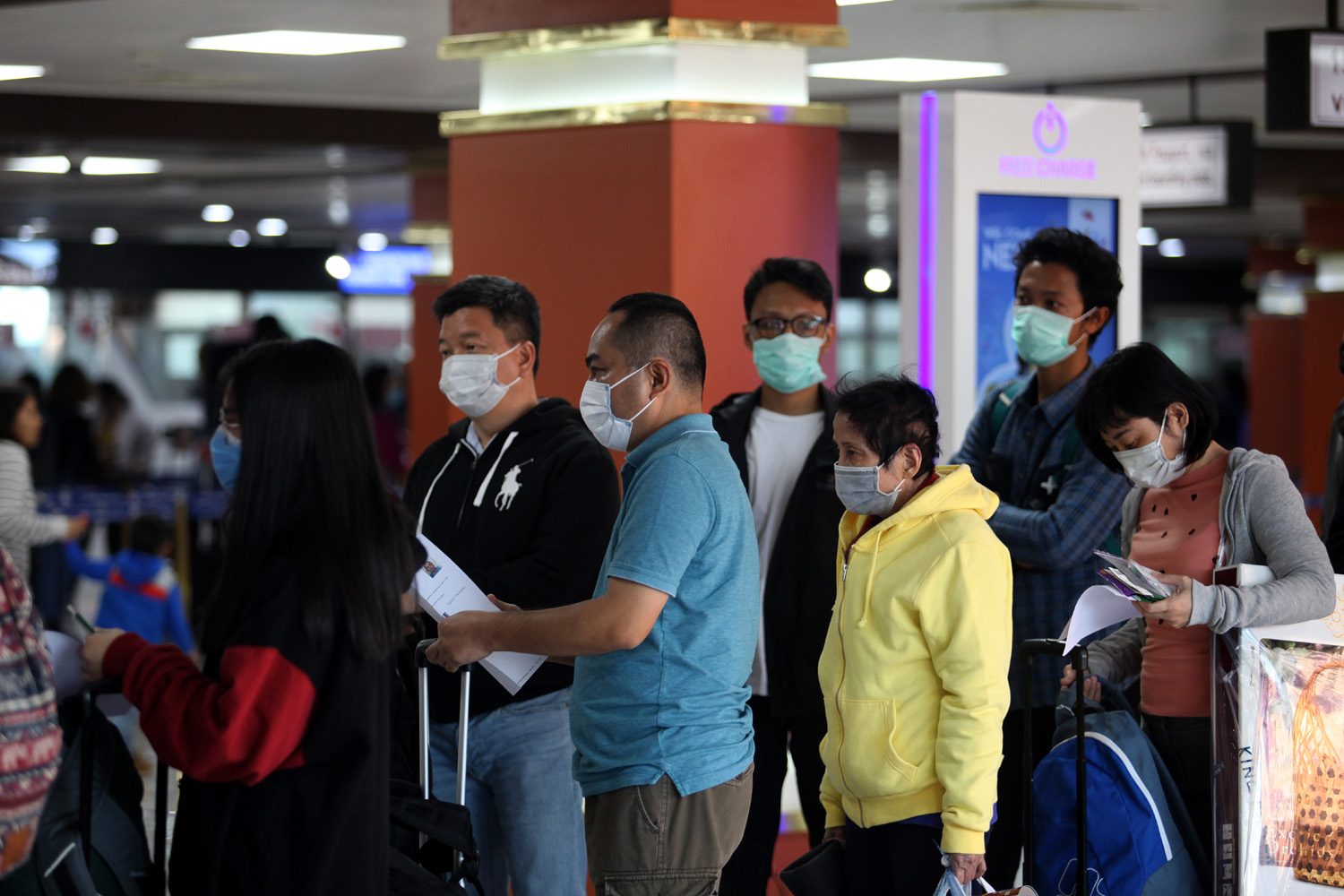 Passengers wearing masks walk out of the Tribhuvan International Airport in Kathmandu on Tuesday. Kiran Panday/TKP
So far, all reporting will be voluntary and if passengers decide not to report themselves, there is little that the airport can do.
Currently, six Chinese carriers—Air China, China Southern, China Eastern, Sichuan Airlines, Cathay Dragon and Tibet Airlines—operate flights to Nepal while Himalaya Airlines flies to Chongqing, Beijing, Changsha, Guiyang and Shenzhen.
Read: Doctors released two more patients suspected of having coronavirus without waiting for test results

All airlines flying to and from China have instituted mandatory screenings for all passengers on the Chinese authorities' instructions, said Karna.
Dhiraj Chandra Shrestha, deputy sales manager of China Southern which flies between Kathmandu and Guangzhou, said that all passengers are quarantined in Guangzhou before they are issued boarding passes.
"There is a sensor at the quarantine gate, which will not open if the passenger has a temperature that is above the permissible limit," he said. "But in Kathmandu, we are screening each passenger with an infrared thermometer—a temperature gun that measures the temperature when pointed to the forehead."
Boarding passes are only issued once the traveller is confirmed to not have a high temperature, said Shrestha.
China Southern has not cancelled any flights as of Tuesday but said that passengers were dropping fast.
"We are refunding passengers without any charges if they wish to cancel their trip," said Shrestha. Transit passengers are also cancelling their flights due to fears of contracting the virus at Chinese airports, he said.
The Lhasa-based Tibet Airlines was the first airline to announce a temporary suspension of its flights from Xi'an, the capital of Shaanxi Province in central China, to Kathmandu on Tuesday due to the rapid spread of the coronavirus. The airline has issued a notice to all travel agencies that from February 2 onwards, it will stop flights to-and-from Kathmandu.
Vijay Shrestha, vice-president of administration at Himalaya Airlines, told the Post that flights to Changsha, Guiyang and Shenzhen will be temporarily suspended from February 1 while Beijing and Chongqing flights would be continued.
"We decided to continue flights to Beijing as Nepali students' movement may rise," he said.
Other Chinese airlines are likely to follow suit as travellers' movement—inbound and outbound—has started to drop rapidly, airlines officials said on Tuesday.
So far, all of the instructions for screenings have come from the Chinese government, say airline officials. Beyond providing them with a manual outlining of its emergency plans, Tribhuvan International Airport has not communicated any specific measures that the airlines need to adopt, said Vijay Shrestha.
The novel coronavirus has so far killed 82 people in China and infected thousands across the world, including Taiwan, Singapore, South Korea and the United States. On Monday, Germany announced its first case of the virus. Experts warn that the outbreak could last several months, but also say that the virus could die out as the seasons change.
Frequently asked questions about the coronavirus outbreak
UPDATED as of September 22, 2020
What is Covid-19?
Covid-19, short for coronavirus disease, is an illness caused by the coronavirus SARS-CoV-2, short for severe acute respiratory syndrome coronavirus 2. Common symptoms of the disease include fever, dry cough, fatigue, shortness of breath and breathing difficulties. In severe cases, the infection can cause pneumonia, severe acute respiratory syndrome, kidney failure and even death.
How contagious is Covid-19?
Covid-19 can spread easily from person to person, especially in enclosed spaces. The virus can travel through the air in respiratory droplets produced when a sick person breathes, talks, coughs or sneezes. As the virus can also survive on plastic and steel surfaces for up to 72 hours and on cardboard for up to 24 hours, any contact with such surfaces can also spread the virus. Symptoms take between two to 14 days to appear, during which time the carrier is believed to be contagious.
Where did the virus come from?
The virus was first identified in Wuhan, China in late December. The coronavirus is a large family of viruses that is responsible for everything from the common cold to Middle East Respiratory Syndrome (MERS) and Severe Acute Respiratory Syndrome (SARS). After an initial outbreak in Wuhan that spread across Hubei province, eventually infecting over 80,000 and killing more than 3,000, new infection rates in mainland China have dropped. However, the disease has since spread across the world at an alarming rate.
What is the current status of Covid-19?
The World Health Organisation has called the ongoing outbreak a "pandemic" and urged countries across the world to take precautionary measures. Covid-19 has spread to 213 countries and territories around the world and infected more than 31,405,983 people with 967,505 deaths and 22,990,260 recoveries. In South Asia, India has reported the highest number of infections at 5,557,573 with 88,943 deaths. While Pakistan has reported 306,304 confirmed cases with 6,420 deaths. Nepal has so far reported 65,276 cases with 427 deaths.
How dangerous is the disease?
The mortality rate for Covid-19 is estimated to be 3.6 percent, but new studies have put the rate slightly higher at 5.7 percent. Although Covid-19 is not too dangerous to young healthy people, older individuals and those with immune-compromised systems are at greater risk of death. People with chronic medical conditions like heart disease, diabetes and lung disease, or those who've recently undergone serious medical procedures, are also at risk.
How do I keep myself safe?
The WHO advises that the most important thing you can do is wash your hands frequently with soap and water for at least 20 seconds or use hand sanitizers with at least 60 percent alcohol content. Avoid touching your eyes, nose and mouth with unclean hands. Clean and disinfect frequently used surfaces like your computers and phones. Avoid large crowds of people. Seek medical attention if symptoms persist for longer than a few days.
Is it time to panic?
No. The government has imposed a lockdown to limit the spread of the virus. There is no need to begin stockpiling food, cooking gas or hand sanitizers. However, it is always prudent to take sensible precautions like the ones identified above.
---
---