Five stories from around the country that inspired us
These are stories that give us inspiration and a hopeful prospect as we move into a new year.

Sanduk Ruit is the pioneer of an inexpensive method of cataract surgery that can be completed in just 15 minutes. Post Photo
bookmark
Published at : December 31, 2019
Updated at : December 31, 2019 12:49
Kathmandu
The adoption of federalism has done little to reform the historical discriminations based on caste, creed and class across the country. It was thus no surprise that reports on corruption, caste-based discrimination and lack of infrastructure dominated the news cycle this year, as it did the previous year and the years before that.

Illegal extraction of river material continued, if not increased; domestic violence has been as rampant as ever, driving many women in the far-west to mental illnesses; human trafficking continued as well; and so did drug smuggling. Chepangs in Makwanpur are bracing for a biting winter with no resource; Musahars in Salyan are making use of hay to beat the cold. And so on.
Amidst all this, however, there were some news we were excited to report—ones laced with hope hinting progress. These are stories that break the norm in one way or the other, and in doing so, they give us inspiration and a hopeful prospect as we move into a new year. Here we list five such incidents that we are proud to report. Let's look forward to a new year and a new decade, hopeful that we get to report and read more stories of this sort.
After getting his eyesight back, Roshan Theeng goes to school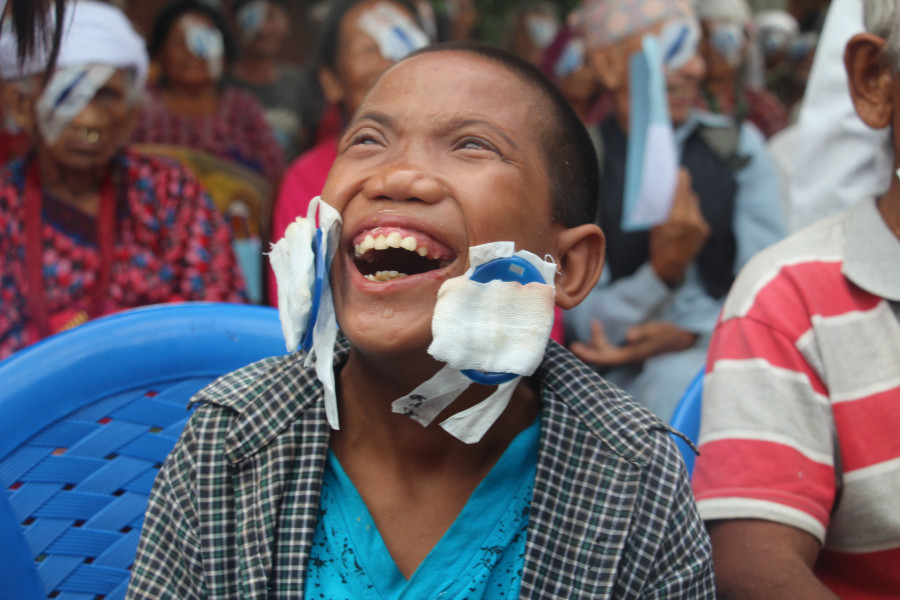 Roshan Theeng after the cataract surgery. Pratap Bista/TKP
One morning in early July, an emotional, enlightening video dominated Nepali social media feeds. The footage showed a teenager in a remarkably exalted mood. As soon as a bandage was taken off from his eyes after cataract surgery, the teenager ran his hands around his surgeon Sanduk Ruit's head. The teenager was Roshan Theeng, 13, who saw the light again after three years of complete blindness. Ruit is the pioneer of an inexpensive method of cataract surgery that can be completed in just 15 minutes. This is the same method that Ruit had applied on Theeng's eyes, as he does around the country in free eye camps. "I can see everything and everybody. Now I can go to school again," Theeng said the moment after he regained his eyesight. Theeng started school a month later.
First inter-caste marriage in a far-western district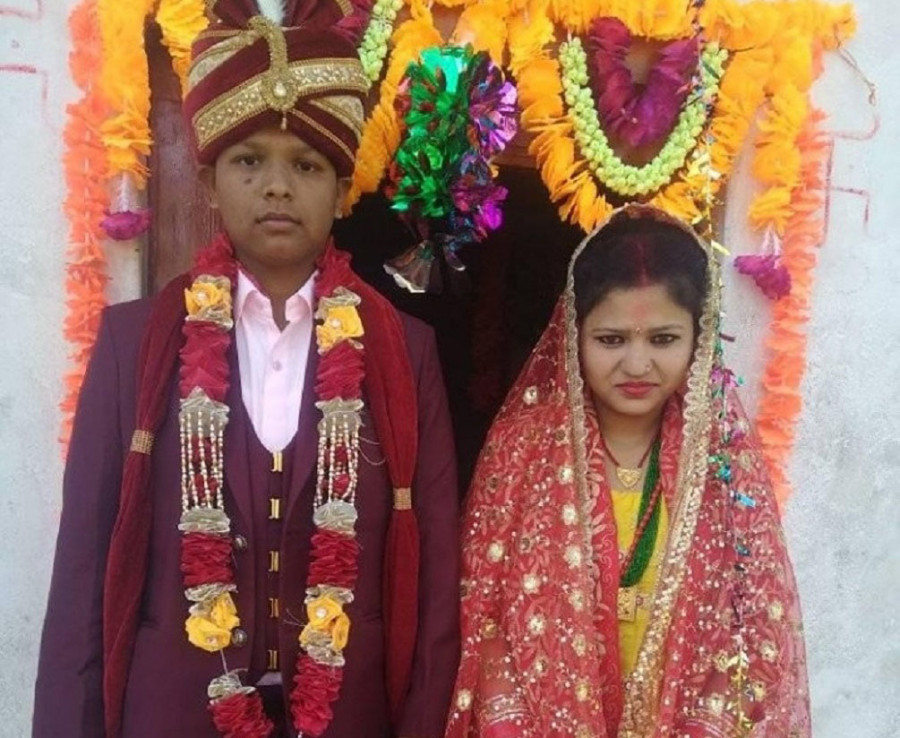 Dipak Bohara, 22, and Rupa BK, 21, tied the knot in December. Basanta Pratap Singh/TKP
Inter-caste marriage is still a taboo in Nepal. The urban belt might have started inching towards accepting marriage outside of one's caste, but it's close to unthinkable in most rural districts. Caste-based discrimination is still rampant in those districts, not just between the castes but also within one's caste. Those who marry outside of one's caste suffer ostracisation and abuse from one's family and society. Amid this, an unusual marriage took place in Achham earlier this month—an arranged inter-caste marriage. The newlywed couple was Dipak Bohara, 22, and Rupa BK, 21, who tied the knot according to Hindu tradition. Bohara is a Chhetri—one of the so-called high castes in the age-old caste echelon, while BK is a kami—a Dalit at the lower rungs of the caste hierarchy. "It's unfortunate that caste-based discrimination exists in the 21st century," said Kalak Bohara, the groom's father. "This marriage is a step towards ending this practice."
A wheelchair user goes to school against all odds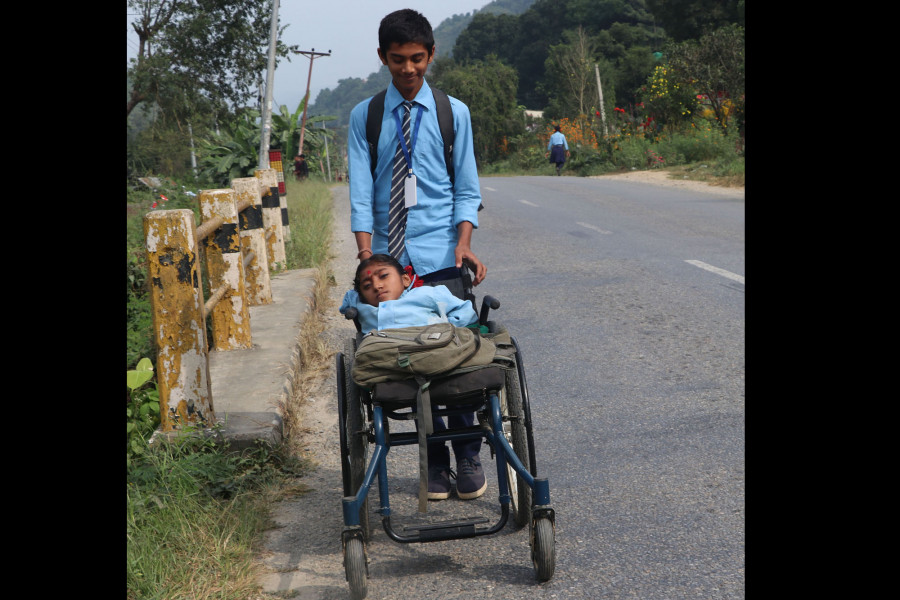 Nabeena Khanal, 15, being wheeled to school by her brother Ananda in Tanahun. Pratap Rana Magar/TKP
Infrastructures in public schools around the country are woefully inadequate. Some schools in rural districts deal with a lack of manpower. Some are getting on their feet after the devastating 2015 quakes. In this kind of situation, it might be too much to ask—not that the authorities deliver, but anyway—for disabled-friendly infrastructures in schools. A polio-stricken man who recently passed the teachers' test in Chitwan was denied from teaching for lack of disabled-friendly infrastructure.
Meanwhile, in October, we reported a touching story of sibling love, wherein a brother, Ananda Khana, 14, takes his wheelchair-user sister, Nabeena, to school every day. The hunger for knowledge drives Nabeena to school; however, the infrastructure at the school is still inadequate. "We haven't been able to introduce separate classes for the disabled due to a lack of resources," said Dev Narayan Shrestha, Nabeena's teacher at the Mahendra Secondary, adding that she is a disciplined student, dedicated and eager to learn. "For a wheelchair user like Nabeena, it is difficult, but she never gives up."
Girl who escaped child marriage becomes an activist resisting child marriage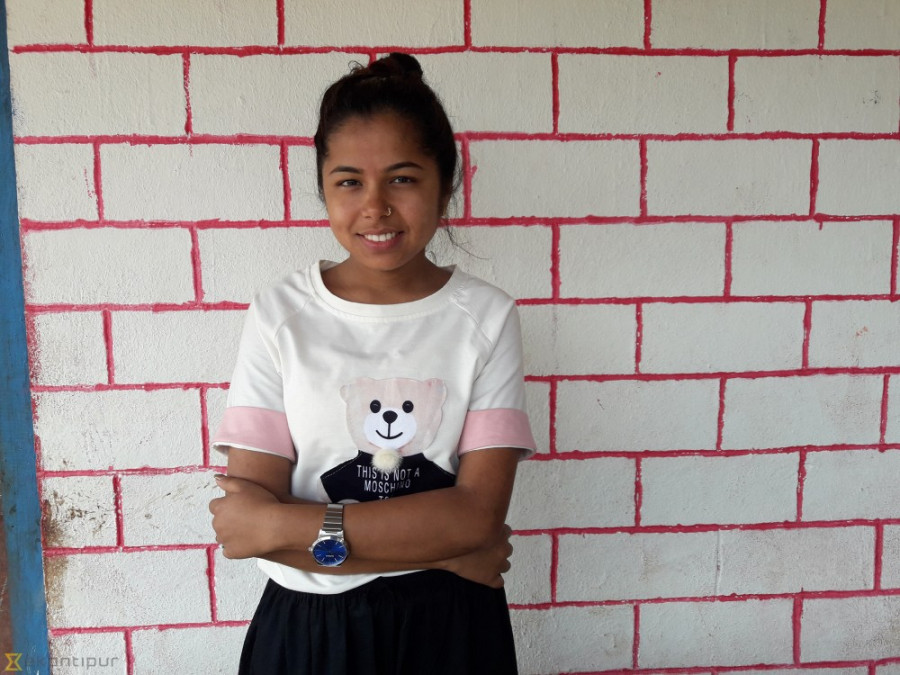 Bipana Nepali Sujata Lama/TKP
Twenty-year-old Bipana Nepali was forced by her parents to get married when she was 18. "My parents pressured me to get married," she says. "They even threatened of consequences if I said no." After she insisted on not getting married, for it is illegal to marry before 20, her parents were compelled to call off the wedding. Today, Nepali is an up-and-coming activist, advocating against child marriage and making parents aware of the legal consequences of marrying off their children at an early age. So far, Nepali and her team have directly stopped at least ten child marriages, while they continue to raise awareness by visiting each house in their district in Sindhuli. People like Nepali are fresh hope in the district where cases of child marriage are widespread. "I can't imagine what my life would be like now if I had married then," says Nepali. "I have started down this path [as an activist] so that I can help other girls stand up for themselves."
Local unit-led campaign to reform education in public schools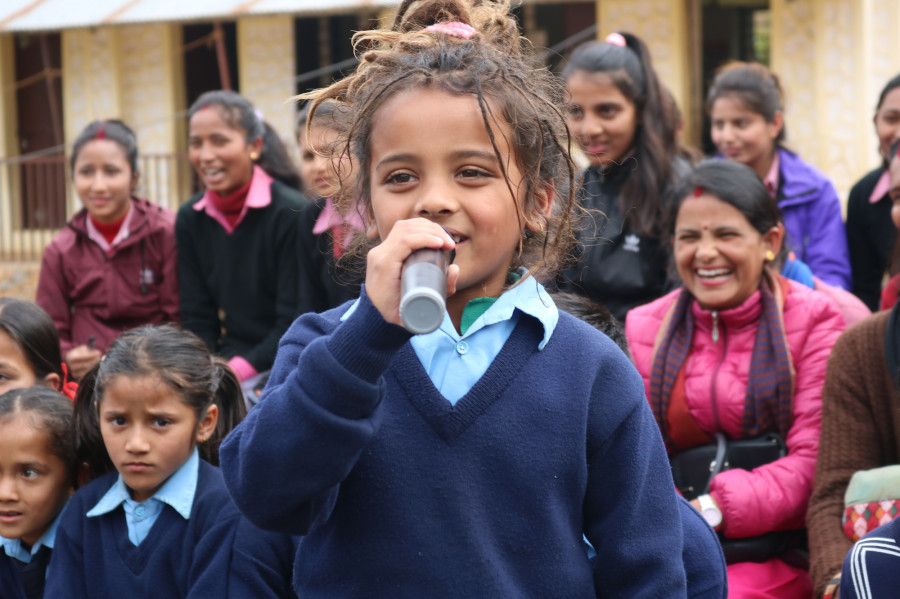 A student shares her issues with the elected local representatives during a programme at Janapriya Secondary School in December. Post Photo
While local units around the country introduce campaign all too often, this one stands out for its efficacy and direct intervention. The chief of the Phedikhola Rural Municipality, Ghanashyam Subedi, personally reaches out to students in community schools to listen to their complaints. The rural municipality has 31 public schools, and the chief aims to solve the grievances of each student—from absentee teachers and lack of extra-curricular activities to dirty toilets and canteen. In the current fiscal year, the rural municipality has allocated Rs500,000 to respond to the students' grievances. While the amount might not solve all the problems, it definitely is a good start. We wish them all the luck!
---
---