ICYMI: Here are our top stories from Tuesday, November 12
Here are some of the top stories from The Kathmandu Post (November 12, 2019).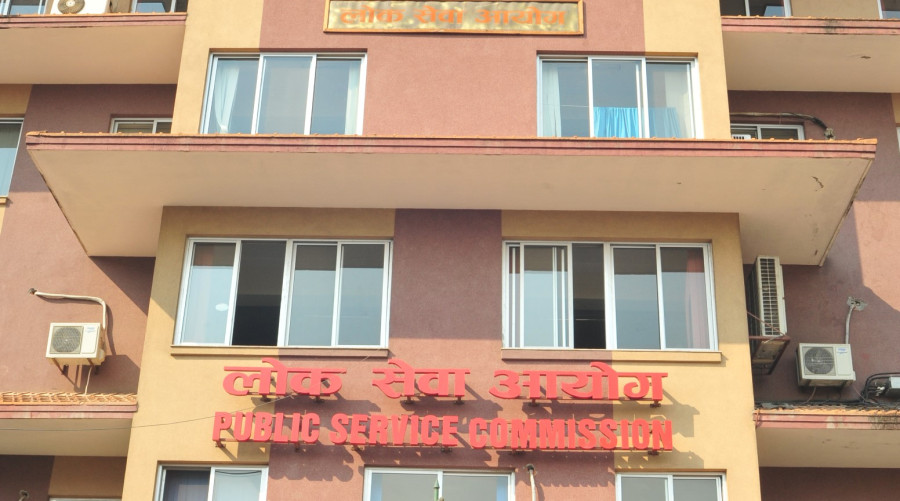 Public Service Commission Post File
bookmark
Published at : November 12, 2019
Updated at : November 12, 2019 19:12
Kathmandu
Here are some of the top stories from The Kathmandu Post (November 12, 2019).
Brahmins and Chhetris continue to dominate entry into civil service
Brahmins and Chhetris continue to be disproportionately represented in Nepal's civil service despite a 2007 Act mandating reservations for marginalised groups to increase their presence in the state apparatus.
In the last fiscal year 2018-19, Brahmins and Chhetris together made up 55 percent of all candidates recommended by the Public Service Commission, according to the commission's annual report, published recently.
Oli to decide on Cabinet reshuffle by the end of the week
After directing his secretariat to step down, Prime Minister KP Sharma Oli will now be shuffling his Cabinet by the end of this week, according to leaders from the ruling Nepal Communist Party.
According to party insiders, Oli and his party Co-chair Pushpa Kamal Dahal are mulling over a major overhaul, not just of the Cabinet but also of provincial chief ministers and internal party positions including provincial chiefs.
Parties often prioritise women candidates to cash in on sympathy votes
Nepali political parties have been traditionally conservative when it comes to giving space to women leaders. Unless dictated by law, leadership positions for women within the party or candidacy during elections have not been customary.
Despite the lobby from women leaders and activists, just 146 women, including independent candidates, contested the 2017 parliamentary elections that had a total of 1,945 candidates. Only six of them won the elections, as the parties fielded women candidates from constituencies where they didn't stand much of a chance.
Baburam Bhattarai: Our mission is to create a new force based on an alternative ideology
Baburam Bhattarai, former prime minister and one of the 'architects' of the decade-long Maoists insurgency in Nepal, is currently in the midst of attempting to provide, what he calls, an 'alternative force' in the country. Having abandoned Pushpa Kamal Dahal and the CPN (Maoist Centre) as soon as the new constitution was promulgated in 2015, Bhattarai went on to form Naya Shakti, which has now merged with the Sanghiya Samajbadi Forum to form the Samajbadi Party. Tika R Pradhan spoke to Bhattarai about contemporary politics and Nepal's relations with its neighbours.
School students actively involved in the conservation of owls in Khotang
Sayahang Rai, a 10-year-old fifth-grader at Jyoti Secondary School in Khotang, along with his friends, used to hunt birds to pass the time. However, Rai has had a change of heart after he attended Nepal Owl Festival that was held at Jalapa of Diktel Rupakot Majhuwagadhi Municipality-12, Khotang, on February 1 and 2. Now, he and his friends work to conserve owl and other bird species in the area.
"Owl is a friend of nature. We should not kill it; we should preserve it," said Rai. He is now actively involved in informing local people about the importance of owls and other birds and even urges them not to kill birds.
---