Consumer rights group supports traffic police's action to book drunk drivers
In the past one week, 1,305 drunk drivers have been booked in Kathmandu Valley.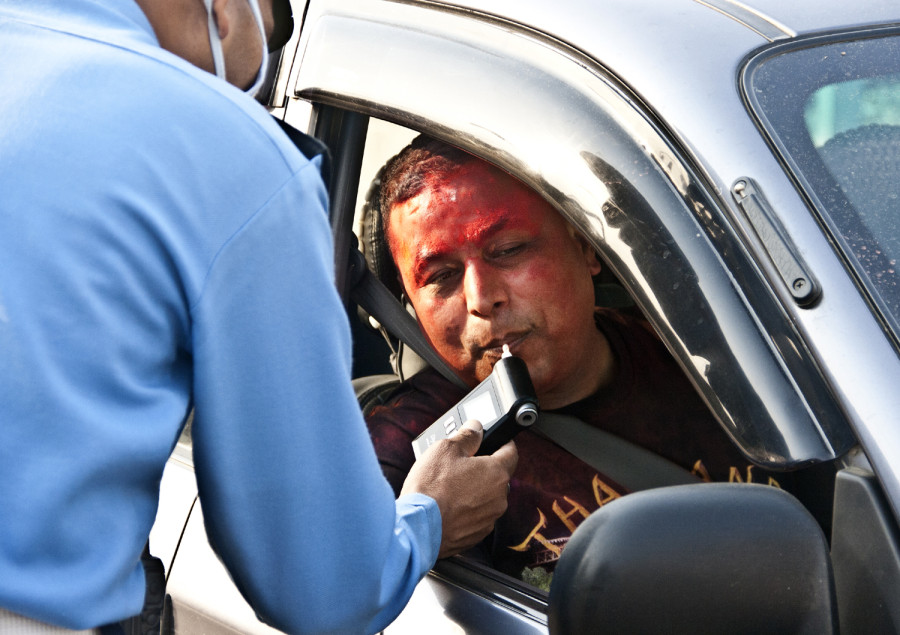 Post File Photo
bookmark
Published at : October 6, 2019
Updated at : October 6, 2019 08:27
A consumer rights group has come out in support of the traffic police's drive in the Kathmandu Valley to book drunk drivers during the Dashain festival. The drive aims to ensure the safety of passengers and the public.

Under its zero-tolerance stance against drunk driving, the traffic police have issued tickets to 1,305 people for MaPaSe in the past week.
"Compared to previous years, the traffic police have shown proactiveness in booking wrongdoers this festive season," said Jyoti Baniya, president of the Forum for Protection of Consumers Rights.
This year, the Department of Transport Management, in coordination with the Metropolitan Traffic Police Division, has set up 14 help desks in different parts of Kathmandu Valley to assist people travelling to their hometowns for the Dashain festival.
"The good thing is that there have been no fatal accidents to date. It's because the traffic police have been precautious," said Baniya.
Baniya said the reason for the traffic police's proactiveness could be attributed to the fact that both the chiefs of the traffic police and the transport department are new to their jobs.
"Dashain has become a good platform to showcase their work," said Baniya.
Both the Traffic Division Chief, SSP Bhim Prasad Dhakal, and the Director-General of Transport Department, Gogan Bahadur Hamal, assumed office last month.
The consumer rights activists said the active involvement and participation of consumers have also helped reduce frauds by transporters who overcharge travellers passengers during the festive season.
In a meeting held two weeks ago, members of the traffic police, consumer rights group, transport management, and transport entrepreneurs discussed in detail the problems faced by passengers during Dashain.
"The meeting helped us figure out the major problems faced by passengers, and this time we have not left any stone unturned to catch hold of wrongdoers. I request everyone to call on 103 if they face any problem during their journey," Dhakal said.
Traffic police data shows that until Friday, 1.9 million people had left the Kathmandu Valley. Of them, 215,706 people left on Friday alone. This year, more than three million people are expected to leave the Valley for Dashain celebrations.
---
---