Transport management office and traffic police to install 14 help desks for Dashain
The move is aimed at helping people travelling to their hometowns during the festival.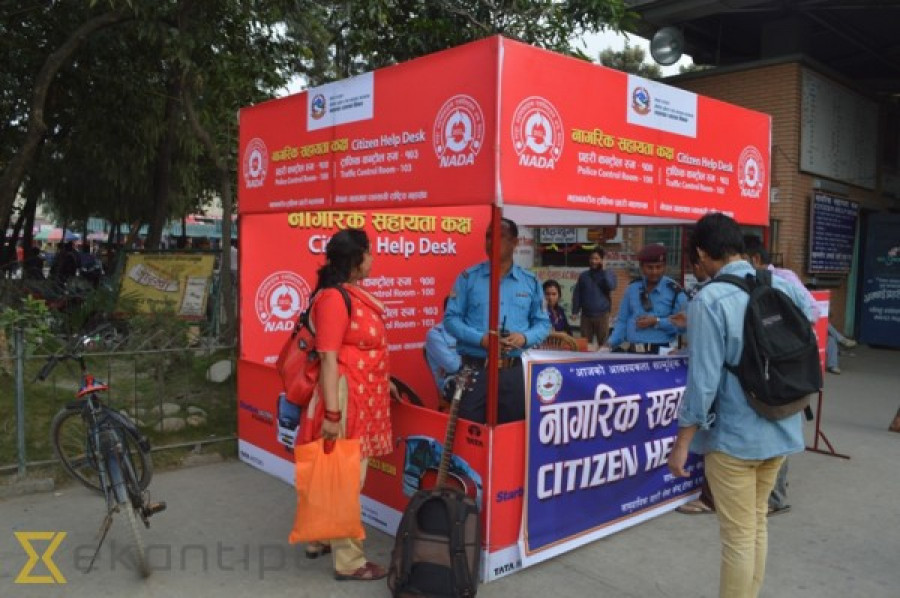 Post File Photo
bookmark
Published at : September 4, 2019
Updated at : September 4, 2019 07:01
Kathmandu
The Department of Transport Management in association with the Metropolitan Traffic Police Division is set to operate 14 help desks in different parts of Kathmandu Valley to assist citizens on travel-related issues as they make their annual trips home for the Dashain festival.

Last year, the division had run similar help desks in 12 different places in the Valley.
A meeting of transport officials, traffic police, consumer rights groups and transportation stakeholders held in the Capital on Tuesday announced that the help desks will be operational from September 27 to October 5.
The help desks will be installed in Kalanki, Nagdhunga, New Bus Park, Basundhara, Swayambhu, Lagankhel, Balkhu, Chabahil, Gaushala, Koteshwor, Sundhara, Jagate including other places.
The exodus from the Valley is not trivial. Traffic Division estimates that over 3 million people are expected to leave the Valley during Dashain. Demand for air and bus tickets soars. And so do complaints from travellers of being overcharged by unscrupulous transport operators. Travellers allege operators deliberately restrict supply of tickets to raise prices.
Help desks are being set up to prevent such behaviour of the transport operators, according to officials.
"The volunteers staffing the help desk, and the traffic police, will be taking immediate action against overcharging operators," said Gogan Bahadur Hamal, newly appointed director general at the department. "We have already made a work plan to check every ticket counters."
The announcement indicated that each help desk will have a flex board showing the ticket prices for different destinations from Kathmandu. Help desks will be staffed by officials from the Department of Commerce, the Federation of Transportation Entrepreneurs Association and consumer group representatives, who are to provide free services to the travellers answering their questions and registering their concerns.
Besides the help desk plan, officials indicate that rules require all ticket counters to prominently display the ticket prices fixed by the government.
"We will also give tickets for public vehicles for carrying passengers over its seat capacity," said Padam Bahadur Bista, deputy spokesperson at the division. "If passengers do not get the designated seat as mentioned in the ticket, if the buses do not leave on the given time and do not reach the designated destinations mentioned in the ticket, we will immediately take action against the bus operators so long as passengers lodge a complaint with us."
Bista said passengers can call 103 to report fraudulent bus operators.
Division staff could then follow up to investigate and take appropriate action.
---
---