House accepts Speaker Mahara's resignation
Krishna Bahadur Mahara resigned on Tuesday following rape allegations.

Post File Photo
bookmark
Published at : October 2, 2019
Updated at : October 3, 2019 08:22
Kathmandu
The Parliament Secretariat on Wednesday issued a notice accepting the resignation of Speaker Krishna Bahadur Mahara, who stepped down on Tuesday following rape allegations by a female staff member.

The notice was issued by Bharat Raj Gautam, secretary at the Parliament Secretariat, as per orders from Deputy Speaker Shiva Maya Tumbahamphe.
As per Rule 211 (2) of the House of Representatives Regulations-2075, the Deputy Speaker should read out the resignation submitted by the Speaker at the House meeting, and if Parliament is in recess, the Parliament Secretariat should publish a notice regarding the resignation.
"I am resigning on moral grounds, effective from today, to facilitate an impartial investigation into allegations that have surfaced in the media raising questions over my character, until the investigation is over," Mahara stated in his resignation letter.
With the issuance of the notice, the post of the Speaker is now officially vacant.
Mahara's resignation, however, has encountered controversy for what many are calling a "temporary resignation". Mahara, in his resignation letter addressed to the Deputy Speaker, said that he is resigning to facilitate an impartial investigation into the rape allegations.
The inclusion of the phrase "until the investigation is over" suggests that Mahara sees a possibility of returning as Speaker if found not guilty by the investigation, say critics.
Legal experts, however, say there is no way Mahara can be reinstated as House Speaker as tendering the resignation means he has already lost his post. They say neither the constitution nor any laws envision a "conditional resignation".
Meanwhile, the government and ruling party have both yet to issue a clear statement on Mahara's case, which has already sent shockwaves through political circles and the public.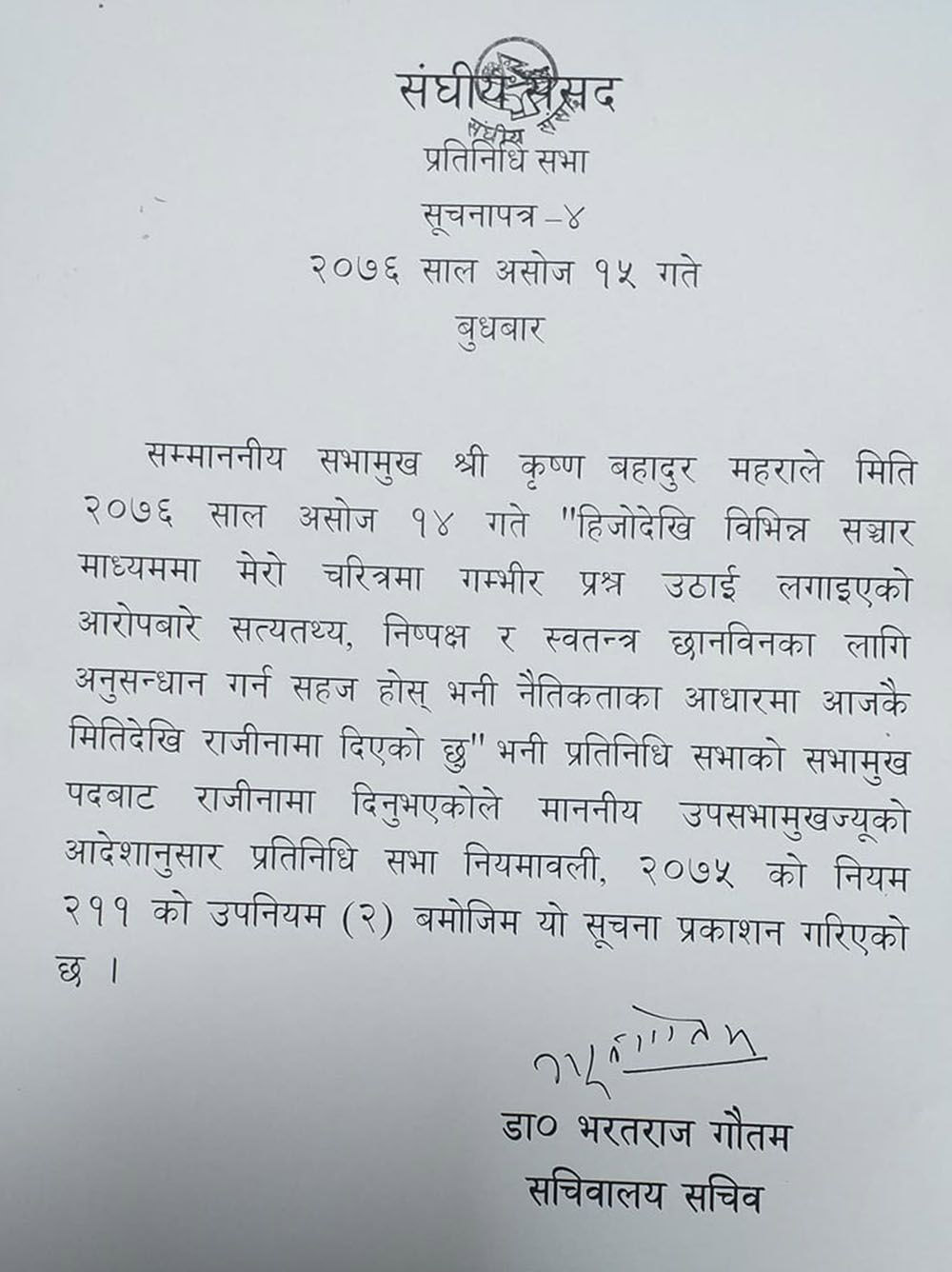 ---
---