Lottery system for language test leaves Nepali candidates worried about Japan job prospects
Thousands of Nepali youths are studying the Japanese language, but only a fraction of them will be able to sit in the examination.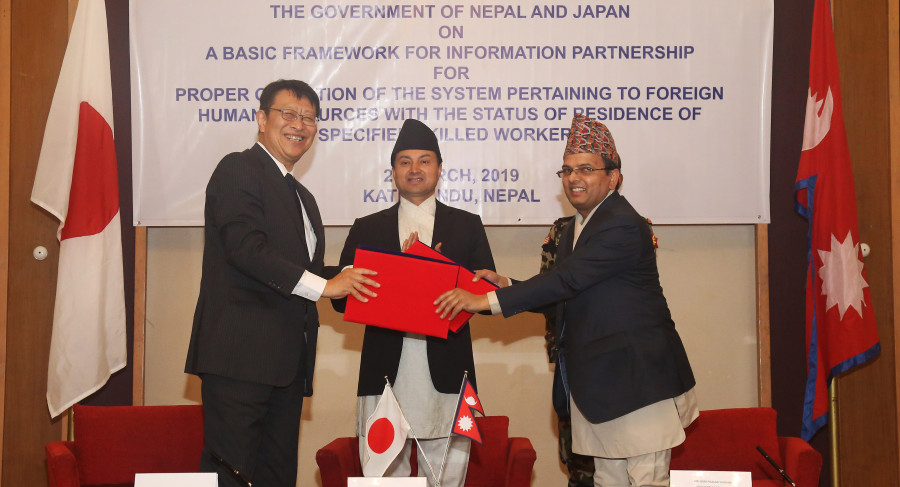 Last year, Japan had decided to hire an estimated 345,150 foreign workers from nine countries, including Nepal, in 14 sectors over five years. Post File Photo
bookmark
Published at : September 29, 2019
Updated at : September 29, 2019 07:28
Kathmandu
Ramesh Dawadi from Gorkha wanted to go to work in South Korea. A few months later, he changed his mind after learning that Japan would soon be hiring Nepali workers.

"I thought Japan could be a good destination. I searched everything on the internet," said Dawadi.
Soon, Nepal and Japan governments signed an agreement, allowing Nepali workers to live and work in Japan as part of its plan to deal with an acute labour shortage in the country.
As per the requirement of fluency in the language for working in Japan, Dawadi enrolled for the Japanese language course at an institute in Bagbazar, Kathmandu.
But what looked like a smooth trip to Japan could now become a bit difficult for Dawadi.
"Initially, I thought I would learn the language, pass the test and fly to Japan," Dawadi told the Post. But he slowly started losing hope and confidence.
Lack of clarity over the number of Nepali workers getting to work in Japan, the working sectors they would be employed at, and language test are now making his journey to Japan difficult.
His latest headache is the Japanese language examination module.
The Japan Foundation, which will be conducting the Test for Basic Japanese, has said that applicants for the test will be selected through a lucky draw.
The language test, which is required for working in Japan as per the latest agreement, will take place on October 27-29 and November 5-7 and 12-14 for Nepali applicants. However, applicants like Dawadi have to be lucky to even be sitting in the examination, let alone working in Japan, as only 1,000 applicants will be selected for the language test.
"It depends on luck now; I might be able to sit for the language test or might not," said Dawadi, who has been learning the Japanese language for the last six months. "I quit everything to prepare for the test. I have spent nearly Rs70,000. This is not fair."
The Japan Foundation on Friday announced the opening of registration for the language test. As per the procedure, an online lottery will be held among registered candidates. Only those selected through the lottery will be provided with further information on examination fees and receiving the examination voucher or admit card.
The system is likely to deprive thousands of aspirant Nepali workers, who have been taking language and other skill courses, of an opportunity to work in Japan even after investing time and money.
According to Kishore Tiwari, managing director at Shubhangee Educational Consultancy, which also provides training on the Japanese language, around 60,000 Nepalis are currently learning the language in various institutes across the country.
"There is a craze among Nepali youths for the Japanese language," said Tiwari. "The agreement between Nepal and Japan saw more Nepalis taking up the language."
The aspirants are expected to demonstrate an A2 level of Japanese language proficiency, which is equivalent to 'N4' on the standardised Japanese Language Proficiency Test (JLPT). Students at the 'N4' level, which can be achieved with about 300 hours of learning, can understand conversations in day-to-day life.
Tiwari's institute charges Rs15,000 for a six-month course. Now, candidates are getting frustrated, as they fear their chances of appearing in the test have become slim, according to Tiwari.
"Candidates are anxious whether they would even get to sit in the test. In a lucky draw, someone who has never prepared for the language test could be selected, but he or she might fail the test, depriving the qualified ones of the seat they deserve," said Tiwari.
"I have been telling candidates that Japan will take the online test and will not hire many Nepali workers so they should be prepared for that. Also, not many Nepali candidates can pass the N4 level. Personally, we can't do anything."
Last year, Japan had decided to hire an estimated 345,150 foreign workers from nine countries, including Nepal, in 14 sectors over five years.
For this year, Japan will only be hiring Nepali workers for the nursing care sector. But, the yearly quota—the maximum number of Nepali workers reaching the developed Asian country, which is considered one of the most lucrative labour destinations for Nepali workers in recent times—is still not fixed.
According to Dipak Dhakal, undersecretary at the Ministry of Labour, Employment and Social Security, the government was not yet officially informed about the registration for the language test.
"They had initially said that they would open registration on a first-come, first-served basis which would create an even bigger problem," said Dhakal. "Many people would not even get the chance to register for the test. Now under the lottery system, they at least have a chance of selection."
Since the start of the negotiations between the two countries leading up to the agreement, there has not been any information on the number of workers Japan would hire from Nepal, although they have said Nepal would be given priority.
"Japan will hire workers as per their need. The Japanese side has developed the language examination system," said Dhakal. "If more of our workers can clear the test, it will mean more Nepalis can get to work in Japan. This year's experience will enable us to improve the system in the future."
Workers like Dawadi blame the government for not communicating effectively regarding various aspects of labour migration to Japan.
"There is no official statement from the Nepal government regarding the number, language and skill test and institutes for training," said Dawadi. "People are doing various things in their desperate bid to land a job in Japan but are ending up getting frustrated."
---
---