As government rushes to declare country open defecation free, concerns remain
Experts say one toilet per household alone will not prevent deaths from waterborne diseases unless efforts are made to improve overall sanitation.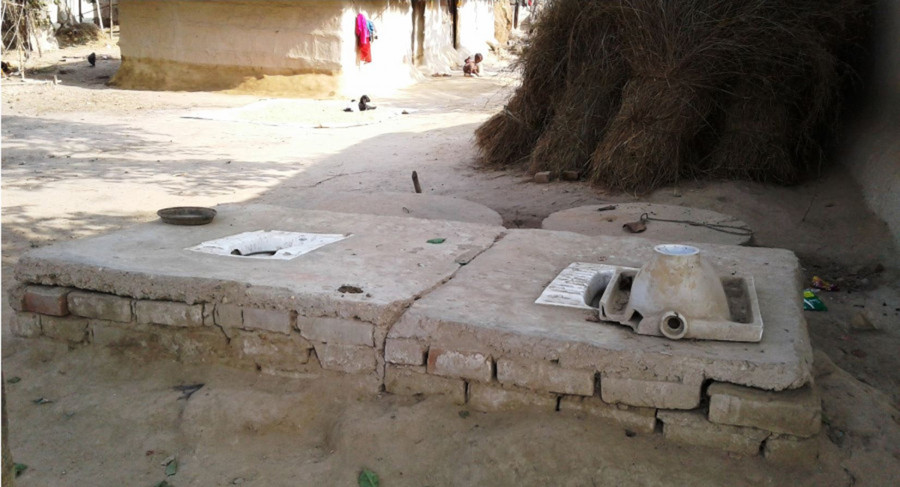 Toilets remain unused in Parsa district as they were not built properly. Shankar Acharya/TKP
bookmark
Published at : August 25, 2019
Updated at : August 25, 2019 17:35
Kathmandu
Over the last week, more than 80 people have been infected with diarrhoea in Jamurani, Sano Khola, and Gupte-Gada villages in Dadeldhura district. Contaminated drinking water has been attributed to the outbreak. Water samples from the locality were found positive for E coli and coliform, both of which are found in human faeces and cause diarrhoeal infection.

Health workers deployed from the Provincial Health Office, Dadeldhura Hospital, and Provincial Health Directorate in the affected areas are treating the patients and they have managed to contain the further spread of the disease.
[Related Story: Why Nepal's open defecation free campaign hasn't worked]
"We have fulfilled our duty, but the attempts by health sectors only cannot prevent such epidemics," Dr Guna Raj Awasthi, Chief of Provincial Health Directorate of Sudurpaschim Province, told the Post over the phone. "Multi-sectoral approach is needed to contain waterborne diseases, which can cause deaths."
Awasthi's concerns emanate from the fact that the villages in Dadeldhura and others can easily witness an outbreak of water-borne diseases like diarrhoea, as little has been done to improve sanitation.
Dadeldhura district was declared an open defecation free zone some six years ago.
The government's Sanitation and Hygiene Master Plan 2011 has made districts being open-defecation free a priority, with its "one toilet per house" policy. A district is declared open-defecation free only when every household has a toilet.
So far, 66 districts have attained the open-defecation free status and Dadeldhura is one of them. The government is aiming to declare the remaining 11 districts open defecation free next month, which will mean, at least in records, that Nepal is free of open defecation.
But not all are convinced.
Dr Mingmar Gelgen Sherpa, a health expert, said just declaring a district open defecation free zone does not solve the problem. "Declaring districts open defecation free is not a big deal; the country needs to improve its water, sanitation and hygiene," Sherpa told the Post.
Diarrhoea still kills many in Nepal. Even in the past, diarrhoeal outbreaks have claimed the lives of people in other parts of the country. While the disease has largely been contained in Dadeldhura, some concerning reports are coming in.
"Stool samples of a patient have tested positive for Vibrio cholera as well," Prem Ayer, a health assistant serving at the Provincial Health Office in Dadeldhura district, told the Post over the phone from Jamurani, the disease-hit the area.
Ayer said open defecation is still rampant in Dadeldhura and that's a cause for concern. Records, however, show Nepal has made significant improvement in the last one decade when it comes to access to toilets. According to the National Sanitation and Hygiene Coordination Committee, 99 percent Nepalis have access to toilets. In 2010, a little less than 50 percent of the population had access to toilets.
Health experts say the focus should be on overall improvement in sanitation, decent toilets, clean drinking water and awareness to prevent diarrhoea-related deaths, than having toilets.
"Eighty-nine percent of the population has access to drinking water, but only around 21 percent of people throughout the country have access to safe drinking water," said Naryan Khanal, a senior division engineer at the quality section of the Department of Water Supply and Sewerage.
Dr Awasthi said about 60 percent problems related to diarrheal infection will vanish if people washed their hands properly before eating.
"But there is still a lack of awareness among people about such a simple practice. People in districts like Dadeldhura still do not they have water that is safe for drinking."
Health workers say multiple agencies of the three tiers of government, as well as non-governmental sectors, have to make concerted efforts to prevent diarrhoea-related deaths. But there seems to be a lack of coordination among government agencies.
After missing the deadline twice in 2017 and 2018, the Department of Water Supply and Sewerage is determined to get the country declared open defecation free this year.
"We are preparing to declare the entire country open-defecation free on September 27," said Devendra Kumar Jha, chief of Sewage Management, Environment and Sanitation Section at the Department. "Ensuring safe drinking water does not fall under our ambit. We just want to make sure every household in the country has a toilet."
---
---