ICYMI: Here are our top stories from Tuesday, July 30
Here are some of the top stories from The Kathmandu Post (July 30, 2019).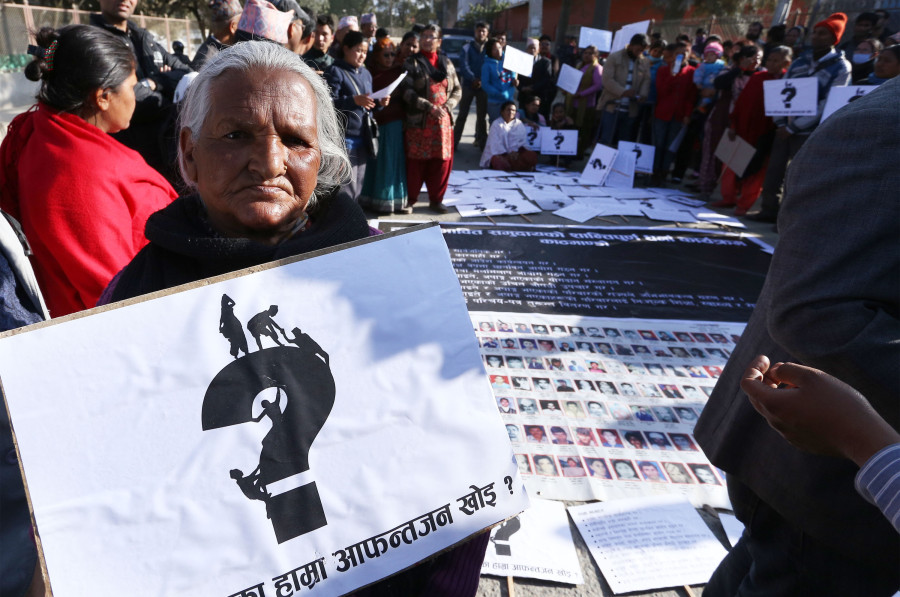 Conflict victims demonstrate outside the Bhairabnath Battalion, in Maharajung, demanding the whereabouts of their relatives who disappeared during the period of Maoist insurgency. Sampurna Manandhar/TKP
bookmark
Published at : July 30, 2019
Updated at : July 30, 2019 19:27
Kathmandu
Here are some of the top stories from The Kathmandu Post (July 30, 2019).

He could be an asset for Nepal's basketball team, but he's not a Nepali citizen. Yet.
Joshua Shumshere Leslie has everything you could want in a basketball player. At 6 feet 3 inches, he towers over most of his Nepali teammates and opponents. His fundamentals are strong and he has the physique required to be a tough centre. The only thing he doesn't have is Nepali citizenship.
Nepal and China still haven't notified each other on readiness to implement the transit deal
Three months since the signing of the Protocol to the Agreement on Transit and Transportation, Nepal and China have yet to notify each other that they are ready to implement the pact, which will allow Nepal access to four Chinese seaports—Tianjin, Shenzhen, Lianyungang and Zhanjiang—and three land ports—in Lanzhou, Lhasa and Shigatse—for third-country imports.
Japanese language teachers to receive training to teach aspiring Nepali workers
At a time when there is a lack of clarity over the modality of language and skill tests meant for aspirant Nepali workers, the Japanese government has said it will begin training Japanese language trainers from Nepal.
The teaching method training will be provided to Japanese language teachers from a total of nine countries, including Nepal, from where Japan has decided to hire workers to deal with its acute shortage of workers.
Nepal Police's central lab needs upgrading: Forensic experts
At a time when the central lab itself is found to have serious lapses in testing DNA, a major evidence to identify the culprit of rape case, two new labs of Nepal Police have been established outside the Valley.
In a bid to extend its forensic service outside Kathmandu for aiding investigations, the labs have been established in Dharan and Nepalgunj.
Four international rights groups criticise government inaction on transitional justice
Three months after the United Nations' special rapporteurs expressed serious concerns over the selection process of new leadership in the transitional justice commissions, four international human rights groups have asked the Nepal government to stall the ongoing nomination process until the existing Transitional Justice Act is amended.
---