He could be an asset for Nepal's basketball team, but he's not a Nepali citizen. Yet.
Born to a Nepali mother and an American father, Joshua Leslie is willing to give up his American citizenship if it means he can play for Nepal.

Joshua Leslie, right, has been barred from some tournaments because he is a US citizen. Hemanta Shrestha/TKP
bookmark
Published at : July 29, 2019
Updated at : July 30, 2019 07:25
Kathmandu
Joshua Shumshere Leslie has everything you could want in a basketball player. At 6 feet 3 inches, he towers over most of his Nepali teammates and opponents. His fundamentals are strong and he has the physique required to be a tough centre. The only thing he doesn't have is Nepali citizenship.

Born to a Nepali mother, fluent in Nepali and a resident for most of his life, Leslie is practically a Nepali citizen—just not on paper. He is an American citizen through his father, but he was born in Thailand and came to Nepal in 1990 as an infant. He grew up and went to school here, primarily playing pick-up, street basketball. Now, at 28 years of age, Leslie alternatively plays power forward and centre for Times International Club, competing in the National Basketball League. Though his teammates might score more baskets, it is Leslie's defence that keeps them winning.
But since Leslie holds an American passport, there are complications.
A few months ago, organisers for an inter-college basketball tournament barred him from competing after they learned that he's not a Nepali citizen. That wasn't the first time his identity and heritage caused him problems—tournament organisers have often raised questions over how Nepali he is.
"My mom says you can never be half and half something. She says, you are full Nepali and full American and you have to figure the rest out," said Leslie. "The older I get, the more I agree. I am full Nepali and full American, but it's not easy."
If drafted into the Nepali basketball team, Leslie could be an asset, especially at a time when the sport is highly dependent on uncertain South Asian fixtures and is struggling to find a niche in the region, largely because Nepal lacks players with the requisite height and physique for basketball.
"He has picked up the game so quickly that he has already become an integral part of our club. It would be great if he can play for Nepal because he can make a big difference in the national team," said Sadish Pradhan, captain of the Nepali national team, who is also the Times captain.
In the last National Basketball League, Leslie scored 97 points throughout the tournament, but he had 117 rebounds collectively, in offense and defence. In the 11 matches he played, he had 16 blocks, 23 assists and 29 steals—stats that show his proficiency as a defensive player.
If nurtured, Leslie, who also excels at swimming, volleyball and football, could be a force to be reckoned with. But given the numerous questions about his identity, Leslie is not sure how he could play for Nepal.
"Ever since I was a child, it was always a dream to represent Nepal," he said. "That was never a possibility for me growing up because I was told very clearly that I could never play for the Nepali team in any sport."
Leslie can play for Nepal only if he becomes a Nepali citizen and he is ready to give up his US citizenship, he says.
"According to current citizenship regulations, I would have to give up my US citizenship to play for Nepal. I would take Nepali citizenship if it was clearly offered, regardless if it was through basketball or not," said Leslie.
Born to father Keith D Leslie, an American who has worked for Save the Children US and has been an expat here since the 1980s, and Shakun Sherchand, a fashion designer, Leslie studied at The Lincoln School, where he first started playing basketball. He completed his Bachelor's from Georgetown University in Washington, DC, and his Master's from John Hopkins University in Baltimore. But although he's spent most of his time in Nepal, he's never gotten an opportunity to become a Nepali citizen.
"In 1990, when I was about to conceive, there was no provision in Nepal to get citizenship through the mother," said Sherchand. "I could not leave my son stateless. Three days after Joshua's birth, we were provided with an American passport, within an hour making him an American."
Granting citizenship to children through the mother remains as contentious today, with a citizenship act that discriminates against women, and with politicians who believe granting citizenship through the mother could jeopardise Nepal's sovereignty. A Nepali husband can easily acquire citizenship for his foreign wife, but the provision is not reciprocal.
It is also exceedingly difficult for a Nepali woman married to a foreign man to pass Nepali citizenship to her children, even though the law states that "a child born to a Nepali female citizen from marriage with a foreign citizen in Nepal and having permanent domicile in Nepal, may be granted naturalised citizenship, provided the child has not acquired the citizenship of the foreign country on the basis of the citizenship of his/her father."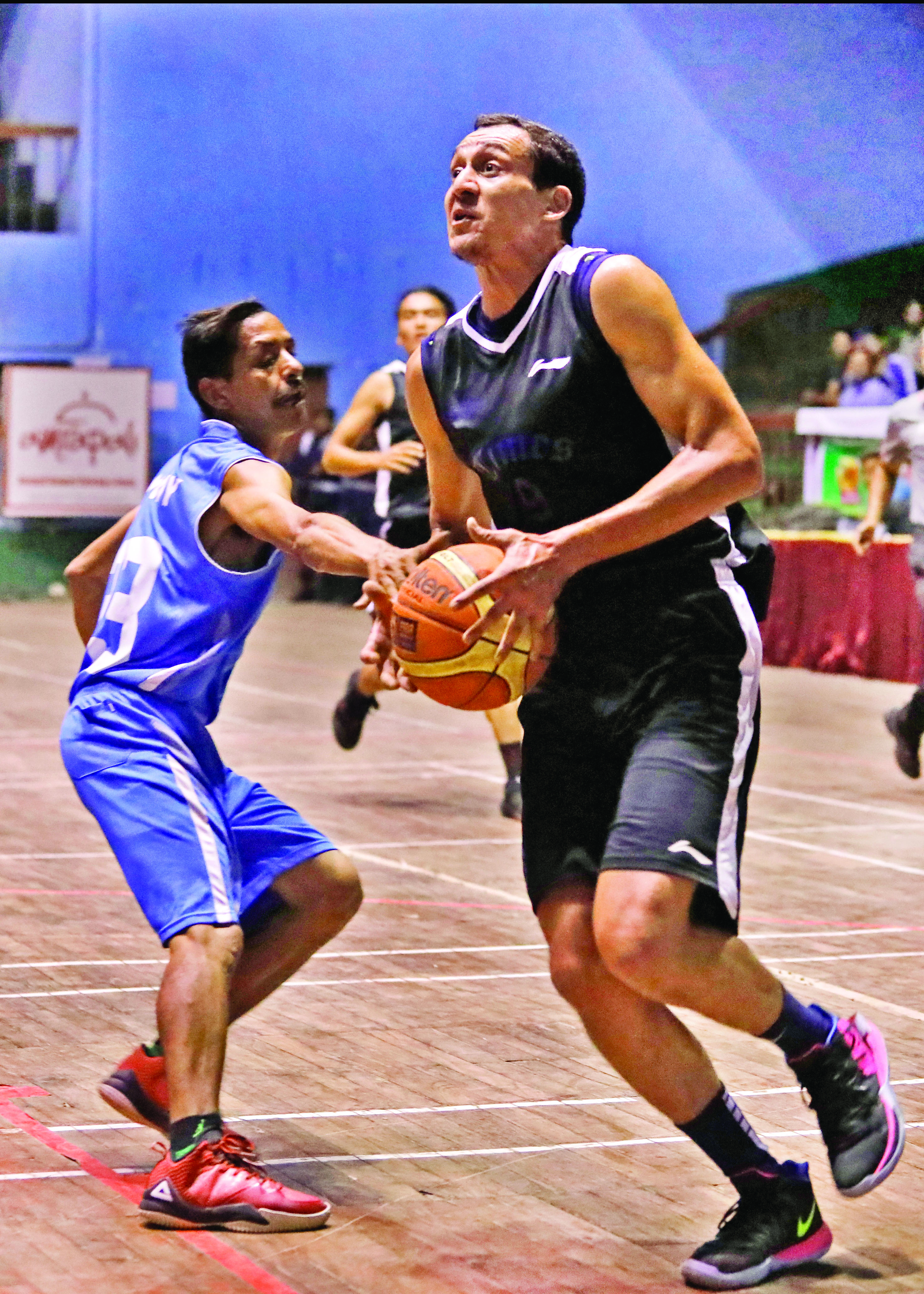 Hemanta Shrestha/TKP
Leslie's case is similar to that of Sharad Vesawkar, the national cricket team's middle-order batsman. Born to a Nepali mother and Indian father, Vesawkar began playing for Nepal in the 2002 ACC U-15 Asia Cup, but for over 11 years, he had to travel with the Nepali team holding a minor's passport. Like thousands of others, he too had applied for Nepali citizenship in the name of his mother, but it took a series of meetings and lobbying from political leaders for Vesawkar to receive naturalised citizenship.
As Vesawkar's case showed, if the government is willing, it can grant naturalised citizenship if it so desires. Leslie might have been born to a foreign father, but he, like Vesawkar, is willing to play for the country where he grew up and now lives.
"On the basketball court, Joshua is always willing to anchor his Nepaliness," said Keith, his father. "There is a psychological drive in him that says I am Nepali like the rest of you."
But Nepal needs proof of Leslie's potential. Vesawkar helped Nepal reach the World Twenty20 for the first time before he was granted naturalised citizenship. Leslie, so far, is an unknown athlete, even though his teammates and his stats testify to his potential. If nurtured and provided with an opportunity to play for Nepal, Leslie could live up to his promise.
"It's not about me as an individual or an athlete," said Leslie. "There are many people like me from different sectors who want to be part of Nepali society and contribute. What if kids from foreign fathers and Nepali mothers want to return to Nepal and serve society here? Is the country ready to accept them whole-heartedly?"
Leslie believes that there are many who are simply looking for an opportunity to play a role in Nepal. But in order for that to happen, the country needs to relax its citizenship regulations and allow mothers to pass on citizenship to their children.
***
What do you think?
Dear reader, we'd like to hear from you. We regularly publish letters to the editor on contemporary issues or direct responses to something the Post has recently published. Please send your letters to [email protected] with "Letter to the Editor" in the subject line. Please include your name, location, and a contact address so one of our editors can reach out to you.
---
---