Power utility finally gets around to doing prerequisite studies
The project envisages building transmission lines and substations in eastern Nepal.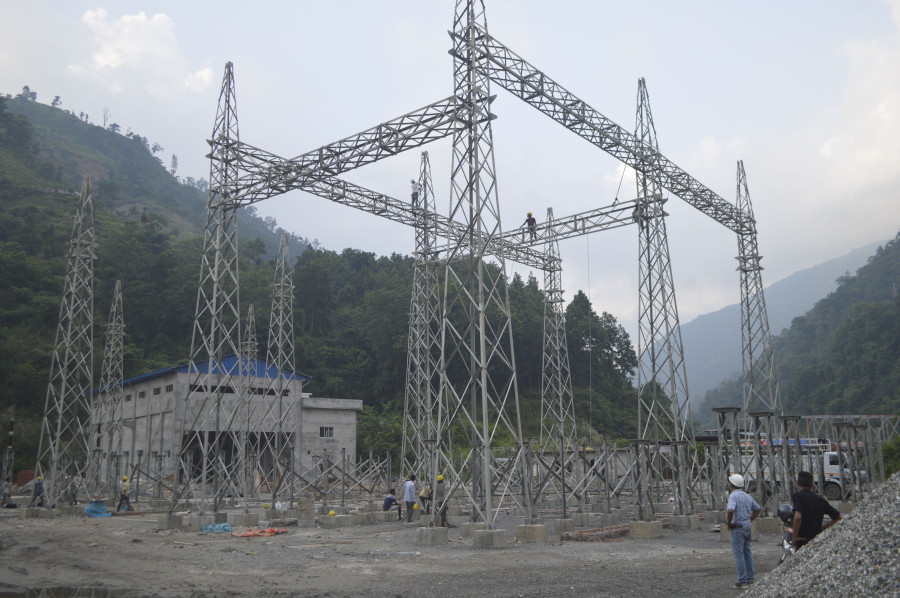 Workers are seen at a construction site of Kulekhani-3 hydropower project in Makwanpur. Pratap Bista /TKP
bookmark
Published at : July 22, 2019
Updated at : July 22, 2019 11:20
Kathmandu
The Nepal Electricity Authority finally got around to carrying out prerequisite studies for the construction of three transmission lines and seven high capacity substations in eastern Nepal, four years after signing a loan agreement with the International Development Association to build them.

The initiative is intended to support the government's target to evacuate more than 3,000 MW from the region for domestic consumption and export.
The International Development Association had pledged a $20 million loan to build power lines in Province 1 four years ago. The donor has disbursed only 21 percent ($4.2 million) of the total approved loan while less than a year's time remains before the accord ends in June 2020.
The state-owned power utility recently published a notice inviting applications from consulting firms to carry out an environmental and social impact assessment for the three 400 kV power line projects—130 km Arun Hub-Inaruwa transmission line, 115 km Arun-Dudhkoshi-Tingla transmission line and 100 km Inaruwa-Anarmani transmission line. Seven substations will also be built along the route.
"There is a high concentration of under-construction and proposed hydel plants on the Arun River such as the 725 MW Upper Arun and 482 MW Kimanthanka Arun, and the region needs high capacity lines to evacuate power generated by these projects," said Kulman Ghising, managing director of the Nepal Electricity Authority.
"The Inaruwa substation is a strategic power trade point between Nepal and India, with two proposed lines running from Inaruwa to Purnea in Bihar which are envisaged to evacuate electricity generated by plants in Ilam, Phidim and the Kabeli cluster."
The Arun Hub encompasses 17 proposed and under-construction schemes including the export oriented 900 MW Arun III project. They account for 36 percent of the potential energy output of 3,031 MW in Province 1. But output amounted to only 162.9 MW as of the fiscal year 2017-18, according to Nepal Electricity Authority records.
As per the government's Transmission System Development Plan, the Arun Hub has been identified as a point for cross-border transmission lines between Nepal and China.
Inaruwa has been identified as a point for cross-border energy exchange between Nepal and India. Inaruwa is also one of the major load centres in Province 1 with an annual demand forecast of 2,850 MW.
"Substations in Biratnagar, Itahari, Damak and Inaruwa supply the maximum power to fulfil domestic, commercial, industrial and transportation demand in the region. In the future, the load will be higher due to railway and industrial demand. The Inaruwa substation will handle the increased load," states the plan.
According to the World Bank, the current project will be crucial to Upper Arun, Ikhuwa Khola and other priority power schemes under the ongoing Nepal India Electricity Transmission and Trade Project.
The project's cost has been estimated at $24 million with the government contributing $1.5 million and the South Asia Water Initiative chipping in $2.5 million. The funding comes at a concessional interest rate of 0.02 percent with a 38-year maturity period and a five-year grace period.
The Nepal Electricity Authority has called for proposals from highly qualified consultants. "The bidders must have at least 10 years of consulting experience in the field of environmental and social studies, and must have completed consulting contracts for Initial Environmental Examination-Environmental Impact Assessment studies of at least two hydropower or transmission line projects," the utility said.
The deadline for submitting proposals is August 5, 2019. According to Ghising, the studies are expected to be completed within one and a half years.
The state-owned power utility is currently executing another World Bank-funded transmission project ensuring connectivity from Dhalkebar in the central region to Inaruwa. But eight years after construction work began on the Hetauda-Dhalkebar-Inaruwa-Duhabi power line, officials are still struggling to resolve issues pertaining to forest clearance, easement rights and poor work execution by the contractors.
The project, the second component of a multimillion dollar Nepal-India Electricity Transmission and Trade Project, is stuck at 70 percent physical progress, much to the chagrin of World Bank officials. The power line scheme is being built with a $99 million concessional loan from the World Bank and government funding.
***

What do you think?
Dear reader, we'd like to hear from you. We regularly publish letters to the editor on contemporary issues or direct responses to something the Post has recently published. Please send your letters to [email protected] with "Letter to the Editor" in the subject line. Please include your name, location, and a contact address so one of our editors can reach out to you.
---
---