PM Oli appoints 15 ministers
Prime Minister KP Sharma Oli expanded his Cabinet for the third time on Friday, inducting 11 ministers and four state ministers.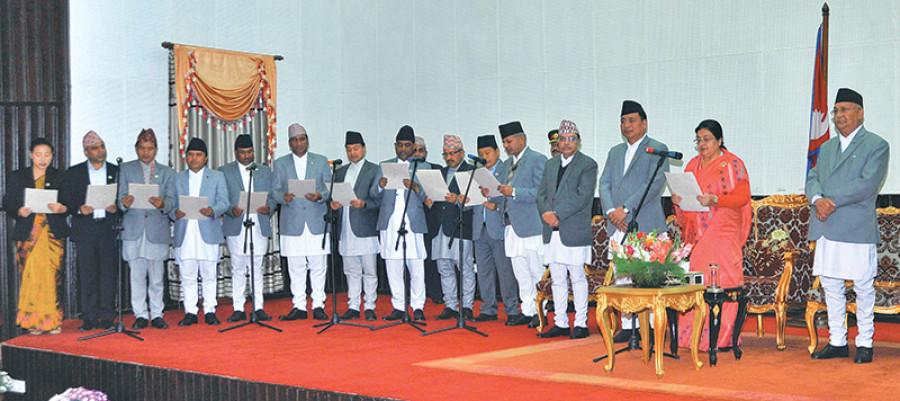 bookmark
Published at : March 17, 2018
Updated at : March 17, 2018 12:35
Kathmandu
Prime Minister KP Sharma Oli expanded his Cabinet for the third time on Friday, inducting 11 ministers and four state ministers.
The newly appointed ministers include six ministers and three state ministers from the UML and five ministers and one state minister from the CPN (Maoist Centre). The Cabinet now has 22 members.
PM Oli was preparing to induct ministers also from the Sanghiya Samajbadi Forum-Nepal but the party refused to forward the names demanding a deal with the left alliance first.
"We didn't join the Cabinet today as the left alliance failed to sign an agreement with our party," said SSF-N Co-chairman Rajendra Shrestha.President Bidya Devi Bhandari administered the oath to all the 11 ministers while the four state ministers were sworn in by PM Oli at Sheetal Niwas on Friday evening. Prime Minister Oli, who was entrusted with picking ministers from his party, had decided the names in consultation with other senior leaders while three major leaders of the Maoist Centre had agreed on the ministerial candidates.
UML leaders who were appointed ministers on Friday are Pradeep Gyawali, Gokarna Bista, Rabindra Adhikari, Raghubir Mahasheth, Sher Bahadur Tamang and Jagat Bishwokarma. Gokul Baskota, Padma Aryal and Dhan Bahadur Budha are the state ministers. From the Maoist Centre, Barshaman Pun, Shakti Basnet, Girirajmani Pokhrel, Chakrapani Khanal and Bina Magar were appointed ministers while Ram Kumari Chaudhari got the state minister's post.
UML Secretary Gyawali is a former tourism minister. Another Secretary Bista is a former energy minister while Adhikari chaired the Development Committee in the dissolved parliament.
Yogesh Bhattarai, whom Oli promised a ministerial berth during the election campaign, was denied a position. Secretary Bhattarai, who is close to party leader Madhav Kumar Nepal, was expected to become a minister.
Senior Maoist Centre leader Pun is a former finance minister and Basnet a former home minister. Pokhrel is former education and health minister while Magar and Khanal are new faces. Khanal was chief political advisor to former PM Dahal. Magar is Dahal's daughter-in-law.
The Maoist party picked Matrika Yadav and Pokhrel from Province 2 and Khanal and Pun from Province 5.The party has no ministers from Province 4. State minister Chaudhari is from Province 1, Home Minister Thapa is from Province 3, Basnet is from Province 6, and Magar represents Province 7.In a reshuffling of responsibilities, Minister for Environment and Population Lalbabu Pandit has become the minister for federal affairs and general administration. Pandit is a former general administration minister.
Those inducted on Friday
CPN-UML ministers
1.
Pradeep Gyawali: Foreign Affairs
2.
Gokarna Bista: Labour and Employment
3.
Rabindra Adhikari: Culture, Tourism and Civil Aviation
4.
Raghubir Mahaseth: Physical Infrastructure and Transport
5.
Sher Bahadur Tamang: Law, Justice and Parliamentary Affairs
6.
Jagat Bishwokarma: Youth and Sports
7.
Gokul Baskota: State Minister for Communication and Information Technology
8.
Padma Aryal: State Minister for Health and Population
9.
Dhan Bahadur Budha State Minister for Culture, Tourism and Civil Aviation
Maoist Centre ministers
1.
Barshaman Pun: Energy, Water Resources and Irrigation
2.
Shakti Basnet: Forest and Environment
3.
Girirajmani Pokhrel: Education, Science and Technology
4.
Chakrapani Khanal: Agriculture, Land Management and Cooperatives
5.
Bina Magar: Water Supply and Sanitation
6.
Ram Kumari Chaudhari: State Minister for Agriculture, Land Management and Cooperatives
Earlier phases of appointment
February 15: PM Oli sworn in along with Lalbabu Pandit as Minister for Environment and Population and Tham Maya Thapa as the Minister for Women, Children and Elderly People
February 26: Four ministers inducted Defence Minister Ishwor Pokhrel and Finance Minister Yubaraj Khatiwada from the UML Home Minister Ram Bahadur Thapa and Industry, Commerce and Supplies Minister Matrika Yadav from the Maoist Centre
---
---