What makes 'The Mirror' a cinematic brilliance
Konkona Sen Sharma's latest short movie under anthology 'Lust Stories 2' explores the sexual fantasies of two women of different strata.

Tillotama Shome in a scene from the movie. Screengrab via YouTube
bookmark
Published at : July 11, 2023
Updated at : July 12, 2023 07:31
It's Mumbai, a city that reeks of class segregation. Isheeta (played by Tillotama Shome), an upper-class, and most likely an upper-caste woman, has an acute migraine attack. She's driving home to rest. On her way, she's talking to her friend, Sameera, over a phone call. What she sees after reaching her apartment not only shocks her but us as a viewer as well—her house help, Seema (played by Amruta Subhash), is having passionate sex with her husband.

This is the initial setup of 'The Mirror,' the second film of the anthology 'Lust Stories 2' released on Netflix on June 29. Directed by the established actor Konkona Sen Sharma, 'The Mirror' explores the sexual fantasies of two women belonging to different economic strata, whose desires are hidden within the periphery of the private space they inhabit.
The other three films in the anthology are overdone tales led by men who have no understanding of women's sexuality like Sharma has. And perhaps, that's the reason why her short film stands out. Her movie genuinely attempts to depict women's bodily needs and sexual fantasies without judgement.
For instance, when Isheeta sees Seema's sexual rendezvous for the first time, she's mortified. I mean, why wouldn't she be? If I find anyone having sex on my bed, that too someone I know, I would shout like how the Dunphy kids did when they caught their parents having sex on Modern Family. Things, however, change when pleasure takes over her mind. Slowly, as days pass by, she starts enjoying watching her house help have sex through a mirror situated next to her door.
Every day, she leaves her work early to see the love-making, and every night before she sleeps, she masturbates imagining the scene she peeked in earlier. And whenever she does it, she leaves her judgment aside. For her, self-gratification is the only thing that matters. The voyeuristic pleasures make her forget everything, even her moral compass. The same goes for Seema, who later discovers what her employer is up to. Unlike other people who probably would have quit their job because of the embarrassment, she keeps having sex in her employer's bedroom as she derives pleasure from being watched.
But it's not only pleasure that connects these women. Beyond the lust, there's an unsaid understanding and connection between them. As women, they empathise with each other. They care about each other's needs. Scenes like Isheeta changing batteries, smiling after seeing her house-help cuddle with her husband, and Seema taking care of Isheeta's daily needs show that these two women genuinely care for each other. There's no judgment but only acceptance of the other person's desires and needs.
This beautiful exploration of the intersection between friendship, intimacy, and sexual fantasies gives 'The Mirror' its distinction. Rarely have we seen movies, especially in Hindi cinema, where women's sexual desires and needs are depicted through a feminist lens. When sexuality is explored in Hindi cinema, women have always been overtly sexualised. Dressing in teeny-weeny clothes, drinking alcohol or smoking cigarettes is shown as a revolutionary act of embracing one's sexuality. But this is not the kind of cinema Sharma is interested in.
Through 'The Mirror,' she crafts real women who explore their desires independently and spend no time feeling shameful for what they did. Isn't that more revolutionary?
Subhash plays Seema with sincerity. Her body language and diction give Seema the rawness the script demands. Shome is equally perfect. Her acting performance forces the audience to be invested in her character, even if, in the end, things get a little shaky with the plot.
It's also evident that much effort was put in to ensure that every element in the movie shines equally, including the cinematography. In the movie, cinematographer Anand Bansal uses the camera not only as a medium to capture the story—it also becomes a part of storytelling. For instance, during one of the initial scenes, when Isheeta discovers her kink, the camera zooms in. This makes the audience feel closer to her character and her vulnerable state.
Another equally praiseworthy element of the short film is its soundtrack. Sharma, through her sound director, makes us feel the thrills her characters are experiencing throughout the narrative. When stakes are high, when the secret is almost revealed, the rising tension is beautifully felt, all thanks to the music.
The naming of the characters also reflects the director's intelligence. Isheeta in Sanskrit means wealth and mastery, whereas Seema translates to boundaries. Both characters and their action are somehow defined by their names; Isheeta is an upper-class woman with wealth, and Seema is a lower-class woman who enjoys crossing the boundaries she shouldn't.
What stood out for me is the brilliant juxtaposition of the mirror throughout the movie. The mirror in Isheeta's living room doesn't just serve as a medium for Isheeta's voyeurism, but it also signifies her subconscious mind. By looking at lovemaking through the mirror, Isheeta becomes aware of the depths of her latent desires.
'The Mirror' is nothing but mastery in storytelling. If there's a film that every filmmaker (or any person) needs to watch now, it's this one.
The Mirror: Lust Stories 2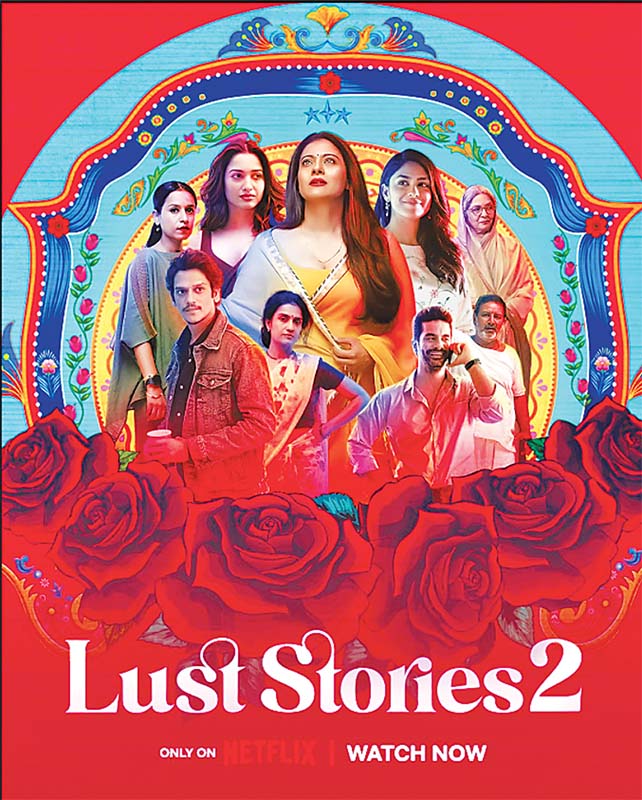 Language: Hindi
Cast: Tillotama Shome, Amruta Subhash
Duration: 37 minutes
Released on: June 29
Now showing: Netflix
---
---