How Nepal can sell 10,000MW power
India has opened up an avenue but only if power and transmission projects in Nepal can go ahead side by side.

SHUTTERSTOCK
bookmark
Published at : June 11, 2023
Updated at : June 11, 2023 07:16
Nepal and India announced a long-term power trade agreement during the visit of Prime Minister Pushpa Kamal Dahal to the southern neighbour from May 31 to June 3.
On June 1, Indian Prime Minister Narendra Modi spoke to this end. "Under this agreement, we have set a target of importing 10,000 megawatts (MW) of electricity from Nepal in the coming 10 years," he said during a joint press meet alongside Prime Minister Dahal.
Nepali officials said the agreement with the initials of the energy secretaries of the two countries is a practically done deal. "The agreement could not be signed as India's Cabinet is yet to endorse it," said Energy Secretary Dinesh Ghimire. "The two sides agreed to set a time for signing the agreement after India's Cabinet gives its go-ahead."
He said the two sides reached consensus on details and signing the agreement is a formality. "There will be no change in its specifics," Ghimire said.
Specifics of agreement
As the final agreement is yet to be signed, details of the understanding on long-term power trade have not been made public. But Nepali officials who participated in the negotiations told the Post that it will be a 25-year deal.
"After 25 years, it will be renewed every 10 years, automatically," said Kul Man Ghising, managing director of the Nepal Electricity Authority (NEA). "It can be amended with the agreement of both sides."
Nepali officials said India has promised to buy 10,000 MW from Nepal in 10 years under medium- and long-term purchase agreements signed by the entities of the two countries.
"It opens the door for the signing of a power purchase agreement (PPA) for five years or more within the framework of the 25-year umbrella agreement," said Secretary Ghimire.
What does a long-term deal mean for Nepal?
Nepali officials call it a breakthrough that will ensure the Indian market for Nepal's excess power. "It has guaranteed the market for Nepal's power," said Ghising. Because of the guarantee, Nepali officials expect a boost in domestic and foreign investments. The Indian government has said that the long-term power deal would promote mutually beneficial investments. "This suggests that India wants to promote Indian investment in Nepal's hydropower," said a senior NEA official. "India can also encourage its private sector to invest in Nepal's power sector given its promise to buy 10,000 MW in 10 years," he added. Even though state-owned Indian companies have been coming forward with investment plans, India's private sector is yet to fully commit to Nepal. India's GMR is struggling with the financial closure to develop the 900 MW Upper Karnali.
A market for projects with China's investment?
In February 2021, the Central Electricity Authority of India came up with the procedure for Approval and Facilitating Import/Export (Cross Border) of Electricity by Designed Authority, which detailed the process of how India would trade in electricity with its neighbours.
Clause 6.3 of the procedure states that Indian entities may import electricity from the generation projects located in neighbouring country(ies)... "provided that the generating company is not owned, directly or indirectly by any natural/legal personality(ies) whose effective control or source of funds or residence of beneficial owner, is situated in/citizen of a third country with whom India shares land border and that the third country does not have a bilateral agreement on power sector cooperation with India".
Citing this provision, India has been refusing to take electricity generated by hydropower projects involving Chinese contractors, such as the 456 MW Upper Tamakoshi.
"India's rules on export-import of electricity will apply even after the signing of the long-term power trade agreement," said Prabal Adhikari, power trade director at the NEA. "There will be project specific agreements even for long-term power trade."
Secretary Ghimire confirmed this. "We hope to see a boost in investment from countries other than China and Pakistan. We hope the issue with China will also eventually be settled and that the projects developed with Chinese investments will get market access."
What about renewal of approval?
The Indian authorities have so far allowed Nepal to export up to 452.6 MW of electricity generated by 10 projects through its power exchange market. But Nepal has to renew approval for these projects every year, which is time consuming, say Nepali officials. The need for renewal of approval does not apply to long-term power purchase agreements (PPA).
"The provision of annual renewal applies only to approvals to sell power in India's day ahead market," said Secretary Ghimire. "But the approval need not be renewed now while signing PPAs under medium- and long-term deals."
Can Nepal produce 10,000 MW in 10 years?
The first government of republican Nepal in 2008 set the target of producing 10,000MW of electricity in a decade. The then finance minister Babubam Bhattarai, who later became prime minister, had announced as much in the annual budget for the fiscal year 2008-2009. But all that people experienced later was power cuts up to 18 hours daily at their worst.
When the Nepal Electricity Authority announced an end to load-shedding in May 2018, the country's installed capacity was just around 1,000 MW.
But the situation has changed with the country exporting surplus energy in the wet season since 2021.
According to the NEA, Nepal currently has the capacity to generate around 2,700 MW, with the capacity expected to reach 2,853 MW at the end of the current fiscal year.
Despite limited progress, government and private sector officials both say producing over 10,000 MW in 10 years is possible, based on the current power purchase agreements and the projects that have applied for PPA.
Adhikari of the NEA said that the utility has already signed PPAs for projects with a combined capacity of 7,300 MW. "Additional ones with a combined capacity of around 12,000 MW await PPA signing with the NEA," he said.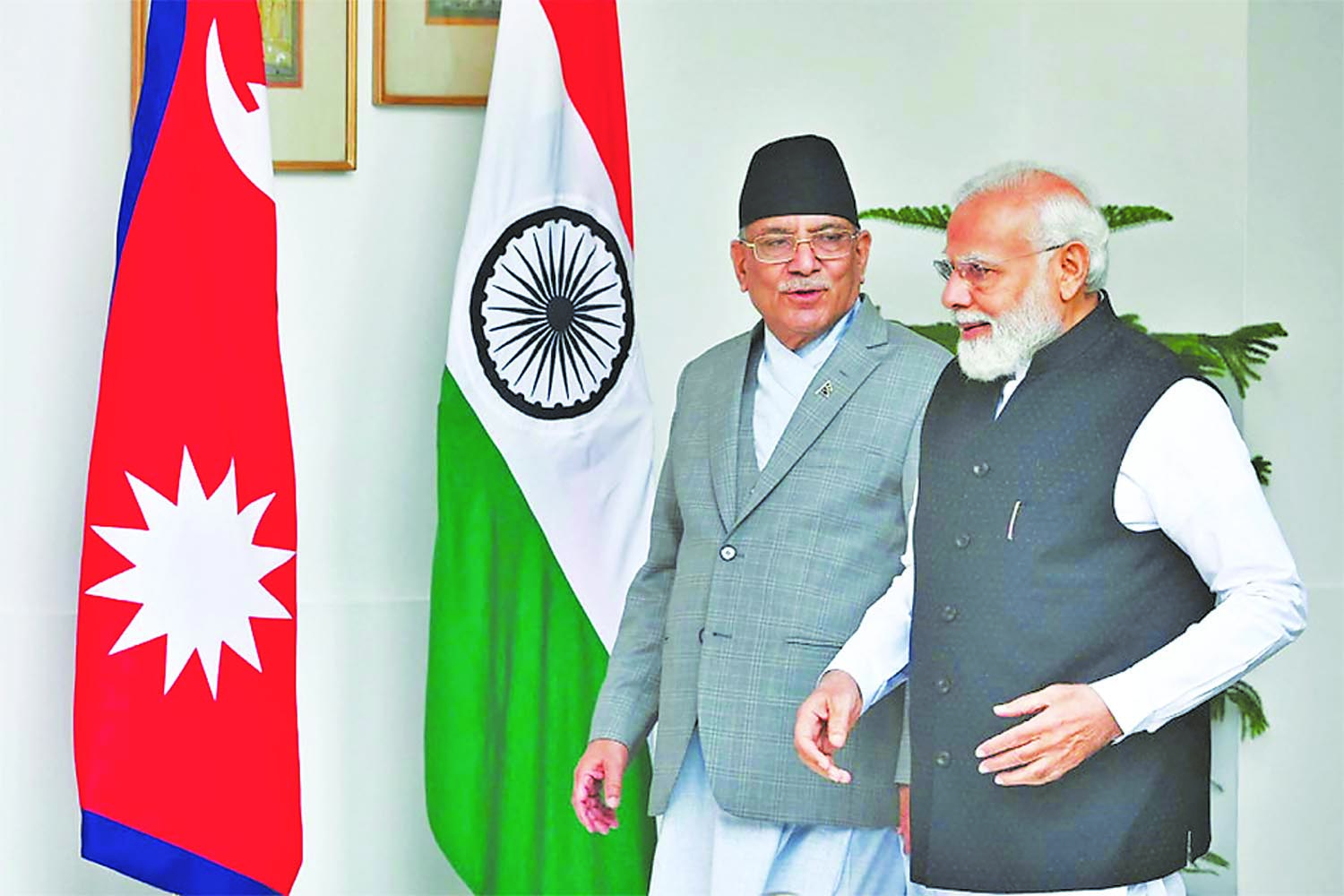 Prime Minister Dahal and his Indian counterpart Narendra Modi RSS
According to the NEA, projects that will generate more than 3,000 MW are currently under construction. Officials said that after India guarantees the market for Nepal's power through a long-term trade agreement, Nepal has to aim higher.
"We have to produce at least 15,000 MW in order to export 10,000 MW to India within the next 10 years as growing domestic consumption and possible export to Bangladesh should also be taken into account," said Ghising. "In order to produce at least 15,000 MW in a decade, we have to start projects for 20,000–25,000 MW right now, as all of them will not be completed on time."
But private sector bodies question the government's intent. "Projects with a combined capacity of more than 11,000 MW have already applied for PPA, but why has the NEA delayed the signing of PPA even after India ensured market access?" asked Ashish Garg, vice-president of the Independent Power Producers Association Nepal (IPPAN).
NEA's Ghising also admits that the PPA should be urgently signed. "Before signing the PPA, we will come up with detailed plans, including potential building of power projects by the government entities and the private sector, as well as the transmission infrastructure. Signing PPA will also be a part of the plan," he said.
Transmission woes
Even though India made the big announcement on buying power from Nepal, the delivery of power will be challenging given the country's poor transmission infrastructure.
Currently, the country does not have a single transmission line with the capacity of 400kV for domestic transmission. The only 400kV line in operation is the Dhalkebar-Muzaffarpur Cross-Border Transmission line, which is used for cross-border trade.
Nepali officials and private sector representatives say developing high capacity lines is essential. "Even to take the power generated up to the cross-border line, the domestic transmission infrastructure should be strong," said Adhikari. "Likewise, high-capacity cross-border power lines should be developed in enough numbers."
The silver lining is that a number of high-capacity cross-border transmission projects are being planned. The Dhalkebar-Sitamarhi Cross-border Line is being built by the SJVN Arun-3 Power Development Company.
"Dhalkebar-Sitamarhi Cross-border Power Line has the capacity for carrying 2,000MW electricity," said Adhikari. Prime Minister Dahal and his Indian counterpart laid the foundation for the construction of the India section of the proposed New Butwal-Gorakhpur Cross-border Transmission Line.
During the 10th secretary-level 'joint steering committee on energy cooperation' meeting held in February in India, the two countries also agreed to develop the 400kV Inaruwa (Duhabi-Purnia, Bihar) and 400kV New Lamki (Dodhara-Bareli, Uttar Pradesh) cross-border lines by 2027-2028 and 2028-2029, respectively, according to a statement from the energy ministry.
"These planned projects will have the capacity of transmitting 2,000 MW each," said Adhikari. "All in all, our high-capacity power lines will be able to transmit around 9,000 MW once they are built. We then will have to build more."
But Garg believes that development of hydropower projects should not be halted because of the delay in construction of transmission lines. "The two works should be taken forward simultaneously so that we can start exporting bulk power to India at the earliest," he added.
---
---