Retailers pulling down shutters as recession bites
'To Let' notices have become a common sight as business confidence has sunk to record lows, market observers say.

A vacant retail space in downtown Kathmandu on Tuesday. Keshav Thapa/TKP
bookmark
Published at : May 10, 2023
Updated at : May 10, 2023 07:34
Kathmandu
Prakash Dangol's once flourishing shop selling printers now wears a desolate look. A stack of old printers sits in one corner of the store situated on the ground floor of an old house at Putalisadak. A few new ones are piled up in another corner.

Dangol has seen his business go down the drain in the past few months. At one time, business was so good he had opened a second outlet nearby.
When the Covid pandemic hit, he was forced to close his two shops for a few months. The lockdowns ended and his business began a slow rebound. But the recovery didn't last. Dangol was having a hard time keeping his head above water, and last week he sold one of his shops. A 'To Let' sign now hangs there.
Dangol became a statistic as one of the casualties of Nepal's first recession in 60 years.
"I cannot run two shops anymore," he told the Post. His revenues sank lower than during the pandemic. He is unable to pay the rent and is struggling to repay bank loans.
"The interest rate has gone up, but there is no business," said Dangol. "If the economic crisis continues for another six months, it will be a disaster."
Another merchant Yam Thapa owned a clothing store at Kathmandu Mall. Things were going well for the past six years. But then his business went into the red.
"I suffered losses amounting to Rs10 million," he said. Last month, Thapa called it quits and abandoned his store. A 'To Let' notice hangs there.
Thapa is looking for a foreign job now. "I had to pay a monthly rent of Rs210,000. How can I pay such a huge amount when there are no sales?"
A credit crunch, real estate slowdown, tumbling stock market and rising unemployment have rattled the economy even as a new government was formed.
'Sale' posters became a common sight at apparel stores in Kathmandu as they tried to attract buyers amid a drop in consumer spending primarily because of inflationary pressures. Now they too are displaying 'To Let' signs.
Empty shops began appearing on the streets of Kathmandu since the start of the credit crunch. In other cities in Nepal too, a large number of shops lie vacant as the recession has exacerbated other problems, such as rising rents and reduced customer footfall.
Rajesh Kumar Agrawal, senior vice-president of the Confederation of Nepalese Industries, said that based on their market observation, roughly 35 percent of the businesses have shut down due to the current liquidity crisis.
"The situation will improve only if the interest rate on loans goes down and the government pumps liquidity in the market," said Agrawal.
According to the Nepal National Traders Federation consisting of small and medium-scale traders, thousands of micro enterprises have gone out of business since the pandemic. The recession has pushed more into bankruptcy. Hundreds of traders are abandoning their businesses.
Nepal plunged into its first recession in six decades as economic output continued to be weighed down by inflation and political instability.
As per the National Statistics Office, the seasonally adjusted growth rate or the gross domestic product (GDP) for the second quarter may drop by 0.73 percent.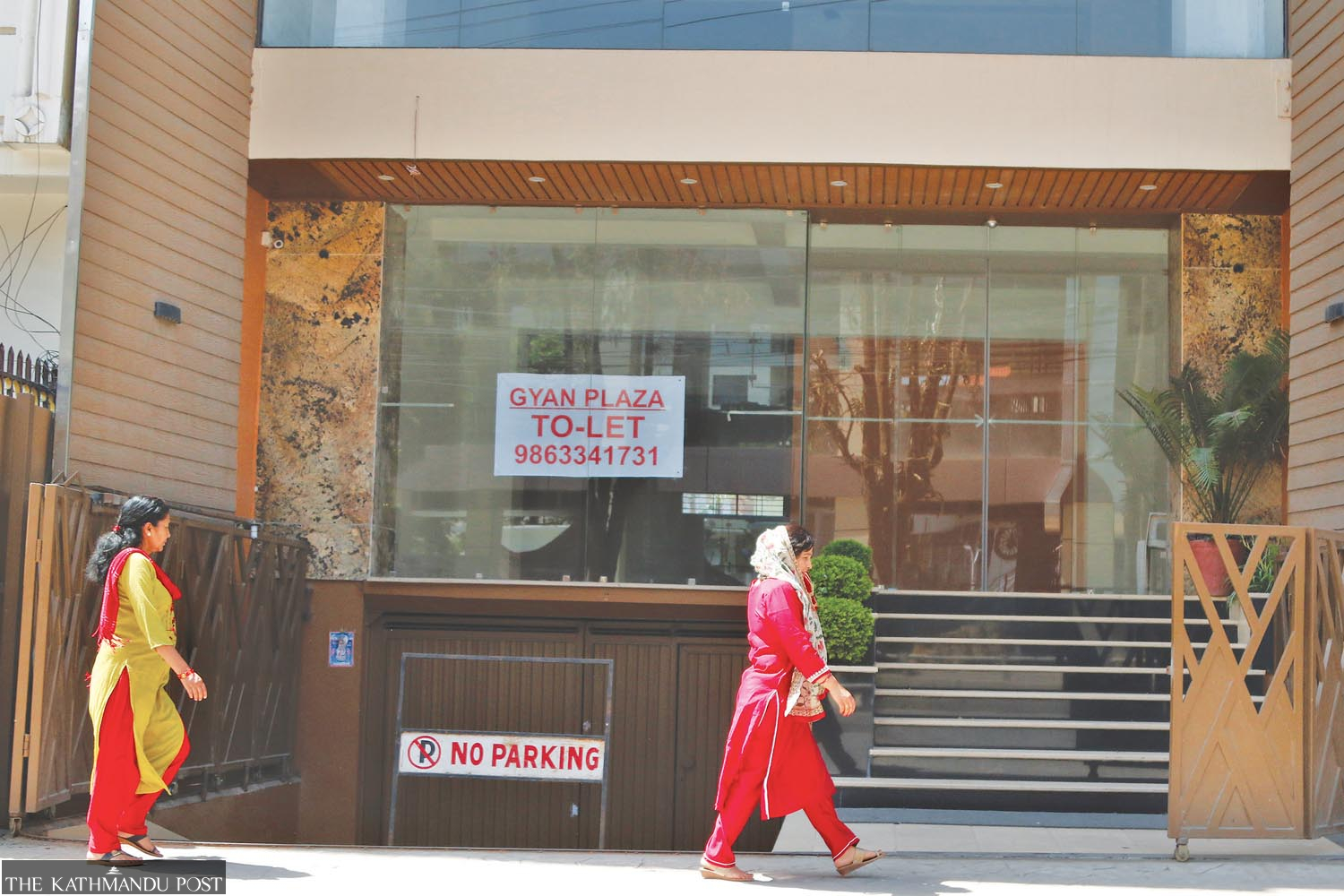 Rows of empty shops began appearing on the streets of Kathmandu since the start of the credit crunch. Keshav Thapa/TKP
The negative performance of the economy in the second quarter (mid-October 2022 to mid-January 2023) was triggered by slowing trade and deceleration of the construction and mining sectors.
This followed a nearly 0.34 percent drop in the first quarter (mid-July 2022 to mid-October 2022).
"The interest rate of commercial banks was around 8 percent a year ago, and it went as high as 16 percent. Who can survive in such a condition?" said Kumar Karki, president of the federation.
Traders say that rising rentals of showrooms and bank interest rates and low sales are driving them out of business.
The monthly rental of a shop in prime commercial areas of Kathmandu like Koteshwar, Baneshwar, New Road and Chabahil is at least Rs40,000. Rents have risen by 10 percent annually.
Tenzin Dawa Sherpa, proprietor of Fabolus Wardrobe situated in an alley off New Road, says customers have vanished all of a sudden. "People step in but flee after asking the price," said Sherpa.
Laxmi Sapkota Chhetri, owner of Elegant Fashion, a women's clothing store at Bishal Bazaar, New Road, said she was shooing flies nowadays.
"There is no business at all. People are not coming. Sometimes I don't get even a single customer," said Chhetri who has been running the shop since 2016.
Summer clothes used to be in high demand this time of the year. "We have surplus inventory, but business is not even 10 percent of what it was before," said Chhetri.
Sherpa suspects that the grey market has thrived.
Like Sherpa, Thapa too thinks that customers are not coming to them due to the availability of cheaper illegally imported goods. They say people are buying from unregistered online stores and on TikTok.
"Sellers can advertise on TikTok, there is no need to rent a shop," said Sherpa.
But economists say that's not the reason sales are down. They say the reason is recession.
"In this situation, if the government doesn't take corrective action to increase liquidity in the market, the economy is sure to collapse," said economist Pushkar Bajracharya.
A former member of the National Planning Commission, Bajracharya says that the cost of capital that is borrowed to operate businesses is too high in Nepal compared to other countries.
For most traders, trouble began when cooperatives started to falter. Many of them who had savings accounts in cooperatives haven't got their deposits back. Banks are not willing to issue loans to them, insiders say.
The Kathmandu Metropolitan City, which regulates micro and small traders within the city, says the number of applications to close down businesses has increased at all 32 ward offices. But they have no precise figures.
Nabin Manandhar, spokesperson for the metropolitan city, says they can do nothing to ease the crisis. "Landlords aren't going to lower the rent at our request," he said. "We hope the economy will revive soon."
According to the National Statistics Office, the economy is expected to grow by only 1.86 percent in the current fiscal year, a far cry from the 8 percent growth projected by the government at the beginning of the fiscal year.
The retail and wholesale sector, which accounts for 15.39 percent of the GDP, plunged 2.96 percent in the current fiscal year, the statistics office said. In the last fiscal year, the retail and wholesale sector had expanded by 7.46 percent.
"The government and the central bank—or the fiscal and monetary authorities—should now work in tandem to bail out the economy from the recession," said Bajracharya. "The problem is unlikely to be solved within a few months."
Naresh Katwal, past president of the Nepal National Traders Federation, told the Post in a recent interview that the disturbing part of the recession was the growing number of suicide cases among entrepreneurs.
"A new and dangerous trend has emerged. Entrepreneurs are resorting to suicide," said Katwal. "The government should not let the situation get out of control."
---
---