Cold weather dampens World Cup fervour
Nepalis are apparently more interested in watching the election results than football right now.

Outlets in Kathmandu have priced player quality jerseys, the highest quality available in the market, at around Rs2,100, retailers say. Pawan Pandey/TKP
bookmark
Published at : November 22, 2022
Updated at : November 22, 2022 08:06
Kathmandu
Manzu Rai hadn't planned on buying a Brazil soccer jersey to show her support for her favourite team as the FIFA World Cup got underway in Qatar, but she gave in eventually and bought the iconic shirt.

"As soon as I saw the bright yellow jersey in the shop window, I could not control myself. I had to buy it to show my support and loyalty to my favourite team," Rai told the Post. Brazil has been her favourite team since she started following football.
Football jerseys of national teams from around the world are the fastest selling items at apparel stores in Nepal during the World Cup.
The shops are decorated with strings of flags of different countries that create a festive ambience, and colourful jerseys cover the walls.
Bursts of cheers erupt from homes, restaurants and stores whenever a game is on. Everyone is in a good mood as they watch spectacular football plays in a celebration of the world's diversity for one whole month.
The festival of football also means a rise in liquor and food sales in restaurants.
Sportswear retailers always have a smile on their faces as World Cup merchandise fly off the shelves. But this year, things are a little slow. Traders say demand for jerseys is way down compared to old times.
FIFA World Cup Qatar 2022 opened amid a splendid ceremony on Sunday with the host country losing to Ecuador in the inaugural match.
In Nepal, the World Cup coincided with the general elections.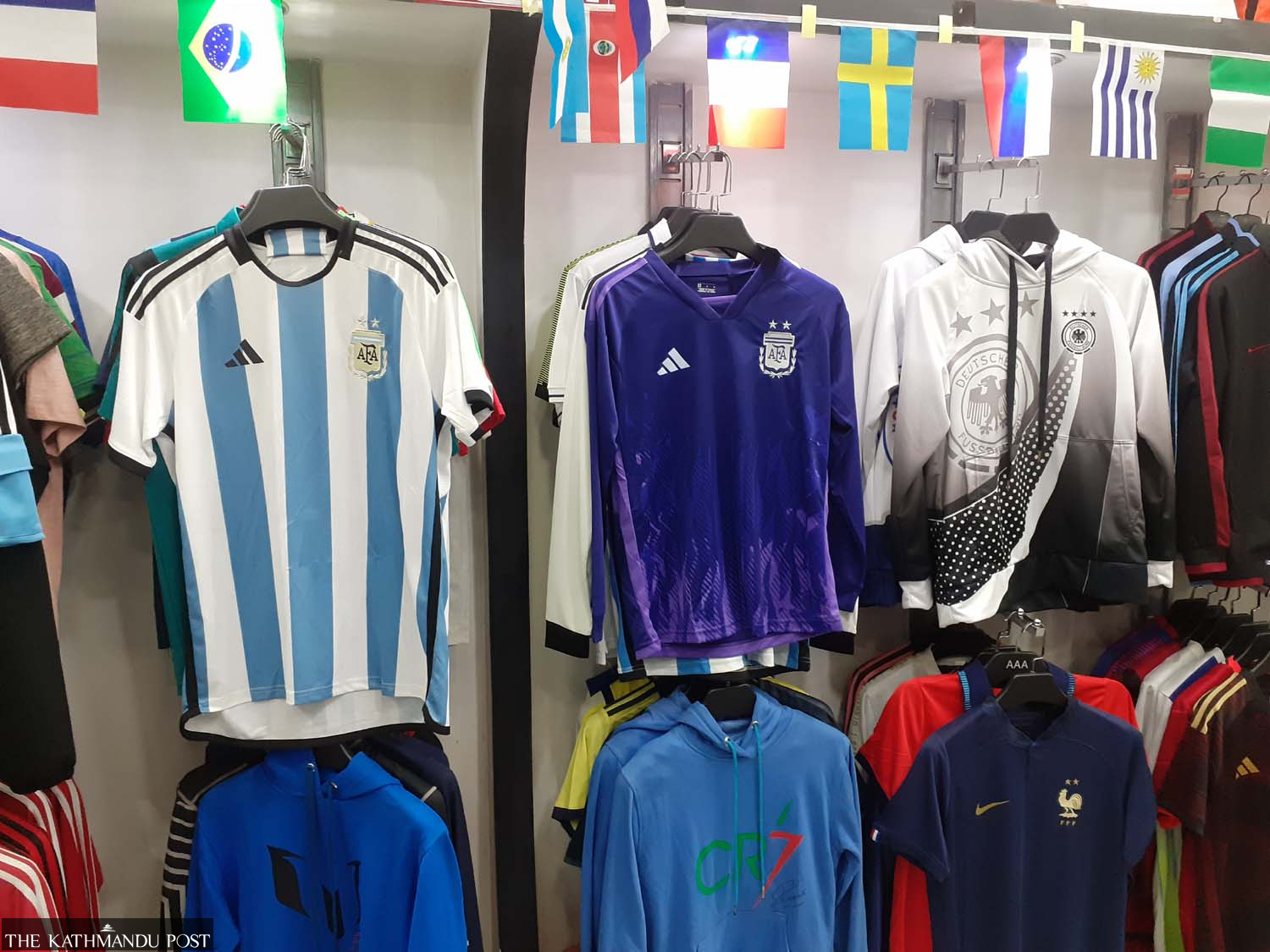 Pawan Pandey/TKP
Pramod KC is a diehard fan of Argentine footballer Lionel Messi. But he is yet to buy an Argentina jersey.
"Most of my friends have already bought their favourite team's jerseys. I plan on buying the Argentina World Cup kit before their first match with Saudi Arabia on Tuesday," said KC.
According to traders, football fans are not as excited as during past World Cups because of three things. The first is that this is the winter season and it is too cold to wear jerseys. In Kathmandu, the biting cold has already started, and fans are avoiding jerseys, they say.
Second, inflation has soared and prices of jerseys have gone up beyond reach. People are also not spending as they used to because their earnings have not increased while inflation has been rising by the day.
The election is the third reason people are not celebrating as they used to. The country is occupied with the elections which were held on Sunday. Vote counting is underway and people are more interested in following election results than the World Cup, traders say.
Bikas Katwal, sales manager at Bhadrakali Sports Wear, remembers football fans queuing up to buy jerseys during the past World Cups.
"Jerseys used to occupy every space in our shop. It's a thing of the past now," said Katwal. "Demand has declined."
According to retailers, they used to earn as much as Rs10.5 million from jersey sales along with accessories such as flags and footballs during the FIFA World Cup in 2018.
"This year, prices have increased heavily. The increased prices mean our profit margin has decreased," Katwal added.
He speculated that the fall in jersey sales might be because of the winter season and inflation.
For the first time in history, the World Cup is being held in the winter as summer temperatures in the host country Qatar make it difficult to organise outdoor sports.
From June to August in Qatar, highs are around 42 to 43 degrees Celsius and lows around 30 to 32 degrees Celsius.
"In Nepal, there is greater demand for hoodies than jerseys these days," said Milan Basnet, owner of City Sports, a sportswear outlet at CTC Mall in Sundhara.
"Demand for World Cup kits has declined by 40 percent as compared to past World Cups," said Saral Dhital, owner of Bhagawati Sports near Dasharath Stadium at Tripureshwar. "Prices of jerseys vary according to the materials used."
Outlets in Kathmandu have priced player quality jerseys, the highest quality available in the market, at around Rs2,100, retailers say. Other qualities are priced between Rs800 and Rs1,450 each.
According to retailers, the supply of jerseys from China also has declined this time. While imported jerseys shipped by air cargo have been arriving on time, consignments coming overland have been delayed, they say.
Hundreds of containers carrying goods imported by Nepali traders were stranded for months in various parts of China because of strict lockdown measures enforced under Beijing's zero-Covid policy.
"The border issue is one of the reasons for the unavailability of imported quality jerseys on time," said Naresh Katuwal, president of the Nepal National Traders Federation.
"When traders have to reroute their shipments through seaports because of the hassles of bringing them across the northern border points, delivery takes longer," he said.
According to Katuwal, Nepali traders order winter goods and apparels and they arrive in the summer because of delays.
But Suman Sah of Jersey Pasal Nepal at New Road is not disappointed.
"The flow of customers has obviously declined, but the numbers have been increasing," he said. "Jerseys are not coming from China, and already there's a shortage in the market."
Sunday's election too impacted jersey sales.
"The number of jersey buyers was on the rise until last week," said Jyoti Shrestha, a sales assistant at Bhadrakali Sports Wear. "On the other hand, inflation is biting everyone. Nowadays, many see celebrating the month-long event as an unnecessary expense," said Shrestha.
The consumer prices rose 8.5 percent in October from a year ago. Economists say that actual inflation may be in the double digits.
Following the pain of the Covid-19 pandemic, the Russian invasion of Ukraine has magnified the slowdown in the global economy, which is entering what could be a protracted period of feeble growth and elevated inflation, according to a World Bank report.
The war in Ukraine, lockdowns in China, supply-chain disruptions and the risk of stagflation are hampering growth in countries like Nepal.
Tens of thousands of people left Kathmandu for their hometowns last week to cast their votes, and as soon as they return to the Valley, sales may rise, retailers say.
The jerseys of Argentina, Brazil, Portugal and Germany national teams are the best sellers, according to them.
---
---