Fertiliser shortage, drought, heat wave threaten farming future
Import-dependent Nepal may have a hard time as key producers like China and India have adopted a protectionist policy and restricted food and fertiliser exports, experts say.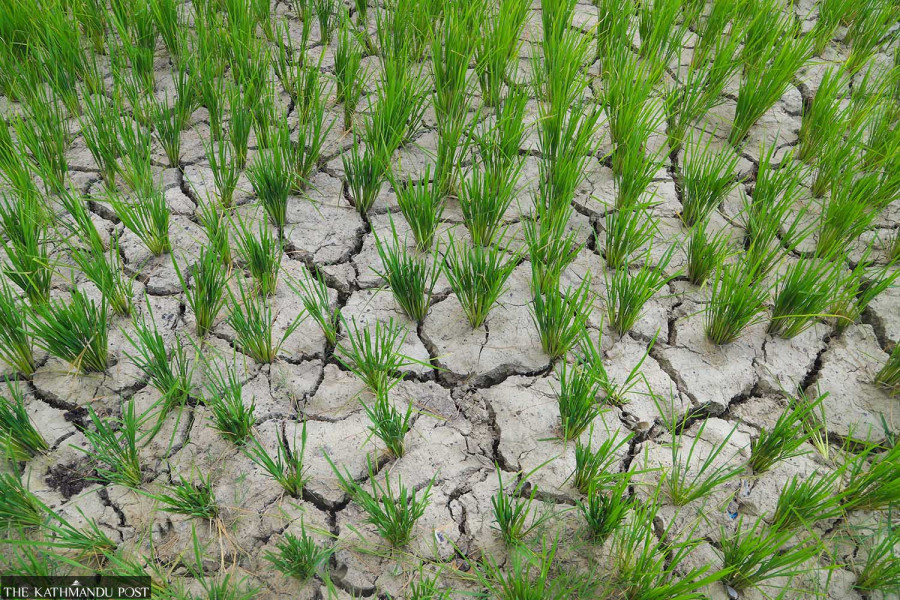 The monsoon became active late this season in western Nepal. Manoj Paudel/TKP
bookmark
Published at : August 30, 2022
Updated at : August 30, 2022 07:55
Kathmandu/dhangadhi
For farmer Peru Lal Chaudhary of Dhangadhi in farwestern Nepal, the paddy transplanting season didn't go so well. First, he couldn't get enough chemical fertiliser without which his plants will not grow healthily.

He finished transplanting the paddy saplings in June-July, and the shortage of vital nutrients continued even a month later when it was time for the first top dressing. Farmers need to apply the nitrogen-fertiliser topdressing at the initial stage of flag-leaf extension, or the emergence of the final leaf to realise yield potential.
While Chaudhary was struggling to get fertiliser, the rains too failed. After two months, his parched fields began to crack for lack of water. The paddy saplings started to turn yellow.
Paddy is Chaudhary's main livelihood, and he is deeply worried about a possible drop in output which will ruin him.
The 2022-23 harvest is doubtful.
Experts say that with food-producing countries imposing export bans, poor countries could be in for a hard time because many could face food shortages or prices could go up sharply.
For Nepal's ailing economy, the shortage of chemical fertiliser, drought-like situation in the southern Tarai and the subsequent heat wave is a big problem.
Bir Bahadur Chaudhary, another farmer in Dhangadhi, predicts a significant cut in paddy output this year. "A fall in output is certain," said Bir Bahadur. "The paddy field is so parched."
In Kailali, more than 60 percent of the farmers depend on the monsoon for water for their fields.
"Only 30 percent of the growers have access to irrigation," said Khagendra Sharma, chief of the Agriculture Knowledge Centre, Dhangadhi. "The remaining 10 percent obtain water through deep boring or other sources."
The monsoon became active late this season in western Nepal, including Kailali and Kanchanpur districts. Rainfall too was below normal, according to meteorologists.
"The western region witnessed less than 10 days of rainfall between mid-June and mid-August this year," said farmer Debu Ram Dangaura. "The crop situation in western Nepal is alarming."
This year, the government failed to supply chemical fertilisers to farmers during the peak paddy transplantation period in June. The government had promised that fertiliser would be available after India starts sending shipments through a government-to-government deal. But that did not happen.
Predictions by South Asian meteorologists that Nepal would get above-normal rainfall turned out to be false too.
"Lumbini and Sudurpaschim provinces suffered a drought situation during the June-July period," said Indira Kandel, senior meteorologist at the Climatic Analysis Section under the Department of Hydrology and Meteorology.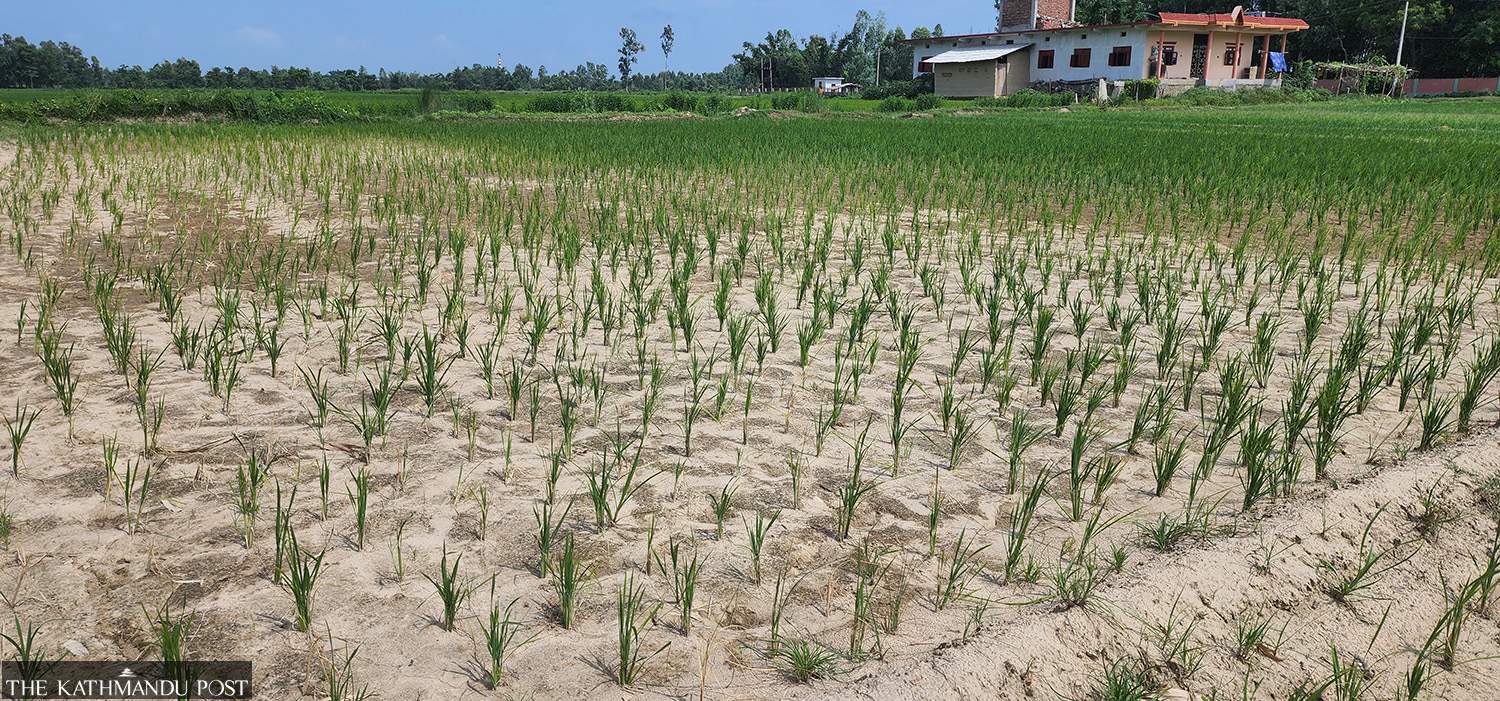 Nepal has witnessed high temperatures for the past several weeks. Shiva Puri/TKP
The dry spell then shifted to the eastern region in August, she said. "The transplanted paddy plants, due to lack of water, are not growing well."
Rain fell across the country on Saturday and Sunday which provided much-needed relief, but experts say that will not be enough. "The change in weather behaviour may hit farm output," said Kandel.
Trouble has been coming in bunches for Nepali farmers. For the last few weeks, the world has been suffering from heat waves. There are headlines that there may be food shortages globally, in Nepal too.
Experts say the degree of the impact of the heat waves is relatively low in Nepal. The agricultural sector is most vulnerable to climate change, but efforts to mitigate the crisis have been inadequate, they say.
"The effect of the heat wave in Nepal was not as bad as in most countries," said Madhukar Upadhya, a climate change expert.
Nepal has witnessed high temperatures for the past several weeks.
"If the temperature rises, people will not go to work. Cases of disease will go up. This will impact agricultural production," said Kandel.
Lack of rain means the groundwater system will not be recharged. There will be low water flow in the hydropower projects too.
"The rising temperature will, directly and indirectly, impact the economy this year," said Kandel. "But we can't predict by how much."
Climate change this year has defied forecasts by South Asian meteorologists.
According to a consensus statement released by the 22nd Session of South Asian Climate Outlook Forum in April-end, Nepal was expected to receive above-normal monsoon rains this year.
"Most of the country's food-producing areas are suffering a water deficit," said Kandel.
According to Upadhya, the insufficient rainfall may affect the growth of paddy which may hit output.
Nepal imports rice in large quantities from neighbouring India, and if it decides to restrict rice exports, the situation will be difficult, said Upadhya.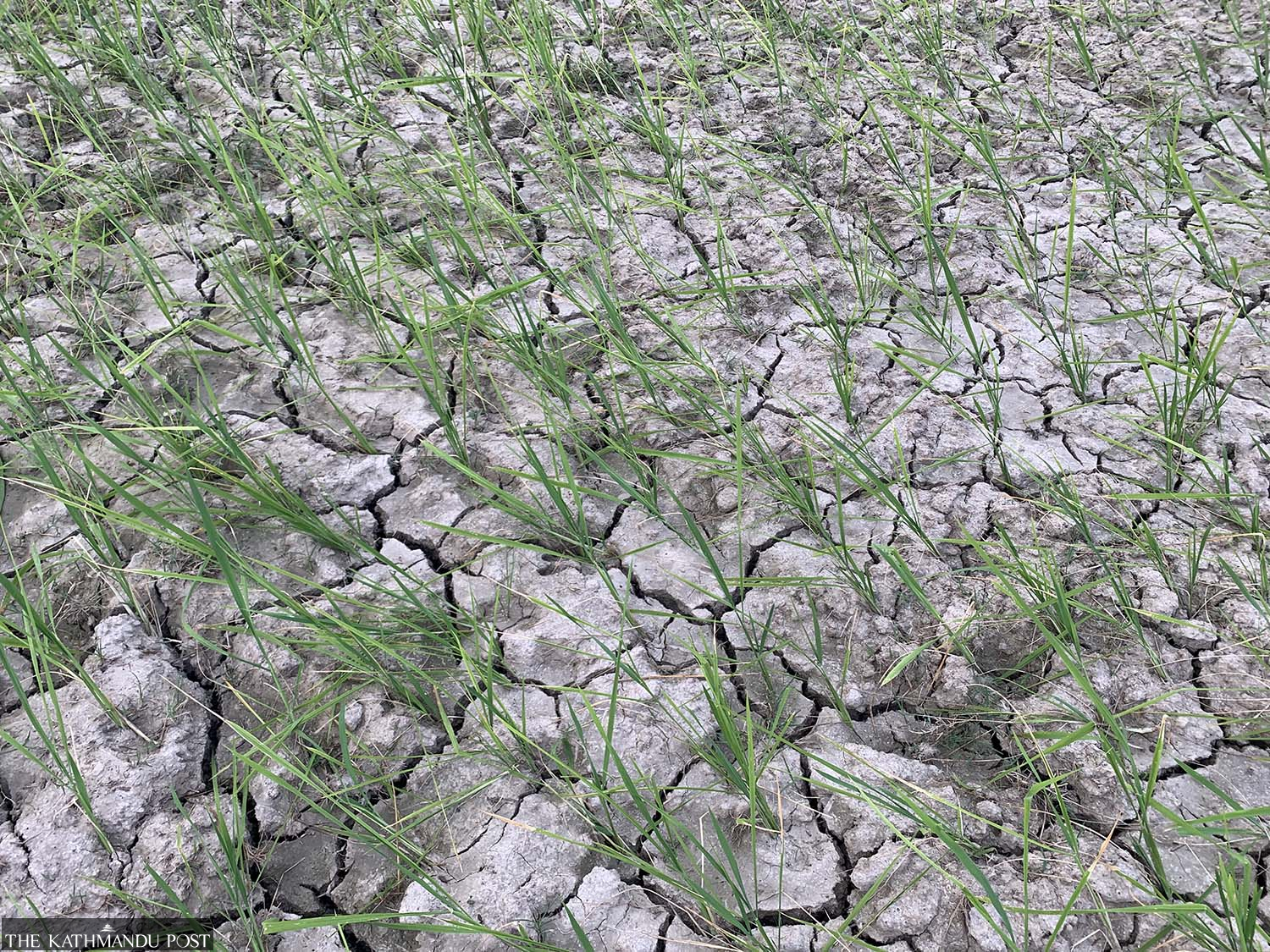 For Nepal's ailing economy, the shortage of chemical fertiliser, drought-like situation in the southern Tarai and the subsequent heat wave is a big problem. Shiva Puri/TKP
The agricultural sector, which contributes 23.95 percent to the country's GDP, is clearly in the doldrums.
"As you can see, the situation is tragic because there could be a massive loss of crops this year," said agro economist Devendra Gauchan. "This will eventually increase prices in the market and further hit people suffering from near double-digit inflation."
Rising food prices have a greater impact on people in low- and middle-income countries since they spend a larger share of their income on food than in high-income countries.
Nepal's inflation was recorded at 8.08 percent in July when the fiscal year closed, which is double last year's figure.
"The official inflation rate, however, doesn't even fully capture how bad the situation is," economist Bishwambher Pyakuryal told the Post in a recent interview.
"The hot weather could also push up food prices, making inflation even worse," said Gauchan, a food policy specialist at the National Planning Commission that frames the country's plans and policies.
Record high food prices have triggered a global crisis that will drive millions more into extreme poverty, magnifying hunger and malnutrition while threatening to erase hard-won gains in development, the World Bank said in its August report.
The war in Ukraine, supply chain disruptions, and the continued economic fallout of the Covid-19 pandemic are reversing years of development gains and pushing food prices to all-time highs, the report said.
In South Asia, food price inflation remains at a multi-year high. The report said that as of July 2022, Bangladesh and Nepal had not experienced major food shortages.
The heat wave shows how local climate events may send shockwaves through global food security.
"The impact is becoming visible gradually. It seems that the trade restrictions and fertiliser shortages that may continue will have a larger implication for Nepal," said Gauchan.
The government has announced in the budget statement that cereal production will be increased by 30 percent from 10 million tonnes to 14 million tonnes.
Experts immediately called it one of the greatest ironies because the country is facing a severe shortage of chemical fertilisers without which crops cannot grow. The chemical fertiliser shortage has become a perennial problem.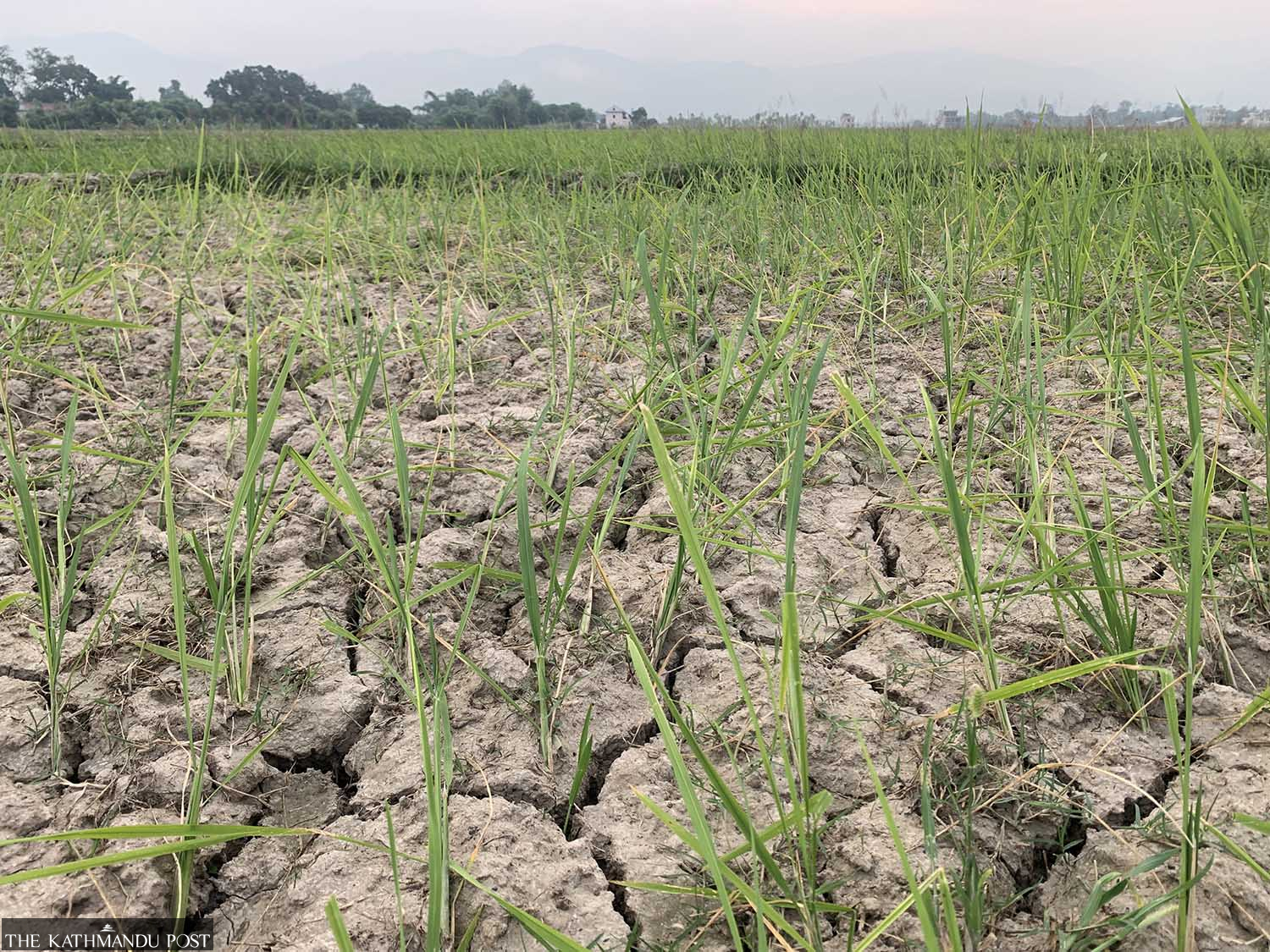 Experts say the agricultural sector is most vulnerable to climate change, but efforts to mitigate the crisis have been inadequate. Shiva Puri/TKP
According to the World Bank, Pakistan among South Asian countries has experienced some decreases in wheat and rice production because of fertiliser shortages and the heat wave. Bhutan and Sri Lanka are experiencing significant shortages in domestic food supply, according to the report.
India, the world's biggest rice exporter, is considering whether to restrict exports of 100 percent broken rice, according to Reuters. The move comes after the paddy acreage was reduced by low rainfall.
This may put pressure on Nepal's feed industry, which imports Rs1.53 billion worth of broken rice, particularly for the poultry industry, industry insiders say.
India banned wheat exports on May 13, 2022, to manage the overall food security in the country and to support other vulnerable countries.
Indian farmers and local officials have estimated that soaring temperatures will reduce yields by 10-50 percent this season.
High temperatures are also hitting China's crop production, threatening to push up food inflation.
Analysts predict that an export ban will decrease global supply and increase prices even further, potentially spreading food insecurity across the globe.
Western Europe is facing sweltering temperatures. According to reports, persistent drought has left rivers and reservoirs running low in European countries.
Spanish farmers are grappling with heat waves and water scarcity resulting in grains and olives going dry.
In Italy, hot and dry conditions are expected to destroy at least a third of the seasonal harvest of rice, corn and animal fodder.
Locusts have descended on the island of Sardinia in the worst invasion in three decades, hurting the production of hay and alfalfa.
The European Commission recently downgraded its soft-wheat harvest estimates from 130 million tonnes to 125 million tonnes—more bad news amid a food shortage precipitated by Russia's blockade on exports from Ukraine.
"Dealing with climate change has not been a priority for the government. Whatever steps have been taken to address the climate change issue was due to international pressure," said Upadhya. "The existing response to climate change is poor."
Bir Bahadur of Dhangadhi is worried that there won't be enough food to feed his family in the coming months as he expects his output to drop sharply.
"I am anxious because rice is our staple," he said. "It is also our main source of income."
(Pawan Pandey contributed reporting.)
---
---