House committee orders fuel tax cut as Nepalis struggle with rising prices
With food and fuel prices going through the roof, the Nepali economy could encounter another setback, and poverty can be expected to rise, economists say.

The government is reluctant to forego tax bonanza created by rising oil prices, observers say. Post File Photo
bookmark
Published at : June 25, 2022
Updated at : June 25, 2022 10:07
Kathmandu
Nepalis are being hit by runaway inflation after having endured years of slow growth caused by the Covid-19 pandemic.
With food and fuel prices through the roof, the Nepali economy could encounter another setback, and poverty can be expected to rise, economists say.
In a move that has raised hope among the people of seeing some respite, the Industry, Commerce, Labour and Consumer Welfare Protection Committee of Parliament on Friday directed the government to slash the taxes on petroleum products by half.
But experts say it's easier said than done. Taxes on fuel imports are among the government's most important revenue sources, and it is reluctant to forego the bonanza created by rising oil prices.
In the first 11 months of the fiscal year ended mid-June, Nepal's fuel import bill almost doubled from the previous year. Imports were valued at Rs340 billion, compared to Rs191.18 billion in the same period last year.
The government earned Rs118.82 billion in various taxes levied on the fuel imports. The high taxes have drawn much criticism against the government.
Sushil Bhattarai, deputy managing director of the state-owned Nepal Oil Corporation, said they had discussed the issue with the House committee. "But slashing taxes is in the hands of the Finance Ministry."
On June 19, the Nepal Oil Corporation increased the prices of petrol by a steep Rs21 per litre, and diesel and kerosene by Rs27 per litre, the highest increment ever made by the oil monopoly.
Following the price hikes, petrol costs Rs199 per litre, diesel Rs192 per litre and kerosene Rs192 per litre.
The oil monopoly also jacked up the price of aviation fuel sold to domestic airlines by Rs19 per litre to Rs185 per litre. International airlines have to shell out $1,645 per kilolitre, up $100 per kilolitre.
According to the Nepal Oil Corporation, the government collects Rs65.61 in taxes on every litre of petrol sold at Rs199. It collects Rs49.53 on every litre of diesel sold which now costs Rs192 per litre.
The Finance Ministry said it was not aware of the parliamentary committee's orders.
"We have not received any official communication from the House committee. Once we receive the letter, we may move ahead to cut taxes," said Dhundi Prasad Niraula, spokesperson for the Finance Ministry.
"But before implementing the committee's instructions, we need to analyse the matter properly," Niraula said.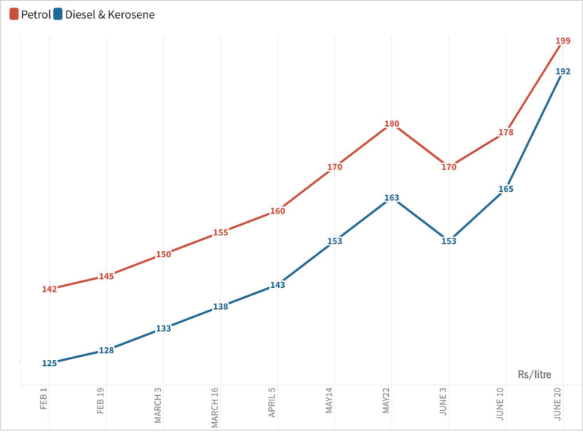 Source: Nepal Oil Corporation
The Russian invasion of Ukraine has pushed up inflation, and most countries have been experiencing rising prices since last year. Fuel, as measured by world oil prices, and international food prices rose throughout 2021 and the trend continued in 2022.
Many countries are making various efforts to rein in inflation.
On May 21, India's federal government decided to cut the excise duty on petrol and diesel in an attempt to control high levels of inflation.
In Spain, where inflation hit a decades-high 8.7 percent in May, the government decided to cut the electricity tax by half to ease the inflation pain. On June 22, Prime Minister Pedro Sanchez announced a VAT reduction from 10 percent to 5 percent.
European countries are cutting their already reduced VAT rates on domestic energy, petrol and foods.
United States President Joe Biden is considering a gas tax holiday to provide relief to the American people, many of whom are having a hard time because of rising gas prices.
In Nepal, transport fares went up immediately after the Nepal Oil Corporation raised fuel prices.
The Department of Transport Management allowed transport entrepreneurs to hike fares by 5.30 percent. For cargo carriers plying Tarai and hill routes, the fares have been hiked by 7.7 percent and 6.94 percent, respectively.
On June 20, the Airlines Operators Association of Nepal increased the fuel surcharge added to airfares by Rs170 to Rs840, depending on the distance.
"Rising inflation could impact economic growth as investors tend not to invest and consumers tend to cut their expenses and eat less, thus reducing the flow of money in the market," economist Govinda Nepal told the Post in a recent interview.
Economist Jagadish Chandra Pokharel said that the parliamentary committee order to cut taxes can be a relief to the people.
"A tax cut for a short duration is the best way to rein in runaway inflation. But Nepal also needs to think of an alternative to fossil fuels," Pokharel said.
According to the World Bank, especially concerning are negative impacts on the poorest and most vulnerable households in urban areas, which spend a large proportion of their total income on food and other basic commodities.
They are suffering the harshest effects of rising prices. To cushion the impacts of inflation on the poor, governments should ramp up support through well targeted social protection programmes, the World Bank said.
According to the Nepal Rastra Bank, the year-on-year consumer price inflation jumped to a staggering 7.87 percent in May, hitting a 69-month high. It was 3.65 percent in May last year.
---
---