Fertiliser shortage haunts farmers ahead of looming paddy season
Fertiliser shortage is major problem repeating every crop season in the past several years.

Chemical fertilisers are crucial to increasing agricultural productivity. Post File Photo
bookmark
Published at : May 25, 2022
Updated at : May 25, 2022 07:25
Biratnagar/birtamod
The excitement of the local elections is over for Nepali farmers as they head back to their fields to get ready for the year's most important crop—paddy.

All across the country, they have started ploughing the land, and preparing the seedbeds while pre-monsoon rains fall from the sky.
The tillers of the soil are happy to see the heavens opening up, but the regular fertiliser shortage during the planting season keeps haunting them.
The government's fertiliser distribution agencies, as usual, are all out of chemical fertiliser, sparking fears of price rises and food scarcities.
Farmer Shambhu Lal Yadav of Tilathi Koiladi-8 village in Saptari is worried that he may not get the vital farm input this year too.
Shortage of chemical fertilisers has become a recurring problem during every crop season for the past several years.
"If fertiliser is not provided at the right time, there will be no production," said Yadav. "We pay for the fertiliser but we cannot get it in time when we need it."
Many farmers hop across the border to India to smuggle in badly needed fertiliser. They have to pay high prices for low quality products because of the government's inability to supply them.
Over the coming months, a major challenge will be access to fertilisers which may impact food production across many crops in different regions, according to the World Bank's May 5 report on food security.
"Fertiliser prices surged in March, up nearly 20 percent since January 2022, and almost three times higher compared to a year ago," said the World Bank.
The multilateral funding agency said that the outlook for food and nutrition security for many low- and middle-income countries is of significant concern.
While the outlook for global food supplies remains favourable, food prices increased sharply due to elevated input prices which, combined with high transport costs and trade disruptions due to the war in Ukraine, are raising import bills. That hits poor and developing countries hardest, as they depend on food imports the most.
Nepal, where two thirds of the farms depend on the monsoon rains, has something to cheer about because South Asian weathermen have forecast above normal monsoon rains beginning from early June and lasting till October.
But Nepali farmers may not be able to capitalise on nature's bounty.
"A chemical fertiliser shortage is imminent," said an official at the Salt Trading Corporation, one of the two state-subsidised fertiliser supplying agencies in the country.
There is not a single grain of diammonium phosphate (DAP) and urea in stock for this paddy season in almost all seven provinces. The warehouses of the Agriculture Inputs Company in Biratnagar in Province 1, which distributes the material to 14 districts, are almost empty.
In Saptari and Siraha districts of Madhes province, the story is the same.
"A shipment of DAP arrived in mid-March but now it is finished. There is not a single grain of DAP and urea for the coming paddy season," said Hom Parajuli, acting chief of the Agriculture Inputs Company in Province 1.
According to Parajuli, the company's head office in Kathmandu had recently invited tenders to import 50,000 tonnes of DAP and 50,000 tonnes of urea for the paddy season. "But by the time the tender gets approved, it will be mid-July," he said.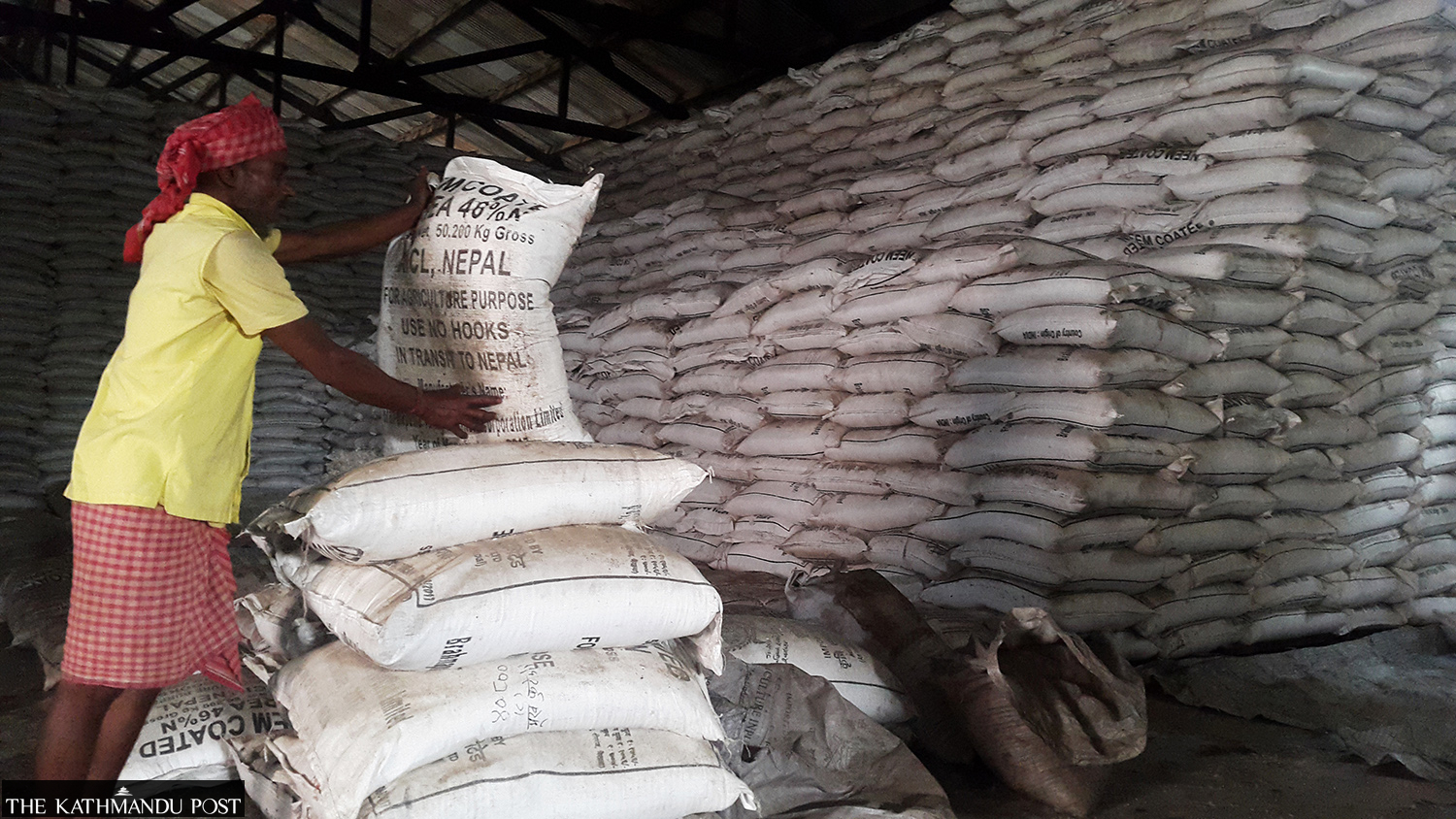 The government heavily subsidises urea. Post File Photo
Paddy is normally transplanted in mid-June in the Tarai. In the hills, it is transplanted from mid-April.
In Province 1, at least 18,000 tonnes of DAP and 25,000 tonnes of urea are required for the monsoon's paddy transplantation. "We don't have enough fertiliser to fulfil the farmers' needs," Parajuli said.
Radheshyam Chaudhary, chief of the Salt Trading Corporation office in Province 1, said that even if the DAP shipment arrives, it will not be possible for every farmer to get it. Province 1 has 300,000 hectares of paddy fields.
A 50-kg bag of DAP costs Rs6,711 in the international market. It is sold to farmers at Rs2,200 with the government giving a subsidy of Rs4,511, according to officials.
A bag of urea costs Rs4,900 and it is sold to farmers at the subsidised price of Rs750.
"That's why the government has not been able to import fertiliser," said a source. "It requires billions in subsidies to buy fertiliser at the current rates."
According to an official, the government used to allocate Rs15 billion to supply 500,000 tonnes of subsidised chemical fertiliser two years ago. Now, it would require Rs75 billion to buy the same amount of chemical fertiliser.
Following continuous rainfall in Jhapa, farmers started sowing paddy seeds a few days ago. But they are not getting farm nutrients. Paddy is cultivated on ​​more than 85,000 hectares in Jhapa district.
Farmers are forced to buy fertilisers brought from the Indian market by evading customs at exorbitant rates. This trend is more prevalent in municipalities located in the border areas.
Narayan Todu, senior assistant at Agriculture Inputs Company in Birtamod, said that the warehouse has only 700 tonnes of DAP.
Sagar Bista, chief of the Agriculture Knowledge Centre in Jhapa, said a quota system has been enforced.
Paddy seedlings grown from May 28 to June 3 are considered good for transplantation.
"But since rainfall has started in Jhapa, farmers have begun sowing paddy seeds. Transplantation may begin early," said Rabindra Subedi, a senior agriculture officer for Paddy Super Zone under the Prime Minister Agriculture Modernisation Project. "Like in past years, farmers will have a hard time getting fertiliser this year too."
Yedunath Dhamala of Kuntadevi in Molung rural municipality in Okhaldhunga district has been visiting the market every day, but he has not been able to get fertiliser anywhere.
He heard that fertiliser was available at a shop in the district headquarters and he rushed there. He paid Rs2,800 for a 45-kg bag.
Another farmer from Kuntadevi in Okhaldhunga paid Rs3,300 for the same quantity. "We are compelled to buy at whatever price traders say," said Dhamala. "We used to buy a 50-kg bag of fertiliser for Rs1,200 earlier."
Shortages are everywhere. Until three weeks ago, parties and representatives of the local elections had promised to supply fertiliser. Many had stated in their party manifestos that they would resolve the recurring scarcity of fertiliser.
"Saptari requires 3,500 tonnes of DAP and 4,500 tonnes of urea for the paddy season," said Sonelal Mumur, chief of the Agriculture Inputs Company office in Saptari.
The monsoon is crucial for the country's Rs4.85-trillion economy, as it brings nearly 80 percent of the rain needed by farms, besides replenishing reservoirs and aquifers.
Nearly two-thirds of Nepal's farmlands are rain-fed and are dependent on the annual rains from June to September. Farming accounts for 23.95 percent of the economy, but sustains more than 60 percent of the population.
Summer crops, mainly paddy, alone contribute over 11 percent to the national gross domestic product, and are the major income source for more than half of the population.
Paddy, which is transplanted in June and harvested in October, contributes around 7 percent to the gross domestic product.
But paddy needs fertilisers. Chemical fertiliser in Nepal is a political commodity. Experts say it could create unrest among the country's politically important farmers ahead of the general elections.
Prakash Kumar Sanjel, spokesperson for the Ministry of Agriculture and Livestock Development, told the Post in a recent interview that a government-to-government deal to import 150,000 tonnes of chemical fertiliser from India was "a work in progress."
And that work in progress is draining the farmers.
"This year, border controls are strict, and the government is not supplying fertiliser," said Yadav, the farmer from Saptari. "Not a grain of fertiliser we have. We are in trouble… in deep deep trouble."
Kumbha Raj Rai in Okhaldhunga, Shankar Acharya in Parsa and Abadhesh Kumar Jha in Saptari contributed reporting.
---
---