Government to open fair price shops to allay fears of shortages and price hikes
The stores will stock groceries and non-food items like cooking gas and induction cookers.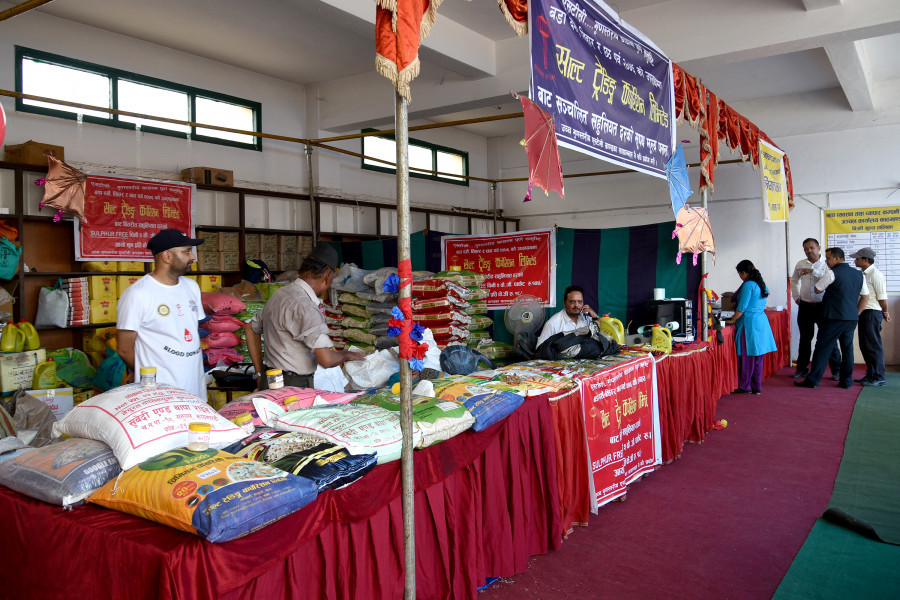 Government fair price shops currently operate round the year at Koteshwor, Kalimati and Satungal in Kathmandu and in Banepa. POST FILE PHOTO
bookmark
Published at : March 17, 2020
Updated at : March 19, 2020 16:26
Kathmandu
The government plans to open a string of fair price shops in a bid to stop black marketing and price gouging for daily essential goods following rush buying due to the Covid-19 outbreak.
The stores will be run by state-owned Food Management and Trading Company and Salt Trading Corporation in the Kathmandu Valley. Officials are yet to decide when, where and how many.
Industry Minister Lekh Raj Bhatta said that the fair price shops would provide daily food items conveniently and at reasonable prices.
The government usually sets up fair price shops before the Dashain, Tihar and Chhath festivals with the aim of providing essential goods at a discount as prices often jump on increased demand.
According to the minister, the fair price shops that are proposed to be opened currently will stock groceries such as salt, sugar, edible oil, ghee, rice, lentils and legumes as well as non-food items like cooking gas and induction cookers.
Kumar Raj Bhandari, director general manager of Salt Trading Corporation, said that they would be meeting with officials of Food Management and Trading Company to decide the opening date and the locations. The shops will be operational within two-three days, he said.
The government decided to operate fair price shops with a view to control prices, prevent cartelling and intervene in the market for the benefit of the general public amid difficult times, he added.
Government fair price shops currently operate round the year at Koteshwor, Kalimati and Satungal in Kathmandu and in Banepa. Bhandari said the government had decided to establish extra shops due to public concerns over the continued availability of essential goods.
Devendra Sunar from Syangja, who lives at Kadaghari, Bhaktapur and works as a human rights activist, said that operating fair price shops, especially during times like these, was a must as people are having a hard time finding essential goods or are having to pay more for them.
"There are chances of hiding goods and creating shortages at the fair price shops too, so a consumer committee needs to be created to make sure that the goods are distributed transparently and equitably," Sunar said.
The Covid-19 outbreak, which has been spreading globally, has prompted people to rush to the market to stockpile essential goods, and opportunist traders are creating artificial scarcities and hiking prices to profit out of the panic, officials said.
Despite government assurances of an adequate supply of essential goods, city dwellers have been complaining of having to stay in line to buy cooking gas and being forced to pay exorbitant prices for groceries.
Consumer rights activists charge that traders have been taking advantage of the government's lax attitude and inability to maintain a strong presence at times of crisis.
Grocery stores also said that they observed a spike in sales of more than 25 percent within a week with consumers fearing shortages of goods.
Frequently asked questions about the coronavirus outbreak
UPDATED as of September 22, 2020
What is Covid-19?
Covid-19, short for coronavirus disease, is an illness caused by the coronavirus SARS-CoV-2, short for severe acute respiratory syndrome coronavirus 2. Common symptoms of the disease include fever, dry cough, fatigue, shortness of breath and breathing difficulties. In severe cases, the infection can cause pneumonia, severe acute respiratory syndrome, kidney failure and even death.
How contagious is Covid-19?
Covid-19 can spread easily from person to person, especially in enclosed spaces. The virus can travel through the air in respiratory droplets produced when a sick person breathes, talks, coughs or sneezes. As the virus can also survive on plastic and steel surfaces for up to 72 hours and on cardboard for up to 24 hours, any contact with such surfaces can also spread the virus. Symptoms take between two to 14 days to appear, during which time the carrier is believed to be contagious.
Where did the virus come from?
The virus was first identified in Wuhan, China in late December. The coronavirus is a large family of viruses that is responsible for everything from the common cold to Middle East Respiratory Syndrome (MERS) and Severe Acute Respiratory Syndrome (SARS). After an initial outbreak in Wuhan that spread across Hubei province, eventually infecting over 80,000 and killing more than 3,000, new infection rates in mainland China have dropped. However, the disease has since spread across the world at an alarming rate.
What is the current status of Covid-19?
The World Health Organisation has called the ongoing outbreak a "pandemic" and urged countries across the world to take precautionary measures. Covid-19 has spread to 213 countries and territories around the world and infected more than 31,405,983 people with 967,505 deaths and 22,990,260 recoveries. In South Asia, India has reported the highest number of infections at 5,557,573 with 88,943 deaths. While Pakistan has reported 306,304 confirmed cases with 6,420 deaths. Nepal has so far reported 65,276 cases with 427 deaths.
How dangerous is the disease?
The mortality rate for Covid-19 is estimated to be 3.6 percent, but new studies have put the rate slightly higher at 5.7 percent. Although Covid-19 is not too dangerous to young healthy people, older individuals and those with immune-compromised systems are at greater risk of death. People with chronic medical conditions like heart disease, diabetes and lung disease, or those who've recently undergone serious medical procedures, are also at risk.
How do I keep myself safe?
The WHO advises that the most important thing you can do is wash your hands frequently with soap and water for at least 20 seconds or use hand sanitizers with at least 60 percent alcohol content. Avoid touching your eyes, nose and mouth with unclean hands. Clean and disinfect frequently used surfaces like your computers and phones. Avoid large crowds of people. Seek medical attention if symptoms persist for longer than a few days.
Is it time to panic?
No. The government has imposed a lockdown to limit the spread of the virus. There is no need to begin stockpiling food, cooking gas or hand sanitizers. However, it is always prudent to take sensible precautions like the ones identified above.
---
---