Plans to put Chinese planes back in the air jinxed by lack of spares
Nepal Airlines had previously been forced to ground them for lack of pilots.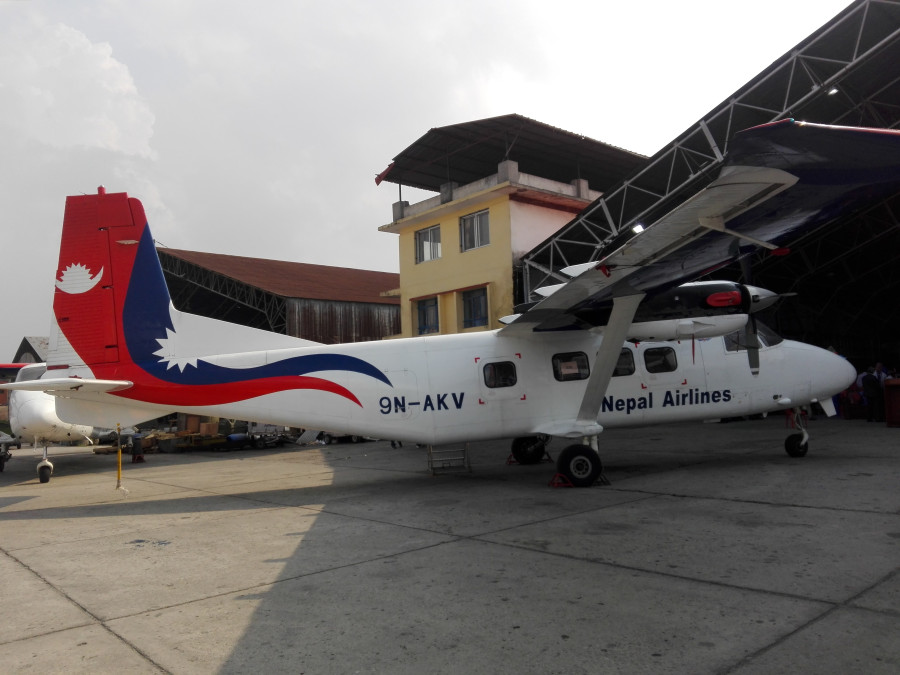 A Chinese Y12e is seen at the Nepal Airlines hangar in Tribhuvan Airport. Post File
bookmark
Published at : December 6, 2019
Updated at : December 7, 2019 09:12
Kathmandu
Nepal Airlines has planned to put all four of its Chinese-made planes back in the air by February, but that is unlikely to happen for lack of spare parts. Previously, it had been forced to ground them because there were no pilots to fly them. Now that there are pilots, there are no parts.

The national flag carrier has four 17-seater Y12e planes in its fleet. Three are sitting in the hangar while one flies twice daily on the Dang sector, according to officials familiar with the matter.

Two weeks ago, presenting its first quadrimester report of this fiscal year at the Tourism Ministry, Nepal Airlines had promised to bring one plane into operation by November and two more by February next year.

As the spare parts problem has become critical, the state-owned carrier has asked the Tourism Ministry to table the issue in the Ministerial Development Action Committee, the higher authority at the National Planning Commission that looks at problems and issues directives for necessary intervention.

Three Y12e aircraft bearing registration marks—9N-AKS, 9N-AKU and 9N-AKT—have been grounded due to delays in getting spare parts.

Deepu Jwarchan, director at the operation department of Nepal Airlines, said they currently had four captains, but the planes were not in an airworthy condition. "We have decided to bring one Pakistani captain. Another captain from Simrik Airlines has already been hired to fly the Chinese planes," he said.

Nepal Airlines has three captains—Phizonath Nepali, KB Limbu and Nependra Bhattarai—to fly the Chinese-made planes. But Bhattarai will soon be transitioning to Airbus and has started training, said Jwarchan. "We are also hiring other captains. We will have no flight crew problem, but the arrangement of spare parts for the planes is becoming difficult," Jwarchan said.

Ganesh Bahadur Chand, spokesperson for Nepal Airlines, said that it could take months to resolve all the problems seen in the Y12e. "When captains are available, spare parts problems begin, and when spare parts are arranged, a shortage of aircrew appears."

In 2014, when the first batch of two 17-seater Y12e aircraft arrived in Kathmandu, they remained grounded for more than two months due to lack of pilots. The corporation received another two Y12e aircraft in February last year.

The 56th annual audit report of the Office of the Auditor General released in April said that the corporation had been operating its Chinese-made Y12e aircraft ineffectively and incurring heavy losses as a result.

The audit report said the Y12e earned Rs25 million in the last fiscal year. However, their operating and indirect expenditures totalled Rs188.5 million and Rs96.3 million, respectively. In total, losses from the Y12e operation stood at Rs289.7 million.

Green light for Guangzhou route


KATHMANDU: Nepal Airlines said it had formally received operating authorization from the Chinese civil aviation authority to begin services to Guangzhou. "We received the official letter from Chinese authorities on Friday," said Ganesh Bahadur

Chand, spokesperson for Nepal Airlines. "Now, necessary preparations will be made to operate flights to Guangzhou Baiyun International Airport."

Nepal Airlines had applied to Chinese authorities to fly the Kathmandu-Guangzhou route in 2015, but the national flag carrier failed to obtain permission because of a pending safety audit to gain access to Chinese airports. "Chinese authorities have informed us that they will not conduct the safety audit now," said Chand. According to Nepal Airlines, Chinese authorities had asked a few questions regarding the operation manual before granting permission.
---
---