Province 1 floats plans to develop a slew of hydropower schemes
Projects with a completion deadline of one to three years have been prioritised.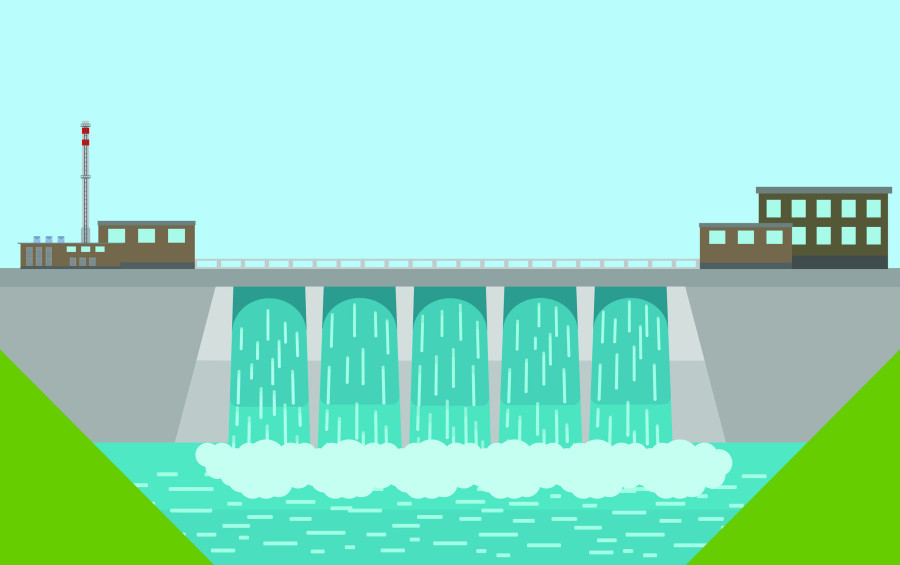 Power generation from hydropower plants and load demand in Province 1 by the year 2040 is expected to reach about 7.78 gigawatts and 2.85 gigawatts respectively. SHUTTERSTOCK
bookmark
Published at : November 22, 2019
Updated at : November 22, 2019 20:22
Kathmandu
Province 1 authorities have floated plans to develop hydropower schemes with a combined capacity of 1500 megawatts.

Speaking at the Power Summit 2019, Chief Minister Sherdhan Rai said that the provincial government was gearing up to secure funds and initiate multiple projects under a public-private-partnership model.

Province 1 has the highest hydropower potential in the country with 34 percent of the total electricity generation capacity and large scale and financially attractive hydel schemes envisaged in the Tamor and Arun river basins.

The government's Masterplan on Transmission System Development launched in 2018 has envisioned high-capacity projects such as Dudhkoshi-2 (350 megawatt), Super Tamor (155 megawatt), Upper Tamor (415 megawatt), Tamor Mewa (128 megawatt), Lower Arun (659 megawatt), Kimathanka Arun (482 megawatt) and Upper Arun (725 megawatt), among others, in the province.

"The provincial government is committed to creating a conducive environment for investing in the projects and will soon organise a summit to showcase 20 hydropower and other infrastructure projects," said Chief Minister Rai. "We will move forward incorporating the practice of facilitating all investments through a single-window system."

Projects with a completion deadline of one to three years have been prioritised, and the provincial government is collecting details of the required public and private land to be allocated to these projects. According to Rai, the cost and land details will be available within a month.

The announcement from the provincial government has come amid debates over the implementing authority of infrastructure projects and lack of clarity on allowing provincial governments to move ahead independently in line with the spirit of the federal setup. As per the current provisions, all hydel schemes with an installed capacity of more than 500 megawatts come under the purview of Investment Board Nepal.

According to Balananda Poudel, chairperson of the national natural resources and fiscal commission, all three tiers of government will benefit from the projects, and the province has proposed building the projects at a time when distributing fair benefits among all tiers of government has posed challenges.

"The act on benefit-sharing has clear provisions, but we still have to fully implement the mechanism," said Poudel.

As per the Nepal Electricity Authority's projections, power generation from hydropower plants and load demand in Province 1 by the year 2040 is expected to reach about 7.78 gigawatts and 2.85 gigawatts respectively.

According to Kumar Pandey, vice-president of the Independent Power Producers' Association of Nepal, not only Province 1 but all seven provinces have schemes with at least 500 megawatts of installed capacity in line with the vision to reap maximum shared benefits and contribute to the economic development of the region.

"A project mechanism must be undertaken by the provincial and central governments for hydropower promotion and development, the licensing processes should be executed within a year, and the developer must be easily allowed to obtain long-term financing facilities," said Pandey.

Arun 3 project 24 percent complete

The export-oriented Arun III Hydropower Project being built with Indian investment in eastern Nepal is 24 percent complete.

According to Arun Dhiman, chief executive officer of Satluj Jal Vidyut Nigam, construction work at the project site in Sankhuwasabha has been expedited of late, and if work continues at the same pace, the project will meet the completion deadline of 2023.

"We are on track to meet the deadline and set a milestone and lesson for other projects by commissioning Nepal's largest under-construction scheme in time and in a well managed way," said Dhiman at the Power Summit 2019 which concluded on Friday.

Satluj, an Indian state-owned entity, boasts a project portfolio of under-construction schemes with a combined capacity of 12000 megawatts, and has set its sights on executing all projects within 2030.

Prime Minister KP Sharma Oli and Indian Prime Minister Narendra Modi jointly laid the foundation stone for the project remotely in May 2018 during Modi's Nepal visit.

Investment Board Nepal and the Indian developer signed an agreement for the development of the Arun 3 project with four units each with an installed capacity of 225 megawatts in November 2014.

Initially, the project was slated to start producing energy by 2020, but as the financial closure deadline was pushed back twice by one year and six months, construction could only begin in 2018.

Nepal will receive Rs348 billion over 25 years from the project. The developer will also provide 21.9 percent of the energy free of cost, which is worth Rs155 billion, plus another Rs107 billion in royalties.

The electricity generated by the scheme will be evacuated through a 217-kilometre-long 400 kV transmission line from Sankhuwasabha to Dhalkebar Substation also built by the project developer.

GMR and Bangladesh near closing deal

Bangladesh and GMR have moved closer to signing a power purchase agreement to pave the way for the Indian developer to build the 900 megawatt Upper Karnali scheme in western Nepal and sell 500 megawatt to Bangladesh, officials say.

According to GMR Chief Operating Officer Harbinder Monocha, a cabinet meeting of Bangladesh has allowed the company and energy authorities of Bangladesh to go ahead with an agreement on the purchase rates.

"A decision from the Bangladeshi Purchase Committee will open the door for an official agreement now," said Monocha without disclosing the purchase rates.

An agreement in principle on the commercial terms of the power purchase agreement excluding tariff rates was reached between the Bangladesh Power Development Board and GMR last year, but the parties could not sign a deal over purchase rates as price negotiations lingered.

Bangladesh had signed a memorandum of understanding with India's NTPC Vidyut Vyapar Nigam to import electricity from the Upper Karnali scheme via India during Bangladeshi Prime Minister Sheikh Hasina's visit to India in April 2017.

The project developer plans to begin construction of the 900 megawatt scheme in the next fiscal year and sell 500 megawatts to Bangladesh and 292 megawatts to NVVN, India.

The project would be built at a cost of Rs170 billion under an engineering, construction and procurement model.

The Nepal government and the Indian developer had signed a memorandum of understanding on developing the project in 2008, and had entered into a project development agreement in 2014.

The electricity generated by the scheme will be evacuated via a 99-kilometre-long 400 kV transmission line.

As per the project development agreement, Nepal will receive 108 megawatts of electricity from the project free of cost.
---
---