Government is attempting to control the private sector, businesspersons allege
While the Finance Ministry's measures are good, they're being implemented in a way that creates hassles, they say.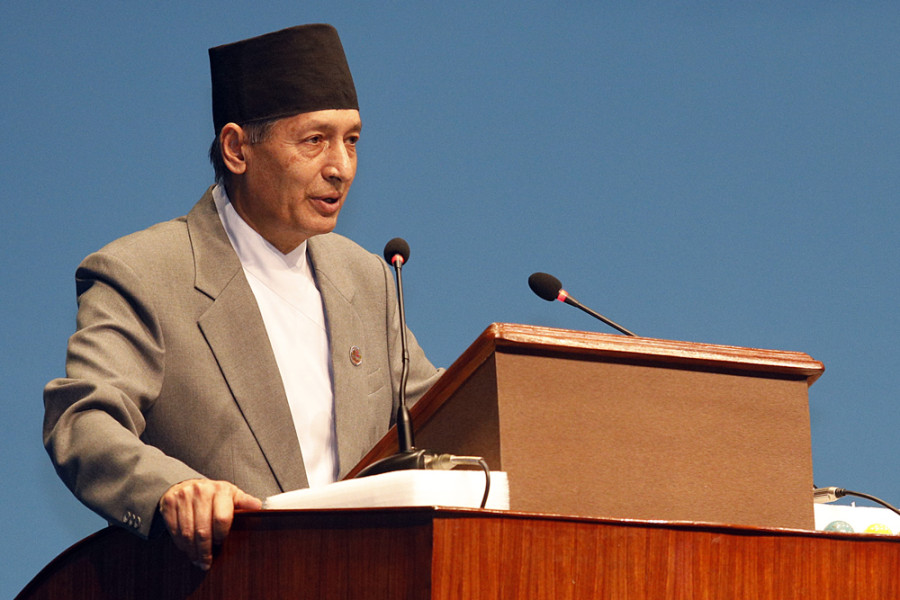 Finance Minister Yubaraj Khatiwada Post file
bookmark
Published at : October 2, 2019
Updated at : October 2, 2019 07:08
Kathmandu
When Prime Minister KP Sharma Oli picked Yubaraj Khatiwada to lead the Finance Ministry in February last year, there were expectations that the technocrat—a former central bank governor and two-time vice-chairman of the National Planning Commission—would come up with some substantial measures for the private sector.

Instead, businesspersons say that there is a growing tendency to 'control the private sector', and this at a time when there's a liquidity crunch in the banking industry, which in turn, is dampening the confidence of local businesses.
The finance minister is establishing a stranglehold over the private sector, which is deterring new foreign and private sector investments, according to businesspersons. There are also concerns about capital flight.
"The mood is not good in the business community. They are afraid of being caught in a government crackdown," Pashupati Murarka, former president of the Federation of Nepalese Chambers of Commerce and Industry, told the Post.
Senior economists aligned with the ruling Nepal Communist Party and those who have worked closely with Khatiwada in the past complain that the finance minister rarely consults with them on economic policies.
An economist who has close ties with the ruling party said that the finance minister's background as a regulator might be influencing his decision making.
"He has been a regulator for most of his career. A regulator usually sees negative things happening and tries to control them. It is difficult for such a person to be a facilitator," the economist told the Post on condition of anonymity.
Businesspersons say that they are shocked at the recent measures taken by the government to curb tax evasion and money laundering, which include requiring banks to share financial details of borrowers with the tax authorities. They also cite the Revenue Leakage Control Bill, currently tabled in Parliament, which has provisions for jail time for tax evaders. The private sector has opposed this on the grounds that tax evasion should only merit fines.
A provision in the proposed anti-money laundering directive by the Office of Company Registrar that traders need to maintain details about customers who purchase goods and services above Rs1 million is also problematic for the private sector as adding more red-tape to doing business.
Private businesses are also concerned by the implementation of a vehicle consignment and tracking system, which the Department of Revenue Investigation is implementing to keep records of all cargo vehicles to prevent tax evasion where importers provide different accounts of the goods they're importing.
They have also been complaining about the valuation of goods imported from abroad, which they claim to be arbitrary. According to the private sector, these measures are good but were implemented in a way that they create hassles.
"The intention of all these measures is good. But their implementation all at once gives the impression that the government is trying to control the private sector," said Birendra Pandey, vice-president of the Confederation of Nepalese Industries (CNI), a grouping of medium- and large-scale industries.
Those who know Khatiwada well describe him as a person who believes in some level of state control.
Khatiwada, however, denied that the government was attempting to control the private sector through the recent measures aimed at improving tax compliance and checking evasion.
"All allegations are false. We have tried to create an open, transparent and competitive business environment agreed to by most business organisations," Khatiwada told the Post. "If there are any remaining issues for strengthening the business environment, the government is ready to sit with them and discuss."
Khatiwada has been taking a hardline approach against tax evaders while speaking in different forums, including in Parliament.
CNI's Pandey said that the finance minister wants to implement policies that they had complained against.
"During our meetings, he assured us that he would consider making changes if the policies cannot be implemented," Pandey told the Post.
During his tenure as the central bank governor, Khatiwada took tough policy measures against malpractices flourishing in the banking sector. He controlled excessive lending in the real estate sector, which could have led to a crash in the banking sector. Khatiwada is largely credited for bringing stability to the banking sector during his tenure.
But analysts say that the job of the finance minister is much more than that of a regulator, especially at a time when the country needs massive investments to achieve its targeted gross domestic product growth rate and lift people out of poverty.
According to critics of the finance minister, who is also the vice-chairman of Investment Board Nepal, Khatiwada has not been able to facilitate two large foreign investments in the country—Dangote Cement and Huaxin Cement.
Nigerian company Dangote was among the first companies to get foreign direct investment approval from the board. Today, it stands at a crossroads, with no decision yet from the government to award it a suitable mine even six years after it got the approval to set up a plant.
Huaxin Narayani Cement, a China-Nepal joint venture company, has become a casualty in the tussle between rival factions of the ruling Nepal Communist Party in Dhading. After the Parliamentary Public Account Committee decided against the decision of the Benighat Rorang Rural Municipality of Dhading to provide land for a factory on lease for 50 years, it prompted a strong reaction from Suraj Vaidya, a joint venture partner from Nepal.
"The parliamentary committee didn't provide us with an opportunity to clear things up. Under such circumstances, how can I guarantee that foreign investors will stay here?" Vaidya asked.
According to Rameshore Khanal, a former finance secretary, the finance and industry ministers should have taken the lead in convincing foreign investors making large-scale investments in Nepal.
Buoyed by three successive years of high GDP growth, the government has set an ambitious economic growth target of 8.5 percent for the current fiscal year. In addition, it has targeted an average growth rate of 9.6 percent for the next five financial years.
However, reduced foreign direct investments, along with a widening trade deficit, has resulted in a negative balance payment of Rs67 billion in the last fiscal year for the first time in 10 years, according to Nepal Rastra Bank. Likewise, foreign exchange reserves have decreased by Rs64 billion and the trade deficit had widened by 13 percent to Rs1.32 trillion.
Businesspersons and analysts say that it's high time the finance minister changed his approach when it comes to dealing with the private sector.
"The private business community has raised its concerns with the finance minister, but to no avail," said a businessman who spoke on condition of anonymity. "He listens to us but he has his own convictions."
---
---