Cheap tickets drive domestic passenger traffic growth
Airlines carried 1.48 million travellers in the first six months, up 12.35 percent.

A plane prepares to land on a dirt runway in Ilam. Post File
bookmark
Published at : July 22, 2019
Updated at : July 22, 2019 16:11
Kathmandu
Domestic passenger traffic growth remained robust in the first half of this year due to cheap tickets despite the disruption to flight schedules caused by runway maintenance at Tribhuvan International Airport.

According to airport officials, domestic flights carried 1.48 million travellers in the first six months of 2019, recording a 12.35 percent year-on-year growth.
Flight movement dropped 5.66 percent to 43,847 flights in the first six months of 2019 as most leading airlines inducted larger aircraft into their fleets to handle growing passenger demand, airline officials said. The Nepali skies witnessed an average of 244 flights daily.
All domestic airlines except Buddha Air, Yeti Airlines and Shree Airlines flew fewer passengers.
Ghanshyam Acharya, spokesperson for the Airline Operators Association of Nepal, said that most airlines witnessed double-digit passenger growth due to strong tourist movement led by a large number of Everest climbers and trekkers. "This year, due to the runway repair work at Tribhuvan International Airport, all short take-off and landing aircraft flying the Lukla route had to operate out of Manthali.
"We have estimated that all short take-off and landing aircraft witnessed an 18-20 percent growth in passenger traffic compared to last year. However, the figure has not been included in the passenger movement," said Acharya. "As airlines shifted to Manthali, flight movement dropped at Kathmandu airport."
The key reason for passenger growth on trunk routes is cheaper airfare, he said. "Competition among domestic airlines has become fierce after the entry of Shree Airlines with a fleet of jet planes in 2017."
"There is a big airfare competition going on, and it has benefitted passengers. More and more people today are flying instead of travelling overland because airfares have become cheaper, and this market dynamics could continue in the coming days," said Acharya. For example, a traveller can fly from Kathmandu to Bhadrapur for just Rs3,000 while a bus trip would cost Rs1,700 to Rs1,800.
Ticket prices fluctuate with the season. Two months from now, airlines will be charging the full fare due to festive demand. A ticket on the Kathmandu-Bhadrapur flight could cost at least Rs6,000.
As private carrier Shree Airlines is making the final preparations to receive its first Canadian turboprop aircraft—a Bombardier Q400 turboprop aircraft—the market is expected to heat up once again with offers of low airfares, according to an industry insider.
Leading carrier Buddha Air recorded healthy growth, flying 758,341 passengers in the first six months of 2019, up 25.08 percent from last year.
Buddha's closest rival, Yeti Airlines, recorded a staggering 19.12 percent growth in passenger numbers. It flew 373,010 passengers in the first half of 2019.
Three-year-old Shree Airlines flew 221,844 passengers, up 23.06 percent, in the first half of this year. The carrier, which began operations in August 2017, has obtained approval to add three Bombardier Q400 turboprop aircraft to its fleet.
Nepal Airlines continues to perform poorly in the domestic sector despite getting six new aircraft. The state-owned carrier flew 35,131 passengers in the first six months of 2019, down 12.80 percent.
Saurya Airlines recorded a negative growth of 66.21 percent. It flew 70,124 passengers. Simrik Airlines flew 15,474 travellers, down 32.49 percent.
Sita Air, Tara Air and Summit Air all recorded the sharpest drop in passenger numbers, according to airport statistics. Spokesperson Acharya said this was because the passengers they flew out of Manthali to Lukla have not been included in the statistics.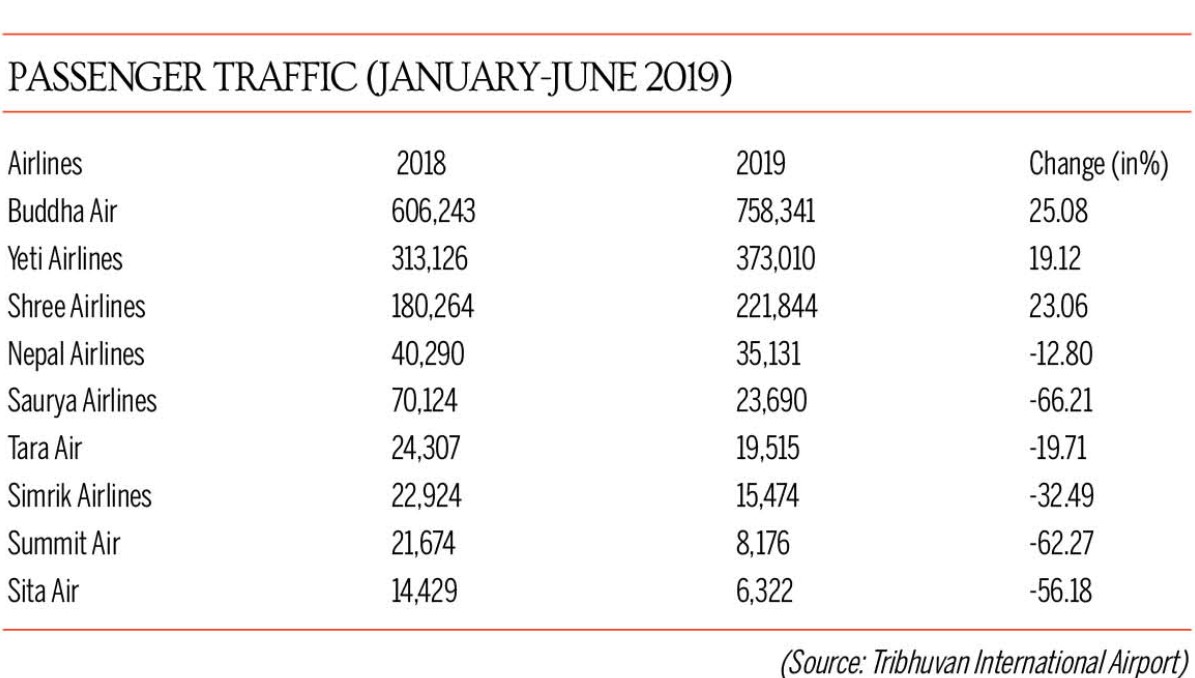 ***

What do you think?
Dear reader, we'd like to hear from you. We regularly publish letters to the editor on contemporary issues or direct responses to something the Post has recently published. Please send your letters to tkpoped@kmg.com.np with "Letter to the Editor" in the subject line. Please include your name, location, and a contact address so one of our editors can reach out to you.
---
---